8 Ways to Motivate Yourself to Get Back in the Gym
By Ebony Allison

Jul. 11 2019, Published 12:23 p.m. ET
Hitting the gym sounds like a great idea, but when it comes to actually doing it, it can feel next to impossible to motivate yourself to hop in the car and go. After a long day's work, all you want to do is chow down on some grub, catch up on TV and scroll through social media from the comfort of your couch— so it's pretty understandable why being active in the gym can come as such a turn off.
If you're the type of person who wants to hit the gym but just can't muster up the energy to actually do it, try these 8 ways to motivate yourself to get back to the gym and into the best shape of your life.
1. Mark your calendar
You have a particular routine that you follow on a weekly and monthly basis. When you don't make time for going to the gym, odds are you won't suddenly begin doing so on the 15th of the month. At the start of the next calendar month, mark your calendar for optimal gym times. This could be on half-days at work, every Monday and Friday, or everything other weekend. When you have a visual reminder and the time allotted to accommodate your activities, it's far easier to commit.
2. Sign up for a class
Going to the gym alone can be a bit of a buzzkill, especially when you're surrounded by meatheads and fitness fiends. One of the best ways to ease your way into a consistent routine is by signing up for a class. Whether it's rock climbing, kickboxing, or yoga, being in a safe space where everyone is on the same page can work wonders for a nervous gym-goer.
Article continues below advertisement
3. Find a buddy
Two is always better than one, especially when it comes to exercising. Having a plus-one who holds you accountable for joining them at the gym may be the consistency you need to stay motivated at the gym. And if your friend has any experience in the workout department, they may be able to teach you a thing or two while you're at it! Any excuse to break out those new blue Nike shoes is a good one— you might as well have someone by your side to admire them, too.
4. Write out your routine
Tackling any task without a purpose or aim makes everything feel ten times harder to commit to. When it comes to motivating yourself to going to the gym, writing out your exact plan will help you stay on track. We recommend planning at least 5 days of exercises so you can keep that fire going long after the first day down.
Article continues below advertisement
5. Download an app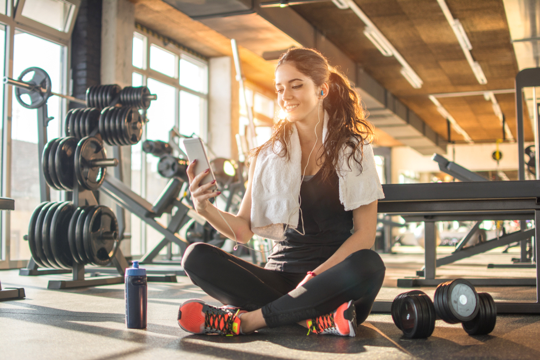 The digital age has graced us with app stores that are chock full of programs for just about anything you could dream of. The fitness category is stocked with a number of exercise apps that can do everything from teach new yoga moves to create a month-long gym routine for your particular fitness levels and interests. Check out these apps:
6. Make realistic goals
Everyone goes to the gym for different reasons. Whether it's to lose weight, gain muscle, tone your tummy, or grow your confidence, all of your end-goals take time, patience, and plenty of hard work to achieve. Setting realistic goals on a weekly and monthly basis will keep you motivated toward your goal. The smaller the goal, the better— you deserve to feel rewarded for even the littlest commitments!
Article continues below advertisement
7. Find a trainer
If you've got some extra cash that you can put toward a personal trainer, it's worth a shot. You'll feel a lot more inclined to show up to a personal training session than you would for a solo session with some free weights. Your personal trainer will be able to teach you proper form, proper diet, and keep you motivated even when your tank is drenched in sweat and you can't feel your legs!
8. Make a playlist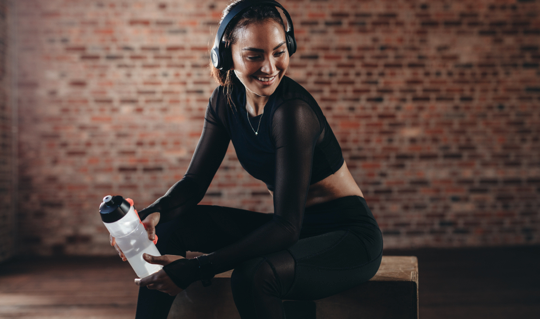 When you're trying to get into the zone, what songs pump you up? Curating a playlist full of songs that get you going is a great way to motivate yourself to get into the gym and challenge yourself when you're there. Whether you're inspired by heavy metal, deep house, or top 40s rap, find the music that ignites you. Try these songs to get your blood pumping
All I Do is Win – DJ Khaled
Harder, Better, Faster, Stronger – Daft Punk
Eye of the Tiger – Survivor
'Til I Collapse – Eminem
Have any other tips for aspiring gym rats? What motivates you? Leave us a comment below.