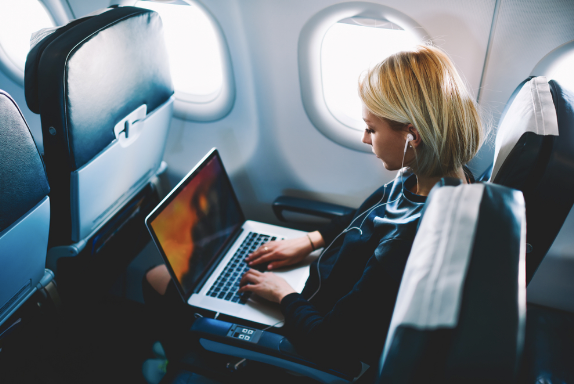 6 Must-Haves for the Frequent Business Traveler
By Ebony Allison

Jul. 22 2020, Updated 7:14 p.m. ET
For any bustling business person, traveling is as common as it is stressful—passing through security, connecting to different flights, and settling into a cramped seat all take a toll on your confidence, energy, and mood. However, there are a few material ways you can stay energized and ready to work, no matter how long the flight or how turbulent the ride.

Read on for our six must-haves for any frequent business traveler working hard for their goals.

#1: Comfortable Professional Clothing
No matter your gender, age, or job, looking professional (when you least want to) goes a long way. For business travelers on a mission, you'll need to be meeting-ready and dressed to impress no matter how little your seat reclines.

For you ladies out there, be sure to wear some nice heels or snazzy flats, a strapping blazer, or a chic, multi-faceted travel dress for a day to night look, on the go. For the fellas, a structured jacket, crisp shirt, and nice dress shoes will add some fashionable flair to your flight.

Just remember: comfort is everything. Wear nice pants, but ones that fit. Sport a cool tie, but not too tight.

Good hygiene does wonders for a first impression. Or, perhaps more accurately, it avoids the awkward issue of a poor first impression due to a less-than-fresh smile. No matter the case, packing must-have toiletries is crucial.

Before leaving the house, open your toiletry bag and throw in the following:

Traveler toothbrush and toothpaste
Floss
Small comb or brush
Detangling spray or frizz-fighting hair volumizing spray
Hygiene products
Hand sanitizer
Lip balm (you know what they say, "dry lips sink business deals")
Deodorant
Article continues below advertisement
For you femme entrepreneurs and hard-working hustlers out there, pack your essential makeup items in a hanging cosmetics case for easy-to-rummage luxury, whenever you need it. To top your packing off, prepare a cosmetic face mask to apply after your flight to combat jet lag, tired eyes, and dull skin—giving you a fresh, energetic look that boosts your confidence and improves first impressions.

#3: Gadgets for Hard Workers, On-the-Go
As a disciplined business traveler, you're probably tapping away at your laptop keeping the finances in order from the minute you're in the air until the second time the flight attendant passive-aggressively tells you to put it away.

For a flight that's fit for your focus, you'll need all the right gadgets to produce flawless work, no matter how bumpy the ride:

Noise-cancelling headphones so you can block out the seemingly unavoidable sounds of the crying baby on your flight.
A portable charger because Murphy's Law will suck up all your battery right when you need it most.
A wireless laptop mouse so your fingers don't also get cramped while working on the flight (Is there such a thing as extra shoulder room seating?).
Article continues below advertisement
#4: Portable Alarm System
Buying a cheap and portable alarm door stopper for your hotel room is perfect for frequent flyers and solo travelers, especially if you feel particularly vulnerable in a certain environment.

No need for anymore sleepless nights or paranoid flinches at every small sound—with this clever little gadget, you'll get the shut-eye you need and the peace of mind you deserve.

The key to staying fly on any flight is to look as polished, pristine, and professional while stepping off the plane, as you are stepping on it—and that means not having any lint, crumbs, or inexplicable dog hair on your blazer

To be meeting-ready the moment you step off the plane, carry on a tiny, compact lint roller to freshen up your look before networking.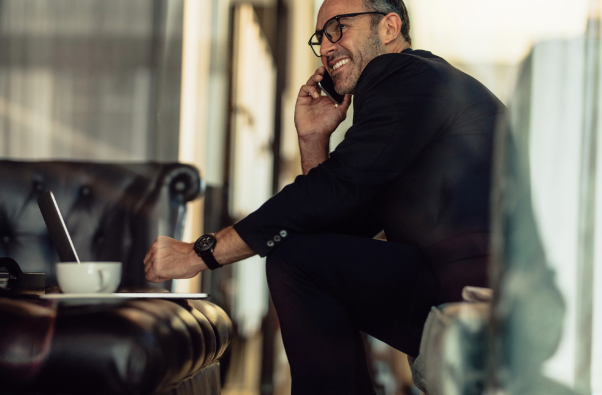 #6: Business Cards and Card Holder
Keep a sleek aluminum card holder in your carry-on for a convenient container that speaks volumes of your professionalism and organizational skills. Don't forget to have your own cards on-hand so you're prepared to make important connections, no matter where you are.

No matter where you're traveling or what your goals are, you deserve to travel comfortably and confidently. With just a few small purchases, you'll see how much breezier your life on the breezeway becomes.

Happy packing, and safe travels!