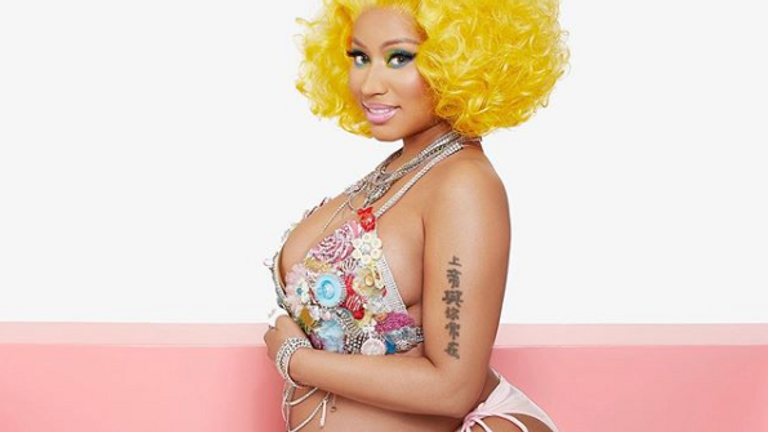 Nicki Minaj Is Pregnant
By Elysia J

Jul. 21 2020, Updated 6:36 p.m. ET
On Monday rapper and artist Nicki Minaj announced to her fans that she is pregnant.
Minaj made the pregnancy announcement via a post to her 118.9 million-follower Instagram page. The post features a photo of the 37-year-old cradling a visible baby-bump. She is wearing yellow wig, high heels, and silver necklaces. She is also wearing a two piece that appears to have the teet of a baby bottle attached to it. In case it wasn't already clear, the caption reads "Preggers."
Well wishers included Ashley Grahem, Winnie Harlowe, June Ambrose, and Chance The Rapper. Since the reveal, the artists has posted three more images to Instagram showing off her baby bump. One of these was shot by David La Chappelle.
This would be her and her husband, Kenneth Petty's first child.
The news comes 10 months after Minaj tweeted about her desire to retire from music to focus on her personal life. On September 5, 2019 she tweeted "I've decided to retire & have my family. I know you guys are happy now. To my fans, keep reppin me, do it til da death of me, in the box- cuz ain't nobody checkin me. Love you for LIFE."
She later deleted the tweet and clarified in a reply to a fan that she was not leaving the music industry. "I'm still right here. Still madly in love with you guys & you know that. In hindsight, this should've been a Queen Radio discussion & it will be. I promise u guys will be happy. No guests, just us talking about everything. The tweet was abrupt & insensitive, I apologize babe."
The rapper has made music and collaborated with other artists since both tweets.