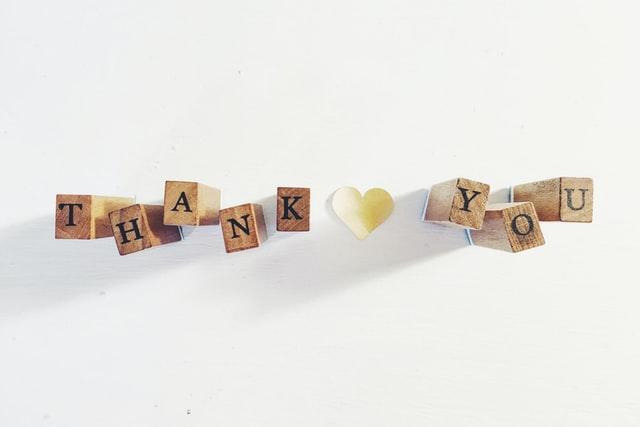 Creative Ways to Say Thank You
By Madison Allison

Sep. 14 2021, Updated 6:01 a.m. ET
Thanking someone can be difficult when you don't know how. While sometimes the simple act of saying that you're thankful for something someone has done will suffice, other times someone might deserve a little more than words. Sometimes, you'll need to get creative so that people know how grateful you truly are. So here are some creative ways to say, "Thank you."
1. Send a Gift Basket
Thank you gift baskets allow you to thank someone by sending them what you know they'll enjoy. Whether it's cookies, chocolate, or something else, nothing says that you appreciate someone like a gift basket. The secret to sending a gift basket is not telling the other person that they'll be receiving it. That way, when their gift basket comes, they'll be surprised and feel even more appreciated than ever before.
2. Make a Gift Bag
If you don't feel like sending a gift basket will be personal enough, you can send them a gift bag with multiple gifts. There are tons of gift ideas out there for every type of person, but make sure that your gift bag shows how appreciative you are. For example, you wouldn't send someone who helped you move homes the same type of gift bag that you'd give your boss. By making your own gift bag, you can personalize it to fit the person and match the significant impact that their helping hand had on you.
Article continues below advertisement
3. Give a Gift Card
Choosing what to purchase for someone who helped you can be difficult. The best way to find them a gift is to allow them to pick out their own gift on your dime. In the past, gift cards were seen as the lazy person's way of giving a gift. However, now that there are more options for shopping and more and more people know exactly what they want, everyone loves getting a gift card. Gift cards allow people to buy what they want without worrying about hurting the other person's feelings if they don't like their gift.
4. Give Them a Shoutout
Nothing makes someone feel like they are appreciated more than a public shoutout, and there's no better place to give a shoutout than social media. If someone did something that you want to thank them for, make it known on social media by tagging them in a post.
For example, if someone helped you learn a new recipe, take a photo of the new recipe and tag them in the post thanking them for teaching you something new.
Article continues below advertisement
5. Video Chat
Don't send a text if you want to thank someone and they are far away. Instead, ask them to get on a video chat and thank them "in person." While you may not always have the opportunity to thank someone for something with a hug, you can thank them as soon as possible with the use of technology.
For example, if someone you love lives on the other side of the country and sends you a birthday present, ask if they'd like to hop on a video call so that you can open the present and thank them. This allows them the opportunity to see you open the present and gives you the chance to thank them face-to-face.
6. Send a Personalized Card
Sure, you can send any old thank you card, but if you personalize it, you can show the person you're thanking that you appreciate everything that they've done for you. With a personalized card, you can add a photo of yourself or both of you to make your thank you even more special.
Saying Thank You
Of course, you should never wait to say thank you when someone does something for you. Use any of the above ideas to show how thankful you are and make the person on the receiving end feel special.