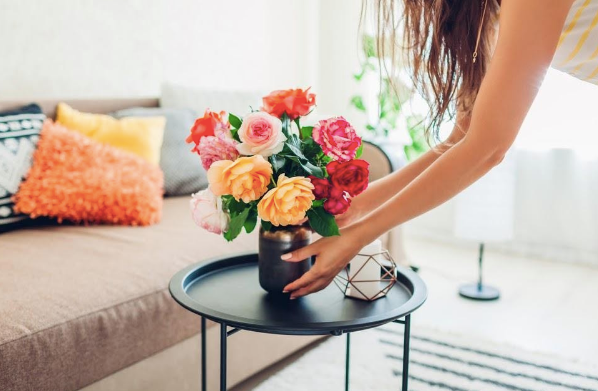 4 Fresh Ideas for Decorating Your Apartment
By Todd Hamilton

Nov. 24 2020, Published 10:57 a.m. ET
There are a ton of great things about living in an apartment. Having a superintendent to call when you lock yourself out (again), never worrying about mowing the lawn, and relying on neighbors who are always there to lend a (figurative) cup of sugar are just a few of the perks.
However, sometimes apartment living can start to feel a little stale. If you're starting to think your apartment walls are closing in on you, it's time to start fresh—with decorating, that is.
Read on for four fresh ideas for decorating your apartment.
#1 Maximize Your Space with Minimalist Decor
As an apartment dweller, you're always looking for ways to make your home feel bigger and brighter. You can't actually change the size of your apartment, but you can free up some space by embracing your inner minimalist. Letting go of your belongings can be difficult, but we promise it'll be worth it when you have all that extra room to lounge around in.
Here are some simple ways to freshen up your space with minimalism in mind:
Say goodbye to (most) knick-knacks
Create a designated space for unopened mail (so it doesn't end up on the table)
Invest in under-the-bed storage to freshen up your bedroom
If you can't decide which items to keep and which to toss, ask yourself:
Do I love this?
Is it practical?
Have I used it in the past year?
Could someone else put it to better use?
Does having it in my home make me happier?
Consider donating the items you decide to part with through WOVIN. Clearing out your space will be so much easier when you know someone else will benefit down the line.
Article continues below advertisement
#2 You're a Great Multi-Tasker—Your Furniture Should Be, Too
Between work, family, friends, and your side hustle (or hustles), we know you've mastered the art of multi-tasking. You should hold your furniture to the same standard—time to pick up a second job, cabinet!
This is especially true if you're in a studio, where your living room, dining room, bedroom, and kitchen are one and the same. Consider adding pieces like a pull-out couch, an ottoman with built-in storage, or an office desk that does double duty as a bookshelf.
Article continues below advertisement
#3 Section Off Your Space
Just because your apartment doesn't have a dining room doesn't mean you always have to eat dinner on your couch—no judgment, but maybe it's time to switch things up. Separating your spaces into mini 'rooms' can break up your day, help you avoid burnout and exhaustion if you work from home, and make your apartment seem more functional.
Try sectioning off your space with these easy tricks:
Use a Sochi screen
Construct a makeshift wall with bookshelves
Hang curtains or drapes in walkways
#4 It's the Little Things
Sometimes, all it takes to keep your apartment feeling fresh and interesting is a few simple, inexpensive touches. Brighten up your couch with bold pillows, make your bedroom feel new with an updated duvet, or swap out the dish towels in your kitchen.
It might not sound like much, but changing up the items you use on a day-to-day basis can feel just as exciting as bigger, more expensive projects. Plus, if you're renting, there's a good chance you might move out in the near future. These temporary improvements can be much more appealing.
You're on Your Way to Feeling Fresh
Revamping your apartment to incorporate some fresh design elements is a lot easier (and more cost-effective) than moving across town in hopes of feeling some sudden sense of rejuvenation. We promise. By now, we hope you're feeling inspired and ready to make the most of your apartment. You might be surprised at how invigorated a few simple upgrades make you feel.