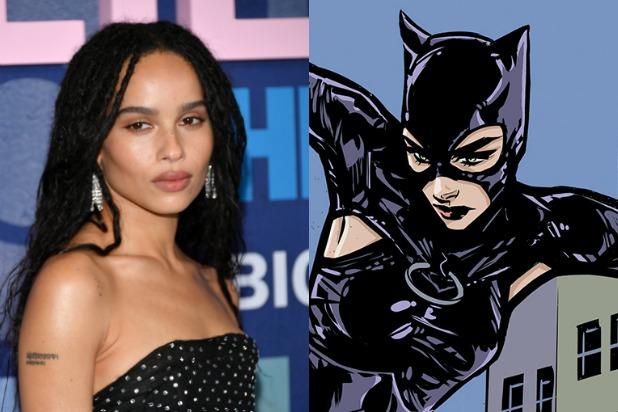 Zoë Kravitz To Play Catwoman in New Batman Movie
By Ash C

Oct. 15 2019, Updated 5:23 p.m. ET
Zoë Kravitz has been casted as Selina Kyle in Warner Bros.' upcoming The Batman movie. The new superhero film's casting has Robert Pattinson for Batman, but does not mention the nocturnal crimefighter's romantic interest Catwoman, so it has yet to be confirmed whether Selina Kyle's alter-ego as the beloved antihero will be introduced.
Director Matt Reeves (Dawn of the Planet of the Apes, Cloverfield, 28 Weeks Later) took to Twitter to confirm the reports, posting a gif of Zoë Kravitz. Mattson Tomlin and Reeves cowrote the screenplay. The film will be produced by Dylan Clark and Reeves, with Michael E. Uslan as executive producer. It is set to start filming in January in London, U.K.
Kravitz's most recent works include Mad Max: Fury Road, the Fantastic Beasts franchise, the Divergent franchise, Spider-Man: Into the Spider-Verse, X-Men: First Class, and Big Little Lies. She also voiced the role of Catwoman in The Lego Batman Movie.
Her new screen role as Selina Kyle means she will be following in the footsteps of former Catwomen Michelle Pfeiffer, Anne Hathaway, and Halle Berry. Going way back to the 1960s Batman series, those who wore the black leather catsuit included Julie Newmar, Lee Meriwether, and Eartha Kitt.
Ever since her first appearance as The Cat in Batman #1 in the spring of 1940, the Catwoman is known to be a feminist antihero icon that has a complex love-hate, almost-toxic relationship with the Dark Knight. She is also a vigilante in her own right – stealing from the rich to feed the poor. Her questionable morals are loose but admirable at times, making her a lovable character.
This news follows the announcement of Jeffrey Wright (Westworld, The Hunger Games) playing Commissioner Gordon in the latest Batman reboot. Rumors of Jonah Hill in talks for a villain role have also surfaced. The highly-anticipated film is scheduled to come out on June 25, 2021.