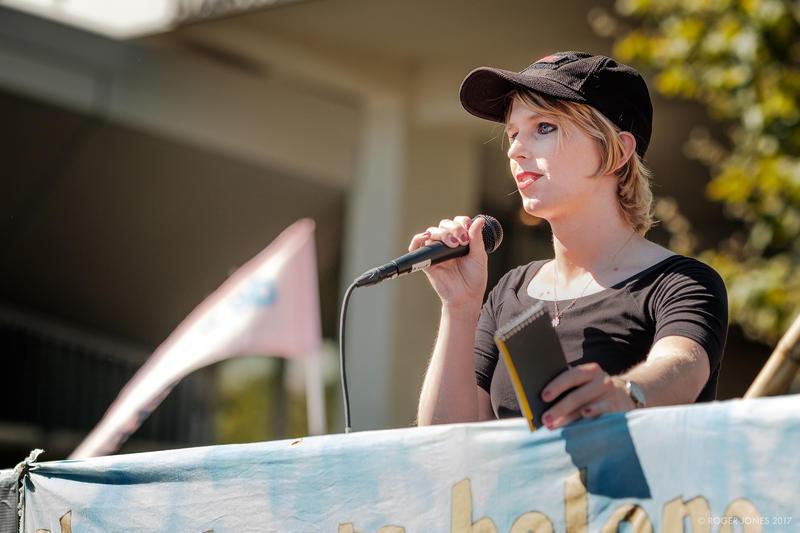 What's Happening To Chelsea Manning Is F*cked Up
By Elysia J

Jun. 5 2019, Updated 3:24 p.m. ET
Over the past three months Chelsea Manning has been the subject of a targeted campaign of intimidation and coercion. The issue stems from her refusal to testify before a grand jury investigating Wikileaks. This refusal has not gone down well with those in power, leading to an ordeal of trails, imprisonment, and outrageous sanctions, all in an attempt to break her will.
Manning is currently in prison. On Friday May 31st her legal team filed a motion to request that the financial sanctions she is currently subject to be reconsidered. This is just the latest in an ongoing battle that Manning and her legal team have been fighting.
Timeline
March 8th 2019: Chelsea Manning is taken into custody for refusing to testify before a grand jury investigating Wikileaks
May 9th 2019: the grand jury's term ends, Chelsea Manning is released
May 16th: Chelsea Manning found in contempt of court and ordered back into custody for the remainder of the new grand jury's term.
31st May 2019: Manning's legal team files motion to reconsider sanctions
Initial Arrest
Back in March Chelsea Manning refused to testify before a grand jury for ethical reasons which she outlined in a statement posted to twitter. In response Judge Claude H. Hilton of Federal District Court in the Eastern District of Virginia ruled that she be imprisoned until she changed or mind, or until the grand jury's term was up.
Article continues below advertisement
During this first imprisonment Manning was placed under "administrative segregation" which is code for solitary confinement. The reason officials were hesitant to call it that is because solitary is widely considered to be torture and is known to cause permanent psychological damage. For 28 days of her stay Manning was kept in isolation for 22 hours a day. Her supporters and experts on torture note that solitary is commonly used as a tactical method to obtain statements or confessions.
Article continues below advertisement
New Arrest
A new grand jury term began, this time headed by Judge Anthony Trenga. Once again Manning refused to testify for ethical reasons and was found in contempt. On top of sentencing her to yet more jail time, Trenga also hit Manning with massive financial sanctions. $500 for every day in prison after 30 without testifying, going up to $1000 per day after 60 days.
It is clear even from Trenga's own admission that this ruling is directly intended to bully Manning into testifying. He called for Manning to reflect on her objections to the grand jury process during her confinement.
The Motion
In response to the sanctions Manning's legal team have filed a motion asking Trenga to reconsider the sanctions. The motion is based on five arguments.
" 1) A renewal of Ms. Manning's motion for release, on the basis that she cannot be coerced, and that her incarceration is therefore only punitive. A sanction that serves only to punish her would convert what is intended as a civil coercive sanction into a criminal punishment, in violation of her 5th Amendment rights to due process.
Article continues below advertisement
2) The government has now successfully obtained not one, but two indictments, without the benefit of or need for Chelsea's testimony. Furthermore, as the government's sixty-day window to add further charges prior to the submission of their extradition request is nearly over, the legitimacy of its purported need for Chelsea's evidence is increasingly doubtful.
3) The court may impose civil fines in order to coerce compliance with a court order – but not to punish disobedience with a court order. Coercive fines, however, are usually only applied to corporations, which cannot be jailed. Furthermore, such fines may not be imposed without the court confirming that the fines will not be excessive or punitive. This requires the judge to carefully examine the witness's financial capacity, which was not done in this case.
Article continues below advertisement
4) In the unusual event that fines are imposed on individuals, it is where the underlying contempt involves a refusal to comply with a court order about the management of large sums of money. There are no such facts in Chelsea's case, and her lawyers believe that imposing any fine may be presumed to be definitionally punitive, rather than coercive.
5) Although both fines and confinement are within the traditional contempt powers of the court, past cases suggest that these may be used one at a time, or one after the other, but a court should not impose both at once. "
Conclusion
This is a troubling attack on both due process and the freedom of the press. Manning is being abused in order to get more dirt on Julian Assange. Assange was hit with a 18 count superseding incitement, and the US has been trying to get him extradited for some time. The focus on Assange and Wikileaks is noteworthy, because they were not the ones who obtained the information that Manning leaked. They are the ones that published it, essentially making them journalists. Prosecuting, or attempting to prosecute journalists for publishing leaked information is direct threat to democracy and the press. Chelsea Manning has been collateral damage in this attack, despite already having served her time for leaking the information.