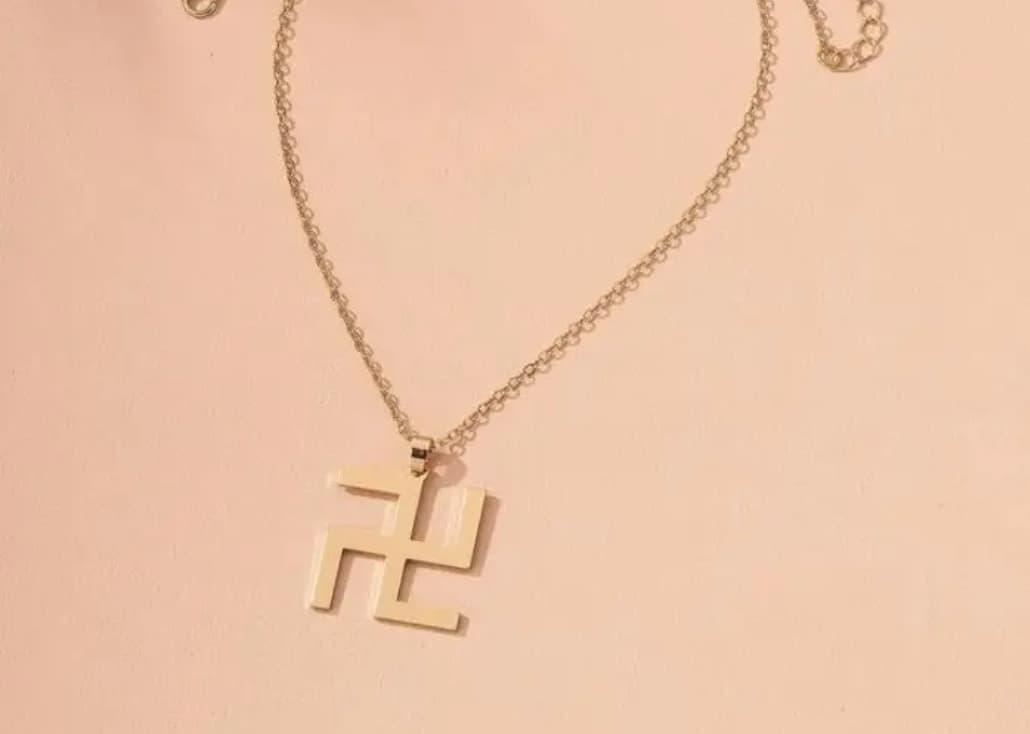 Shein Needs to be Canceled Once and for All
By Jamie Rollo

Jul. 10 2020, Updated 6:02 p.m. ET
I think we can all agree it's time to fully cancel fast-fashion e-retailer giant Shein. Not only were they called out for selling prayer rugs as decoration, they have also been called out for selling a gold swastika necklace on their site. After being caught again, they gave another emotionally empty apology trying to explain themselves.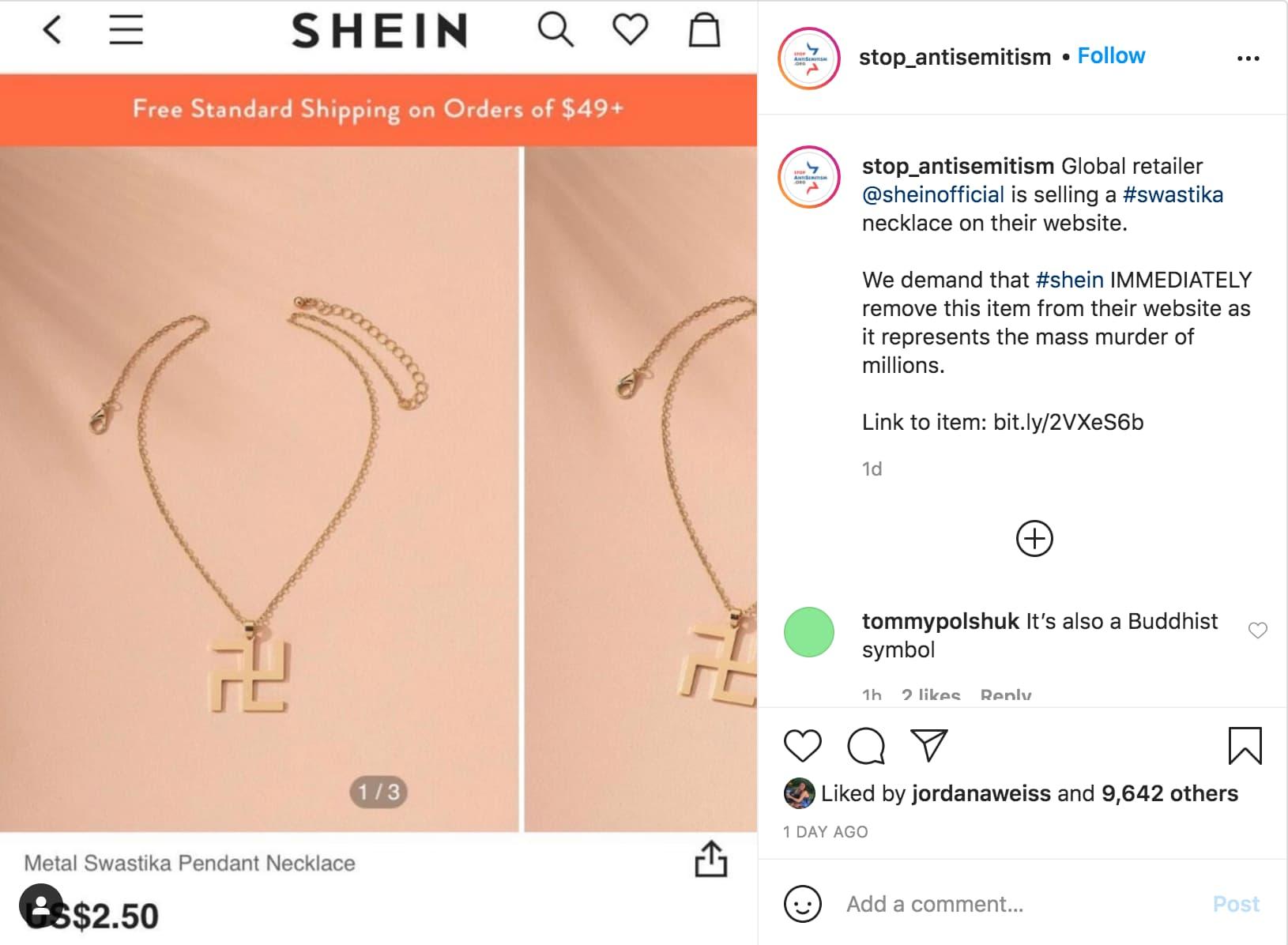 Shein attracts millions of young shoppers for their impossibly cheap prices. The reason they don't charge a lot is because they practice "dropshipping," much like other e-retailers like Romwe and Zaful. Companies who practice dropshipping essentially carry no stock and fulfill their orders from a larger merchandiser, profiting solely off of shipping payments.
Shein essentially serves as a middle man for the online superstore AliExpress. When you go on AliExpress and search their index for "swastika," you'll see pages upon pages of Nazi merchandise. Shein, in a recent Instagram statement, is claiming they didn't mean to harm anyone by selling it on their site and that it was the "Buddhist swastika" not the Nazi swastika.
Article continues below advertisement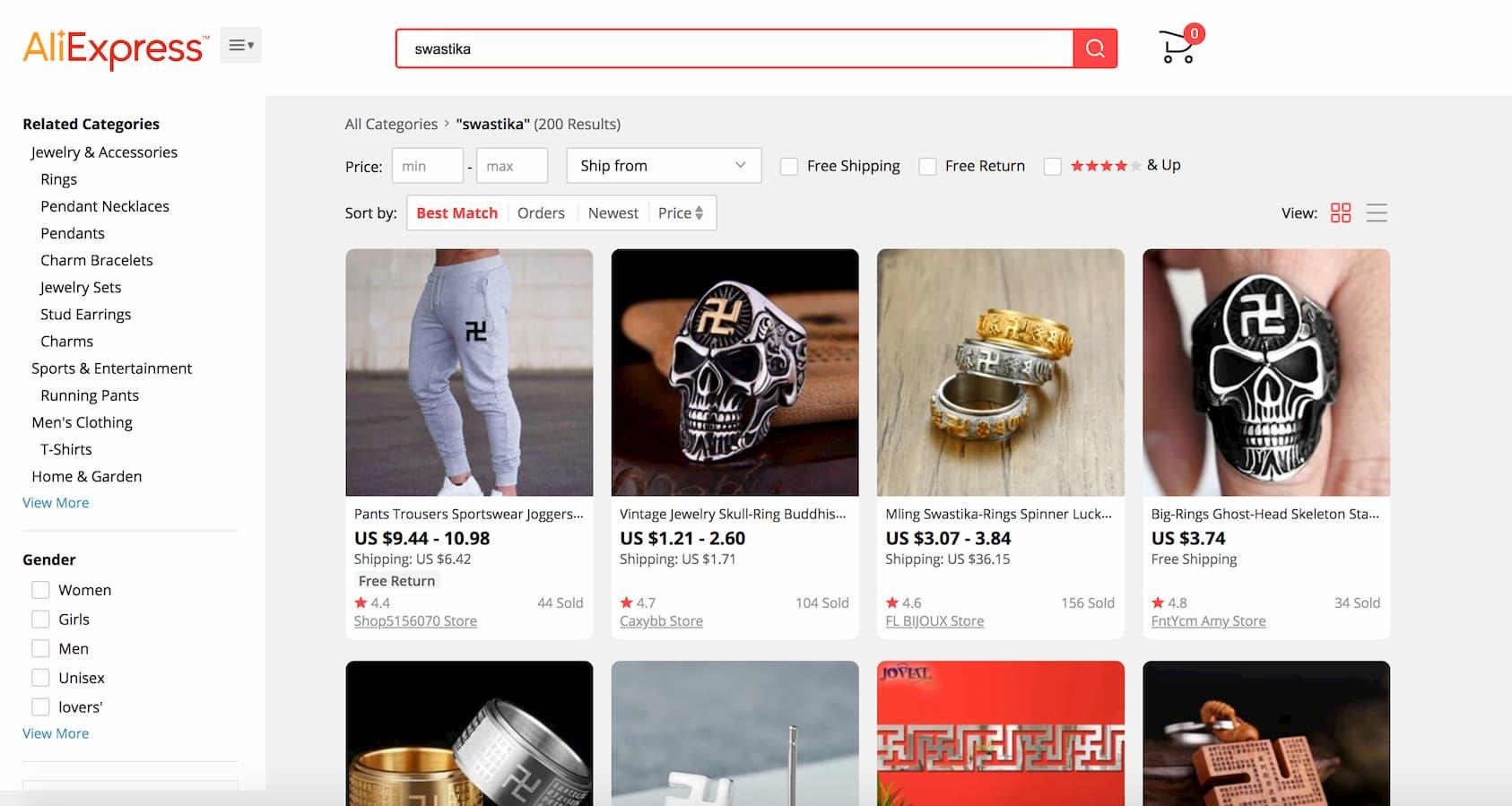 "We made a gigantic mistake by selling a product that's harmful and offensive to many of you, and we're so, so sorry," the brand wrote. "Here's what happened: We listed a Buddhist swastika necklace for sale. There's simply no excuse for our lack of sensitivity in doing so. The item was removed as soon as we discovered this mistake."
"The Buddhist symbol has stood for spirituality and good fortune for more than a thousand years, and has a different design than the Nazi swastika which stands for hate," the post continued. "But frankly, that doesn't matter because we should've been more considerate of the symbol's hurtful connotations to so many people around the world, and we didn't."
Article continues below advertisement
Interestingly enough, many people have called out the brand for their empty apologies. Just last week when they were called out for selling Muslim prayer rugs as trendy decor items, Shein promised to do a "much better job in educating [themselves] on different cultures, religions and traditions." They also lied and said they had removed the swastika necklace upon noticing, but many people have called them out for not removing the product, just the word "swastika" from the product name.
Further in their apology, they stated that they have established a committee to oversee products before they go up for sale. They also vowed to not sell any religious items from here on out. "We know we have a lot of work to do to deserve the love and support you've shown us these last few years," wrote Shein. "But please believe that we in no way support or condone racial, cultural and religious prejudice or hatred. We love all of you and hope you will stay with us."
At the end of their apology, they left contact information where customers can send complaints or concerns. In my opinion, however, I don't believe they can come back from not one but two offensive merchandising scandals that came from a place of blatant complacency. At the end of the day, how can a product make it to a site without being reviewed at all? It's extremely difficult to believe that not just once, but twice Shein didn't catch their disastrous mistakes before making them. So, if you want cheaper clothes, it's probably best to just thrift or buy second hand.