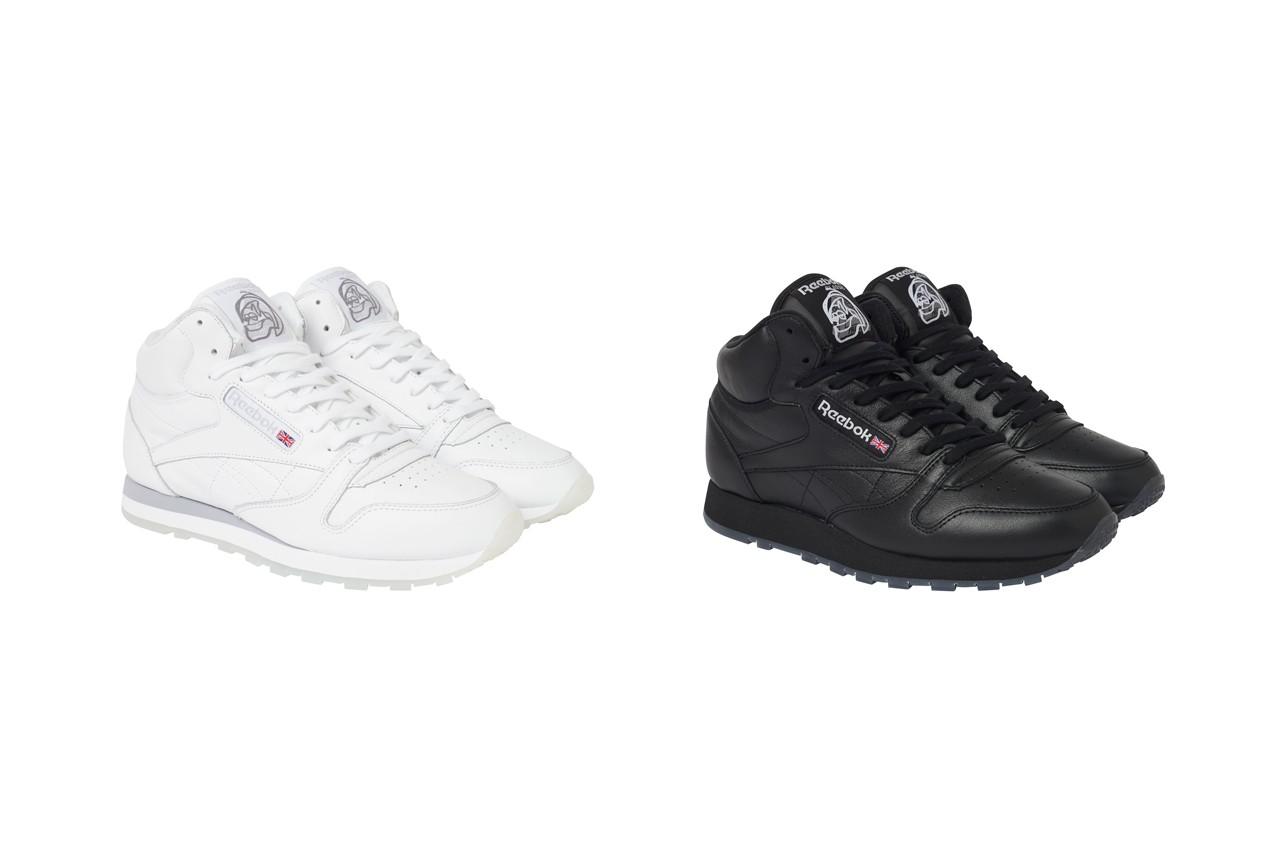 Palace x Reebok All-New JK Leather Mid Sneakers
By Ash C

Oct. 11 2019, Updated 9:01 p.m. ET
Palace Skateboards has released the latest item from its collab project with Reebok, and it's two different version of a new silhouette dubbed the JK Workout Mid. The leather sneakers have a super-cute throwback vibe to it, reminding some people of the creps that once dominated the '80s, as well as the kicks they had to get for cheerleading.
The London skateboard apparel brand Palace is presenting the shoes in a cobalt white with airy grey accents, and a jet black colorway that gives a "don't f*ck with me" finish to your outfit. The sneakers may be officially categorized under Reebok Workout, but style-wise they look much more like the Reebok Classic Leather's – as seen in the mid foot overlays, shape of the toebox, a sleek midsole, and the functional, plug-equipped outsole.
The shoes seem monochromatic upon first glance, but a closer look tells you that they are rife with special details, just like the way Palace does it. On the tongue tag, there's a signature tri-ferg logo overlaid with a wave graphic. But of course that is not all – the tongue also has an embellished lining that shows off Palace's well-known cheeky humor as we see a text hit that reads, "Trad Roots I Won Trod" next to a slightly smaller "JK Special Edition" placed underneath. On the insoles is a printed blue repeating text and drawing.
The right shoe's medial mid foot has Reebok's union jack logo, and on the left shoe is a Palace stamp in the same font. As for the outsole, each foot has a translucent finishing that covers a bigger version of the same cartoon imagery from the shoe's tongue.
The $130 Reebs dropped just yesterday on palaceskateboards.com as well as Palace's retail locations in Europe and the US. But today on October 12, they are also available in Japan at 11AM.