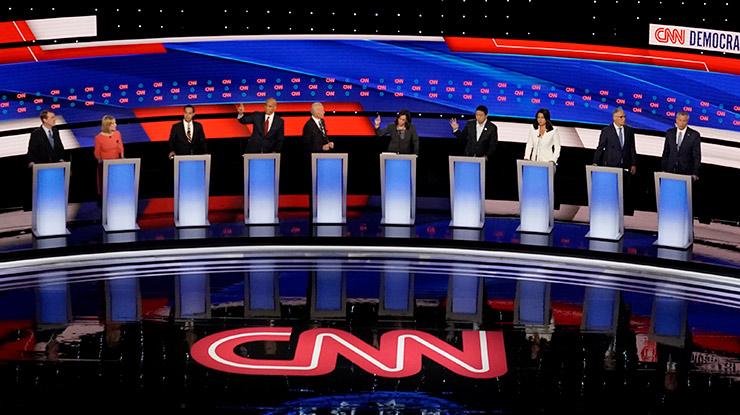 Ladies of the Dem Debate: Talks of Climate Change and Grim Pasts on Night Two
By Jamie Rollo

Aug. 1 2019, Published 4:39 p.m. ET
Night two of the second round of the Democratic primary debates showcased a lot of hostility towards former Vice President Joe Biden and Kamala Harris. Harris, in my opinion, may be completely out of the race after the other candidates reamed her for her past as the California District Attorney. The female candidates who were featured on night two of the Democratic debate were of course Harris, Representative Tulsi Gabbard, and Senator Kirsten Gillibrand. They discussed things from foreign policy to climate change and more. Here are their highlights and downfalls:
Kamala Harris 
Harris was called out by opponent Tulsi Gabbard. The hashtag "#KamalaHarrisDestroyed" was one of the top trends on Twitter. Gabbard questioned Harris about her past as District Attorney, mentioning her marijuana arrests rates, blocking evidence, extended sentencing, and her impact on keeping the "cash bail" policy. Harris looked notably stunned and nervous. You could tell by her expression that she was shocked and unprepared. Her response was a jumbled mess of talking around the issues brought up by Gabbard. Harris nervously said, "I did the work of significantly reforming the criminal justice system of the state of 40 million people, which became a national model for the work that needs to be done – and I am proud of that work. And I am proud of making the decision to not just give fancy speeches."
Article continues below advertisement
Unfortunately, her rant about doing the physical work did not help her in the long run. It was glaringly obvious to anyone and everyone watching that she was dancing around Gabbard's candid questioning.
Article continues below advertisement
Representative Tulsi Gabbard
After the first round of debates, no one really was backing Gabbard as she barely had any stand-out moments or statements. The second round was much more favorable to her, and now more people are discussing her candidacy. Wednesday night, she mainly talked about the need for the U.S to de-escalate unnecessary wars and reallocating the large military budget to helping citizens. Gabbard, as a previous servicewoman, discussed how the entire country is being lied to. She stated, "The problem is, is that this current president is continuing to betray us. We're supposed to be going after Al Qaueda, but over the years now not only have we not gone after Al Qaueda – who is stronger today than they were in 9/11 – our president is supporting Al Qaueda."
Article continues below advertisement
She also spoke about the hypocrisy of officials negotiating foreign policy from "ivory towers" without having to face the full devastating effects that war can bring about. Her stand-out moment, however, was her questioning of Harris on her past as a District Attorney. She is a trending topic on social media for her Harris take-down. People even started speculating that she's a Russian bot planning to take-down Harris's chances.
Article continues below advertisement
Senator Kirsten Gillabrand
Gillabrand said a lot of passionate statements regarding healthcare, race, income inequality, and climate change. Most notably, however, she said the first thing she would do as president is "Clorox the Oval Office." Then of course tackle climate change. She profoundly urged that we should see climate change as the new space race. She questioned, "Why not have a green energy race with China? Why not have clean water and clean air for all Americans?"
Gillabrand also attacked Biden for his Op-Ed piece where he expressed the belief that working women were deteriorating family structures in the U.S. She explained that she had been a working mother, even serving on Congress. Gillabrand wondered what he meant by that. Biden, much like Harris, got defensive of these accusations.