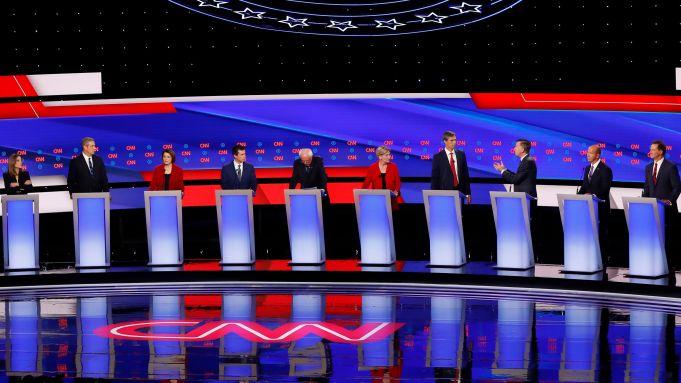 Ladies of the Dem Debate: What the Candidates of Night One Had to Say
By Jamie Rollo

Jul. 31 2019, Published 9:47 p.m. ET
This upcoming presidential election holds a lot of importance for two reasons. One, the country has been wary of the current administration with talks of impeachment and collusion; a lot of voters are hoping that Donald Trump will not win reelection. Two, with all of the female Democratic candidates, there is a lot of hope that we may see the first ever woman president in 2020.
The first night of the second round of the Democratic primary debates aired on Tuesday. Senator Elizabeth Warren, Marianne Williamson, and Senator Amy Klobuchar were the three female candidates featured on night one of the debate. If you missed Tuesday's event, here are some highlights:
Senator Elizabeth Warren
Senator Warren was consistently called out for her "fairy tale" economic policies. The moderate candidates, mainly John Delaney, debated with her on healthcare policies and more. Delaney had argued that these type of radical policies would cost the party the election. To that, Warren had responded, "I don't understand why anybody goes to all the trouble of running for president of the United States just to talk about what we really can't do and shouldn't fight for." She was met with a roaring round of applause. And of course, Warren discussed her plans to take down government corruption and big corporations.
Article continues below advertisement
Her appearance in the last debate resulted in countless memes on social media. Her "girlfriend, you are so on," bit was all Williamson was known for. However, this author and activist really outdid herself Tuesday night discussing topics from Flint to slavery reparations. When questioned on her plan of allocating $500 billion in financial assistance for slavery reparations, she corrected the moderator stating that reparations are a "payment of a debt that is owed." She explained how the U.S will never be at peace until the country faces the truth of its dark past, and the income inequality that stems from it.
Article continues below advertisement
In regards to the Trump administration and the seemingly growing body of racists, she notably stated, "If you think any of this wonkiness is going to deal with this dark psychic force of the collectivized hatred that this President is bringing up in this country then I'm afraid that the Democrats are going to see some very dark days. We need to say it like it is. It's bigger than Flint, it's all over this country." In a post-debate interview, she said she won't know how she did until the memes start rolling in.
Article continues below advertisement
Senator Klobuchar of Minnesota barely got any speaking time, and with her polling numbers in the low single digits, her candidacy is looking unlikely. According to CBS, she was one of the candidates with the least amount of talking time (not including opening and closing remarks). However, she was able to edge in her opinions on the Russian interference, her devotion to helping middle and lower class families, and the need to tackle the opioid addiction epidemic. Klobuchar wants to fight for public healthcare in a timely manner as the rising costs of things like insulin have grave consequences. "I want to get things done. People can't wait," she stated. "I've got my friend, Nicole, out there whose son actually died trying to ration his insulin as a restaurant manager. And he died because he didn't have enough money to pay for it."
Article continues below advertisement
The second night of the debate is airing Wednesday at 8 pm E.S.T on CNN. Candidates Kamala Harris, Kirsten Gillibrand, and Tulsi Gabbard will be participating, and Bombshell will be sure to have the updates.