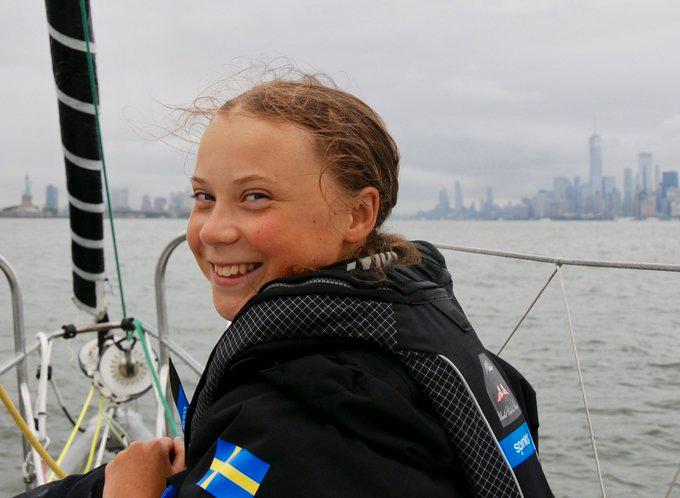 Fox News Issues Apology to Greta Thunberg
By Jamie Rollo

Sep. 24 2019, Published 9:13 p.m. ET
Monday night, Fox News issued an apologetic statement to young climate activist Greta Thunberg after one of their guests on The Story referred to her as a "mentally ill Swedish child." The media company also announced that Michael Knowles, the specified guest and Fox regular, will no longer be affiliated with the company.
"The climate hysteria movement is not about science," said Knowles. "If it were about science, it would be led by scientists, rather than by politicians and a mentally ill Swedish child who is being exploited by her parents and by the international left."
Being that Fox News's viewership is fueled by controversy, they brought on Chris Hahn, a progressive podcast host, to provide a drastically opposing view. He starts off by questioning Knowles, "how dare you?" He continued, "you're a grown man and you're attacking a child. Shame on you. She's trying to do what she thinks is right."
Knowles then interrupts this statement saying, "I'm attacking the left for exploiting a mentally ill child." Hanh jumps back in with, "Relax, skinny boy. I got this. You're attacking a child. You're a grown man."
Following the public outcry, Fox News came out with a statement. According to Buzzfeed the network said, "The comment made by Michael Knowles who was a guest on The Story tonight was disgraceful – we apologize to Greta Thunberg and to our viewers." They also confirmed they will not be working with Knowles in the future.
Thunberg has become widely known for her climate change school strike and her voyage across the sea to New York via sailboat. Recently, she went in front of the U.N to discuss the climate crisis and gave a very passionate speech about how her future is highly affected by this.
Knowles's "mentally ill" comment stems from the fact that Thunberg has Asperger's syndrome and has struggled with depression and an eating disorder in the past. He was trying to argue that Thunberg's parents and the "international left" have made her a figure head.
She took to Twitter after the comment went viral writing, "When haters go after your looks and differences, it means they have nowhere left to go. And then you know you're winning! I have Asperger's and that means I'm sometimes a bit different from the norm. And – given the right circumstances – being different is a superpower. #aspiepower."