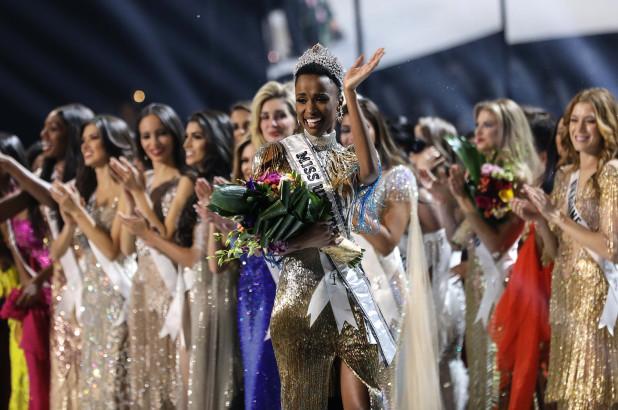 Zozibini Tunzi is Crowned Miss Universe
By Jamie Rollo

Dec. 9 2019, Published 4:43 p.m. ET
For the first time, Miss Universe, Miss America, Miss U.S.A and Miss Teen U.S.A are all Black women. Last night, Zozibini Tunzi of South Africa was crowned the 2019 Miss Universe embodying the changing landscape of a seemingly "outdated" pageant many would have loved to have been eradicated. For years, beauty pageants were touted as superficial contests aimed to judge women solely by their looks. The 2019 pageant, however, has proven this to be untrue with seven female judges and new standards that focus on the accomplishments of the contestants, rather than how they look in a bikini.
Tunzi emulates all that it means to be Miss Universe in this day and age. For her Miss Universe campaign, she worked with the United Nations organization HeForShe which aims to encourage men across the globe to join in the fight for gender equality. Tunzi is also extremely passionate and outspoken about ending gender-based violence. For her national costume, Tunzi asked South African men to write words of encouragement to women and later printed those messages on ribbon to include in her beautifully unique ensemble.
Article continues below advertisement
Tunzi wowed the crowd and judges with her profound response when asked about what young women should be taught, touching upon topics of colorism and rigid beauty standards, and leadership. "[Leadership is] something that has been lacking in young girls and women for a long time, not because we don't want to but because of what society has labelled woman to be," she said in her response. "I think we are the most powerful being in the world and that we should be given every opportunity. That is what we should be teaching these young girls to take, to take up space. Nothing is more important than taking up space in the society and submitting yourself."
Outside of the pageant, Tunzi works as a public relations expert and model. While simultaneously working on her Miss Universe campaign, she was studying to earn her master's degree in public relations. Prior to the show, representatives from the Miss Universe Organization made sure to let the public know they are attempting to become a more modern institution focusing on the contestants' character and accomplishments rather than meeting rigid, white-washed standards of beauty.
Article continues below advertisement
This moment for Tunzi, however, goes way beyond her own personal success. After being crowned, she wrote on her Instagram, "Tonight a door was opened and I could not be more grateful to have been the one to have walked through it. May every little girl who witnessed this moment forever believe in the power of her dreams and may they see their faces reflected in mine."