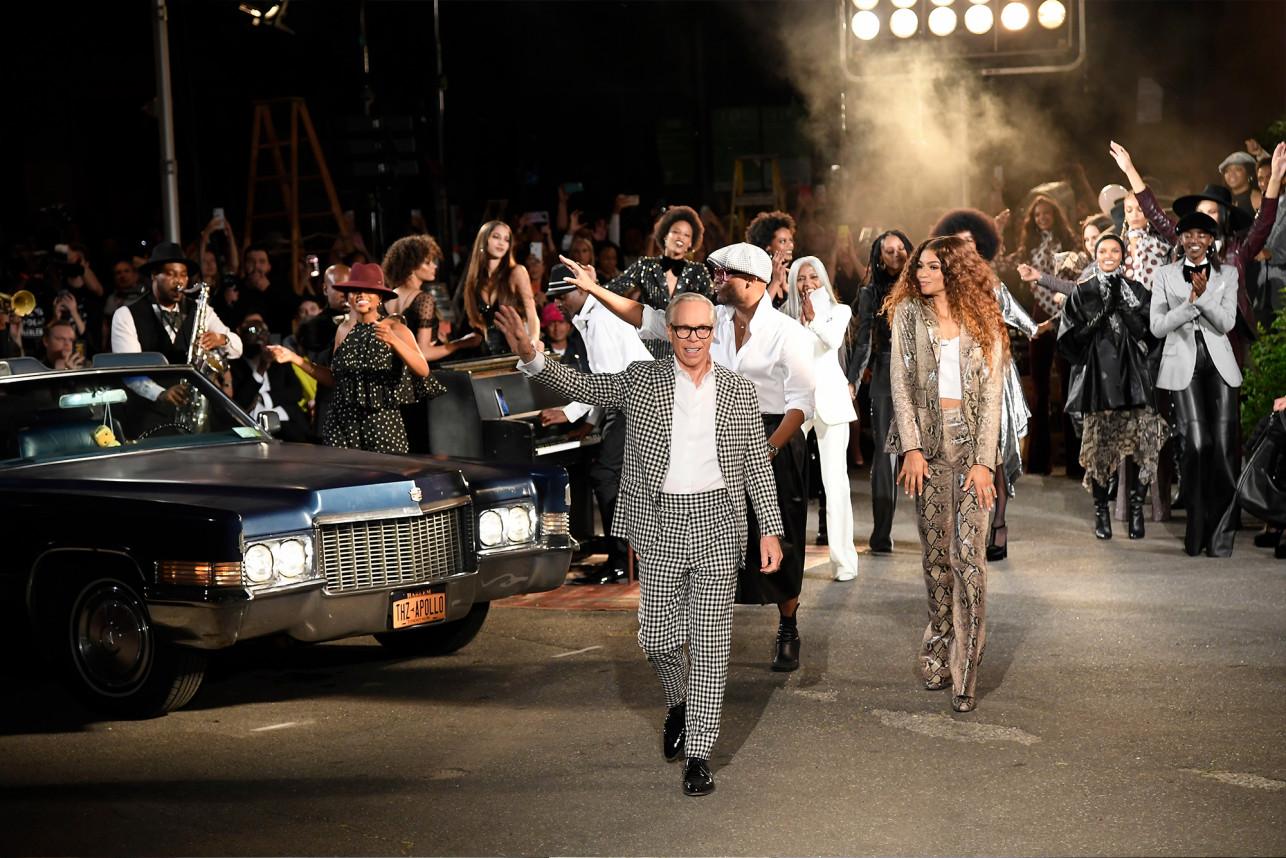 Zendaya Takes Tommy Hilfiger to a 70's Harlem Party
By Ash C

Sep. 9 2019, Published 4:39 p.m. ET
Tommy Hilfiger's much-awaited comeback to New York Fashion Week has proven to be legendary with Zendaya taking the brand's new season to an epic block party in Harlem.
On a loading dock behind the fabled Apollo Theater – one of the most iconic landmarks in Harlem – the designer's team built a stage to celebrate late 70's and early 80's nostalgia right next to vintage convertibles. It was a whole aesthetic.
Alongside musicians and dancers joyously getting down to live funk music and classics like Aretha Franklin's "Respect," the catwalk saw a spectacularly diverse range of models of all races, sizes, and ages grooved in fashions more glamorous than Hilfiger's usual athletic style, this time uniquely honing in on 70's Harlem.
There were lots of leathers, velvets, snake prints, and faux fur to glam it up. Above the chunky platform shoes were pantsuits featuring tailored jackets and high-waisted, wide-legged trousers, as well as flared skirts, slinky bodysuits, silver lamé disco dresses, and lots and lots of wide-brimmed fedoras to literally top it all off. Take a closer look at the clothes here.
The star-studded crowd including Jameela Jamil, Meghan Trainor, Bella Hadid, Gigi Hadid and her rumored boyfriend, Tyler Cameron, all sashayed to the music as they exited to the street.
Article continues below advertisement
Zendaya's Euphoria costar Hunter Schafer raved about the immersive happening, according to New York Post: "It was absolutely beautiful and I'm so proud of Z. I don't know if you could even call it a runway show – it was like an experience, a performance. It was magic."
New York Post also reported comments from the audience saying it felt like the 70's, that "it was the most fun I've had at a show for as long as I can remember," boasting the good music and amazing energy of the event.
Unfortunately, this is the finale of Zendaya and Hilfiger's design collaboration – at least for now. The designer told of the experience in the show notes left last night:
"This evening also marks the end of my two-season collaboration with Zendaya and image architect, Law Roach. With redefined power dressing at its core, the collection's bold tailored pieces are infused with a modern twist that celebrate the strength that comes from fearlessly being your true self. We didn't want to hold anything back tonight, with Zendaya's vision, dedication and strong voice bringing a unique edge to our collaboration. She has an important message to tell, and sharing our platform to express her creativity has been an honor."