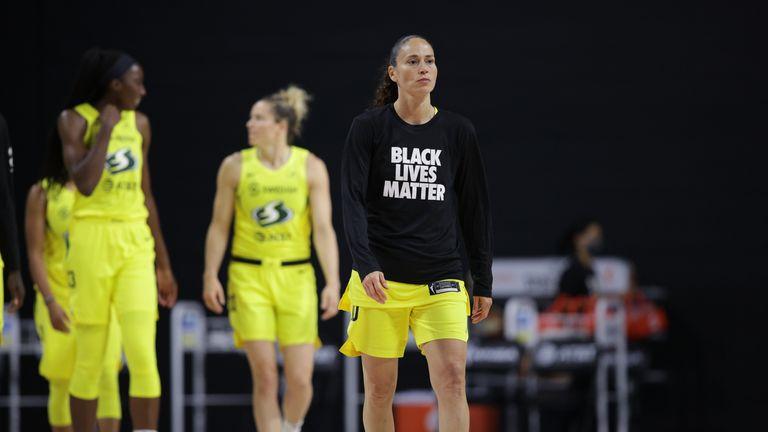 WNBA Players Protest National Anthem
By Elysia J

Jul. 29 2020, Updated 5:36 p.m. ET
The WNBA season began on Saturday, and when the national anthem played, the players were not on the court.
All players from both the Seattle Storm and New York Liberty left the court before the anthem was played. The move follows similar protests in sports sparked by Colin Kaepernick.
On why they walked off as opposed to kneeling, Layshia Clarendon of New York Liberty said "kneeling doesn't even feel like enough to protest." She added, "I don't want to hear the anthem, I don't want to stand out there. I don't want to be anywhere near it, because it's ridiculous that justice and freedom are just not offered to everybody equally."
This protest specifically highlighted Breanna Taylor, and the Say Her Name Campaign.
Clarendon then told the crowd that this WNBA season would be dedicated to Taylor and the Say Her Name campaign, which highlights Black women who are killed by police. She noted that their deaths often do not garner the attention they deserve. She named Sandra Bland,Atatiana Jefferson,Dominique "Rem'mie" Fells,in addition to Taylor.
Then Breanna Stewart announced that there would be a 26 second silence in honor of each year of Taylor's life.
Article continues below advertisement
The move comes after discussions between the WNBA, Stacey Abrams, and Breonna Taylor's mother. Nneka Ogwumike, of Los Angeles Sparks, told reporters that she hoped the action taken would live up to what they discussed.