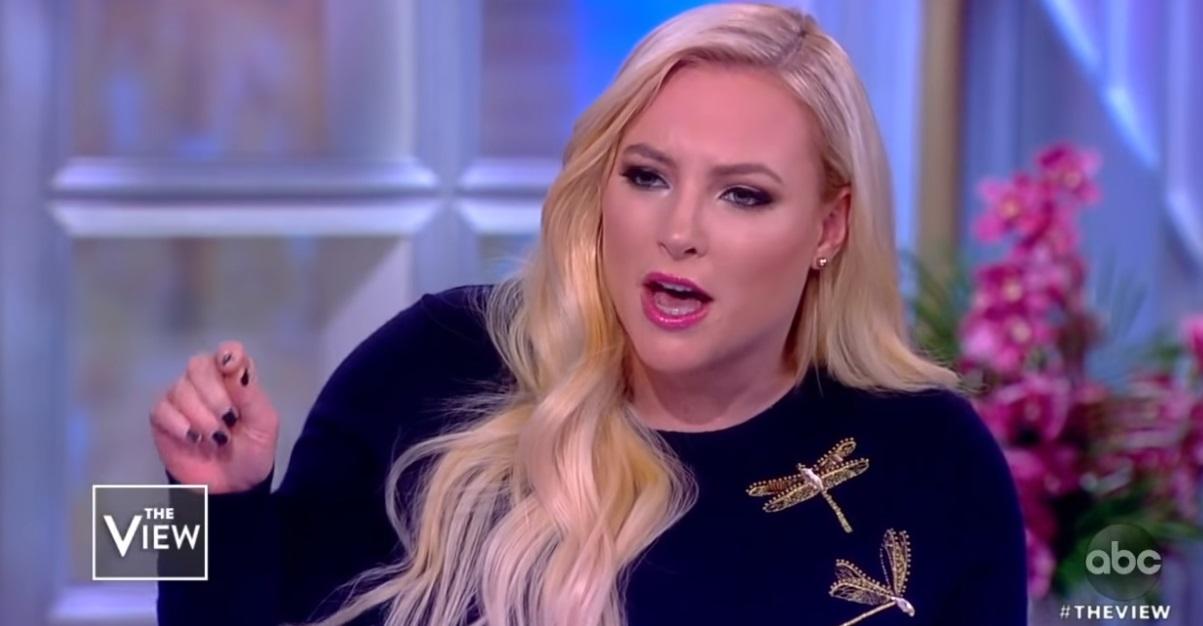 Why Meghan McCain Is Kind Of The Worst
By Elysia J

Mar. 18 2019, Published 4:20 p.m. ET
I have found Meghan McCain insufferable for a while now. But it's only recently that I have been able to attribute this distaste to something other than basic cattiness or an impulse reaction to her frankly, unbearable voice.
I owe this revelation for the most part, to the latest dumbass thing she said. On a recent episode of The View, the hosts were discussing the college bribery scandal, which prompted Joy Behar to bring up the policy of legacy admissions at prestigious Universities. Joy explained that legacy admissions were racist by design, as they were originally instated to keep non-white people out of the top schools. Joy then went on to say that the fact that a family member got in should have no bearing on whether their relatives should get in, and that grades should be the deciding factor.
What was Meghan's response to this thoughtful explanation of how legacy admissions have played a role in continuing racial inequality? She took it as a personal attack and went on the defensive about her own families legacy at the Naval Academy. "When it comes to military academies my family goes back generations at the Naval Academy, that's service to your country so I would push back in that part of it because my grandfather great-grandfather my brothers they all served their country (…) I don't think there's anything to be ashamed of the fact that my families legacy is at the Naval Academy, I mean my father's buried there."
Article continues below advertisement
This is the perfect summation of my gripe with Meghan. Her main political priority is defending her divine right to wealth and privilege. To Meghan, a comment on the fact that legacy admissions perpetuate inequality is a personal attack. She does not care what impact the policy has had on marginalized groups (she literally says nothing on this point). She is compelled to defend anything that has contributed to her inordinate privilege at the expense of progress toward equality.
This does not just apply to racial equality. Let's not forget that Meghan McCain is also filthy rich, which means that economic justice is also totally out of the question. In fact it the very idea of it literally "petrifies" her.
Article continues below advertisement
She hears Medicare for all, paid family leave, fully funded public school, and university, and thinks danger. She is petrified and visibly angry and because heaven forbid lady moneybags would have to pay anything close to her fair share of taxes on her inherited fortune. Again, there is no regard for what hoarding wealth comes at the expense of. No regard for who suffers in a system where healthcare is treated as a commodity and not a right, no regard for who suffers when public schools are underfunded, no regard for people who actually have to do a real job to earn in a month a fraction of what she makes per tantrum, who have no safety net for family emergency's or sickness.
What is also abundantly clear from this clip, is that she isn't even good what she does. Meghan was handed a career because she's John McCain's daughter and has done nothing to prove herself deserving of her platform. She is either too dim or too lazy to adopt the talking points that smarter conservatives hide behind when advocating for an economy that benefits the rich at the expense of the poor. Without this veneer of intellectualism, we get to see the basic instinct to defend ones unfair position in the status quo that lies behind so much of conservatism.
Of course, two clips aren't enough to base your entire view of a person on. These two just happened to be illustrative of my issue with her. It's important to listen to more of her words. As you do there will be occasional issues that she pretty alright on. She's not a homophobe which is nice. But what you should look out for her is her reaction to any mention of systemic change. That is when her privilege screams the loudest, and that is where she's kind of the worst.