What Has Back To School Shopping Come To?
By Alyssa Serrano

Jul. 30 2018, Updated 10:20 p.m. ET
Although it's only July, back to school ads have already started. Stores have school supplies on display with sales and discounts. But recently, there have been new, alarming back to school supplies on the market.
Bulletproof backpacks are on sale in stores all over the United States. Bulletproof insert shields are also for sale, as an alternative to the actual backpack. There is also a plan to install bulletproof doors and windows into some schools around the country. A campus in Oklahoma has reportedly created a bulletproof shelter as a result of the recent shootings. They have even created bulletproof clipboards, which don't sound very helpful.
These shocking new products have caused an uproar on Twitter. An image of a sold out, pink bulletproof backpack is circulating social media, and also causing an uproar. The sale of these bulletproof items are rising since the Parkland shooting.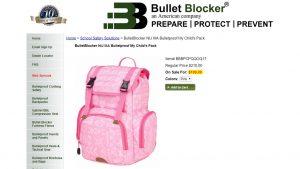 Article continues below advertisement
Twitter users are also sharing disheartening stories of shopping with their siblings or children, and seeing these backpacks. One person recalls opening a preschooler's backpack to get his lunch and finding a bulletproof insert. As the creator of the post put it, "A preschooler should not have to be carrying this around in his backpack." Young children should not be concerned about being safe in their schools, and certainly should not have to bulletproof their items. It's a very sad reality that children are afraid to go to school, and yet, parents are buying these backpacks because they have the same fear.
Maybe instead of bulletproofing the kids and their schools, there should be more focus on gun control. No student or parent should need to be prepared in case of a school shooting. Instead, guns should be much more regulated so shootings are no longer a frequent occurrence in the U.S.