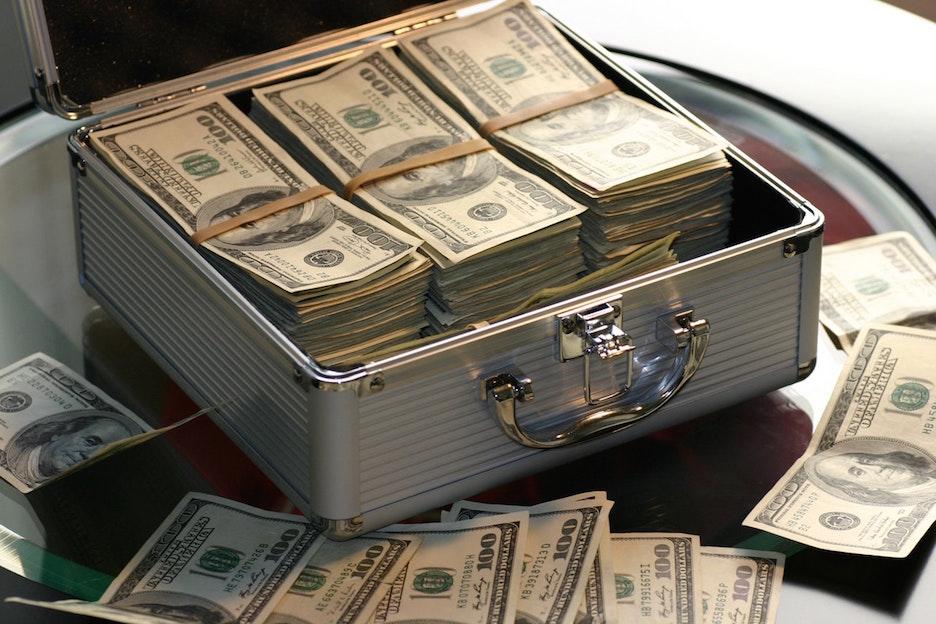 Is Wealth #1 On Your Dating Checklist?
By K. Wright

Jan. 24 2019, Updated 6:16 p.m. ET
I read a story on XONecole from Lauren Craig, who made a brief appearance on the Wendy Williams show. She was part of the Ask Wendy segment, and she revealed that she "only dates wealthy men." She mentioned that her friends think she's too picky and she needs to lower her standards.
After Lauren's proclamation, Wendy quickly fired off a series of questions including "What do you have to offer?" and "How old are you?" Lauren named a few credentials and added that when people ask what she brings to the table she lets them know, "I AM the table."
Her comment got a few half-hearted claps from the audience, but it was clear they weren't on her side. Wendy quickly attempted to shut her down by saying she needed to grow up. Her stance seemed to be that wanting a man based on his income only, is shallow.
Article continues below advertisement
After watching the clip, I had mixed feelings. On one hand, I've never been a fan of Wendy Williams, and this segment of her show is one of the reasons why. Telling a grown woman that she needs to "grow up" because of her dating preference comes off as rude and condescending. It's not like she said she wanted to marry Prince Eric from The Little Mermaid.
Personal preferences in dating are just that—personal. In her article detailing the backstory to the conversation with Wendy, Lauren admits that she's had plenty of experience with struggle love and has no desire to go down that road again.
I can relate to this sentiment, as I'm sure many women can. How many guys have you met who expected you to treat them like a king just because they text you regularly? How often have you been asked to loan out money to a man that won't even call you his girlfriend in public because he "doesn't like labels?"
It's frustrating and can lead you to swear off any man who's lacking in the financial department. When women are out here graduating from college, starting businesses, and hustling, no one has time to cater to a partner who can't—or won't—do the same.
Article continues below advertisement
On the other hand, the idea of exclusively dating men in a certain income bracket doesn't totally sit well with me. I've always been more focused on building my own wealth. After all, if the day ever comes when that wealthy man decides he wants to part ways, what good will his lucrative salary do for me?
Also, the magic number Lauren said she requires in a partner is the high six-figure range. Again, personal preference is personal. However, I find it a bit troubling to think that she (or any woman) would come across a man making $100k and turn her nose up at him. $100k may not be rich, but it's definitely nowhere near poverty level.
Which brings me to another reason why I've never thought to have an income requirement during my dating days. I think most people hear the word "six figures" and instantly think a person is well off, when it can be quite the opposite. Men with high salaries can still be broke if they don't know how to manage money, and a man with a lower income can have a comfortable lifestyle.
Ultimately, who another woman chooses to date doesn't affect my bank account or relationship, nor does it affect Wendy Williams or anyone else. If she wishes to remain single until she comes across a man with the income she desires, the benefits and consequences of that decision lie solely with her.
Article continues below advertisement
Why we as a society feel obligated to tell someone their preferences aren't realistic is disheartening and unnecessary. That talk show segment is just another example of how women's financial desires are dismissed and ridiculed. This conversation may have centered around romantic relationships but advising women to lower expectations in their love lives, could explain why we are expected to lower them in our careers and other relationships.
Whether I agree with another woman's dating preferences or not, I'm always going to advocate for her to maintain her standards. If she adjusts her requirements throughout time, it should be because she wants to, not because bystanders think she's "unrealistic." Oh, and no one should ever take dating advice from a gossip talk show host. Period.
What do you think about women having income requirements while dating? Is there a magic number a potential suitor must make before you even entertain them?
K. Wright was inspired to venture into blogging in 2008 after reading websites like MissJia.com and Necole Bitchie. (Both sites no longer up and running, may they rest in dopeness!) Fast forward to today, Wright shares her thoughts on personal finance from the perspective of a millennial woman of color. Read more of what she has to say at Money The Wright Way.