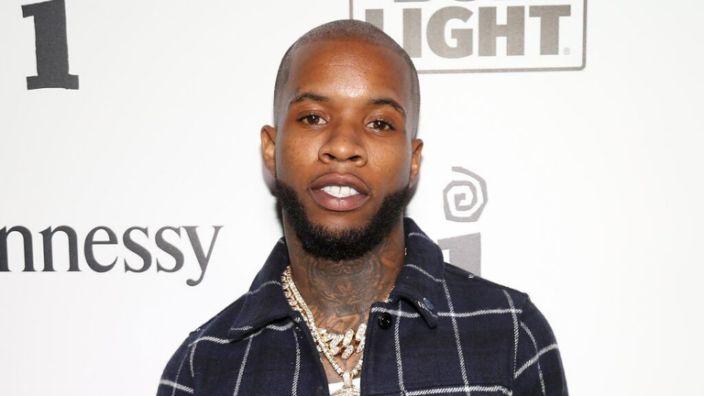 Tory Lanez Charged With Shooting Megan Thee Stallion
By Elysia J

Oct. 12 2020, Updated 8:28 p.m. ET
Rapper Tory Lanez has been charged with assault. He also faces charges for carrying the unregistered firearm used in the assault loaded in a vehicle. The charges were brought by the L.A District Attorney.
According to the official statement: "Daystar Peterson aka Tory Lanez (dob 7/27/92) was charged today in case BA490599 with one felony count each of assault with semiautomatic firearm – personal use of a firearm – and carrying a loaded, unregistered firearm in a vehicle. The defendant also faces a gun allegation and that he personally inflicted great bodily injury… On July 12, the defendant and the 24-year-old victim got into an argument while riding in an SUV in the Hollywood Hills. The victim exited the vehicle and Peterson is accused of shooting several times at her feet and wounding her."
The victim in question is of course Megan Thee Stallion, who has been public about the assault. When the news first broke, the details were unclear. All that people knew initially is that the two were involved in a shooting, leading to wild speculation online. Because of this, Megan was forced to clarify the situation on Instagram. She explained that she was the victim of a shooting. "I suffered gunshot wounds, as a result of a crime that was committed against me." She assured people that she would was expected to make a full recovery, but emphasized that the event was traumatic.
Article continues below advertisement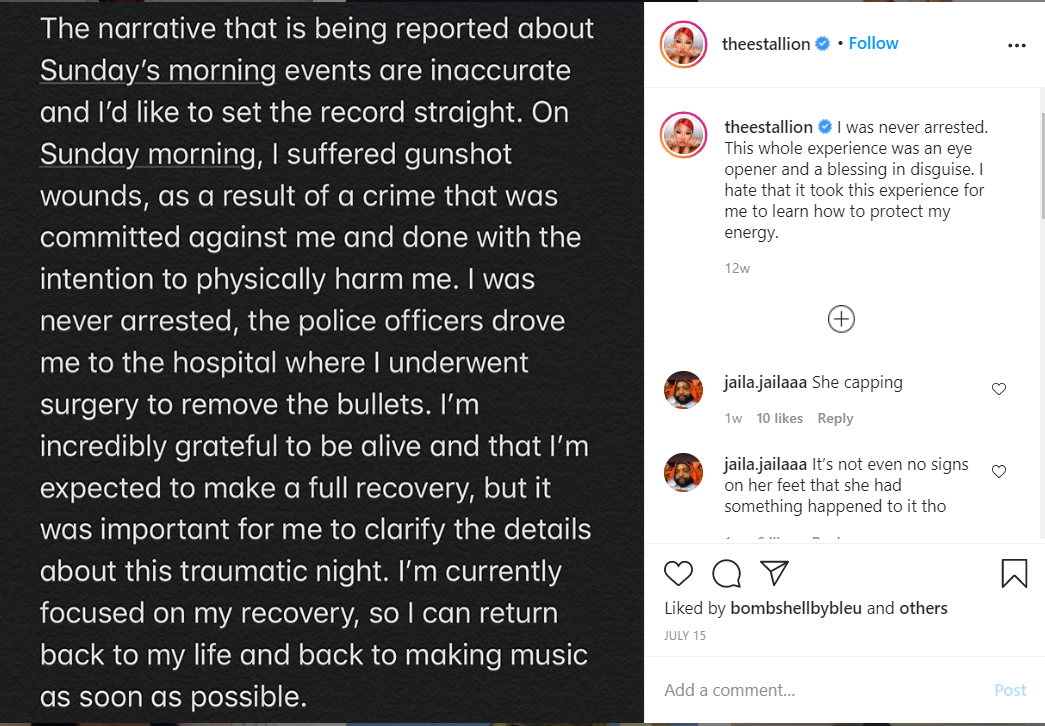 She later said in an Instagram story that she was grateful to be alive and called out Lanez for accusing her of lying about the incident. Lanez has denied shooting Megan in statements and in music he has put out since.
Lanez will face his arraignment on October 13. It will take place Department 30 of the Foltz Criminal Justice Center.
The case is being prosecuted by Deputy District Attorney Kathy Ta of the Family Violence Division. If convicted, Lanez could face the maximum sentence of 22 years and 8 months behind bars.