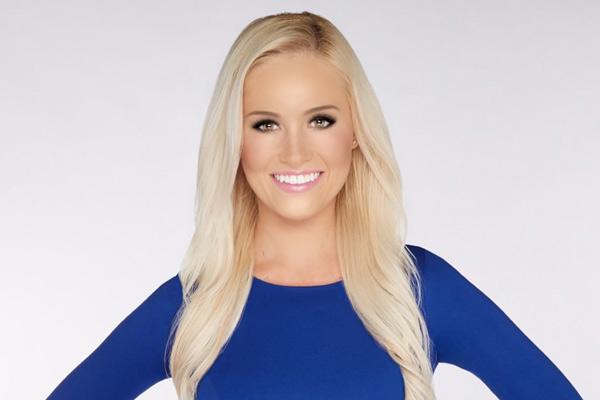 Tomi Lahren is Pro-Choice?
By Jamie Rollo

Jul. 10 2018, Published 6:30 p.m. ET
With President Donald Trump's announcement of nominating Brett Kavanaugh for the open Supreme Court Justice spot, pro-choice supporters fear that the landmark case Roe v. Wade will be overturned. Then, stepped in the most unexpected pro-choice movement hero, Tomi Lahren.
She is famously known as the young, blonde face of conservatism. Her show Final Thoughts features young women who share her often extremely right views on any and every political topic.
In the past she has been known to say some questionable things. On one occasion she referred to the Black Lives Matter movement as "the new KKK." In addition, she has been a wholehearted opponent of gun control and advocates strict immigration laws. She even has been open about her lack of apathy toward family separations.
Shockingly, however, she claims to harbor the same beliefs for being pro-choice as she does for being pro-gun, as she mentioned on the most recent episode of Final Thoughts. In her opinion, both topics should stay out of government control. Although she stated she personally is pro-life when it comes to her own body, she firmly believes the government ought to stay out of women's uteruses and away from their guns.
But, what we thought was a guiding light for conservatives to understand the importance of Roe v. Wade turns out to be skeptical.
In the past, Lahren has bashed the pro-choice movement online and in her videos, and consistently bashes feminism and any advocacy for women's health. She even stated that "modern-day feminism has to be the dumbest load of hypocritical crap ever masqueraded as an equality movement."
And, though she claims to be pro-choice, there have been many instances where she has been outwardly anti-abortion. She referred to abortion rights as a way for pro-choice people to avoid "sounding like straight-up baby killers."
Article continues below advertisement
Although Lahren seemed wholehearted about her support of women's choice to an abortion, her past dialogue is making it hard for people to believe. This is an issue she is too hypocritical about to actually be deemed as an honest thought. Perhaps her past pro-life dialogue was placed in order to keep her fan base happy, but that is quite self-centered on her part.
At the end of the day, women will find a way to get an abortion whether it is legal or not. However, if it is not regulated, their health is at risk and that is why women fight for their right to choose. The world before Roe v. Wade saw it happen before their eyes. During that time, women would either self-induce abortions or venture into the scary world of back-alley jobs.
In the 1960s, it was reported that nearly 30 percent of illegal abortions were self-induced. Women used unsafe measures such as ingesting or inserting dangerous chemicals like as bleach, gunpowder, and whiskey, or they would cause physical damage by throwing themselves down stairs or inserting knitting needles and coat hangers.
Back-alley abortions also had their own realm of danger. To even find someone to perform the procedure was difficult and terrifying in the first place. The operation would often take place in secret hotel rooms, back seats, or literal back allies by under-qualified medics. Women would often be blindfolded to keep locations anonymous. This is no way women should have to experience an already difficult procedure.
Lahren could be the catalyst to helping conservatives understand that the government does not have pull on their bodies. She has a huge, impressive following that hangs on to every word she says. Regardless of the backlash she claims not to care about, if Lahren truly feels that pro-choice is as important as she made it out to be, she needs to walk the walk on all social media platforms, not just on television.