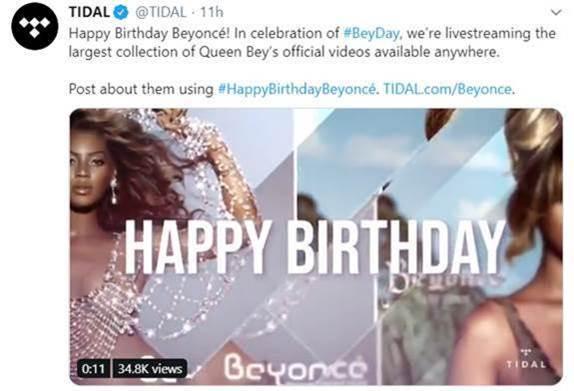 Tidal Celebrates BEYDAY with Livestream
By Ash C

Sep. 4 2019, Published 7:57 p.m. ET
It's Virgo season, which means time for you to get your sh*t together, block your ex, unfollow your frenemies, tidy up your room, and delete those apps on your phone you haven't been using since the last Virgo season. But most importantly, it's BEYDAY today! Bow down, b*tches – for it is the day of Beyoncé, who is known in history as the one and only queen of all Virgos that's ever walked the Earth.
TIDAL knows this well and is celebrating Beyoncé's birthday with an exclusive all-day livestream, honoring her extensive catalog with legendary music videos and behind-the-scenes clips. It is the largest collection of Queen Bey's official videos available anywhere.
You heard it here first! Watch it with us now:
The BEYDAY livestream is an inside look into her legendary work ethic. A fan on Twitter wrote this about Queen Bey: "A true one of a kind artist, entertainer, and visionary. She can sing you the alphabet or dance you under the table in a dance battle. Her showmanship and dedication is unmatched and she's one of the most culturally important artists of our time."
Today is the day we celebrate the first lady of the United States! Our Queen Mother is unobtainable, but we are all her children. So channel your inner Beyoncé, and block your ex already, seriously. What are you doing!?