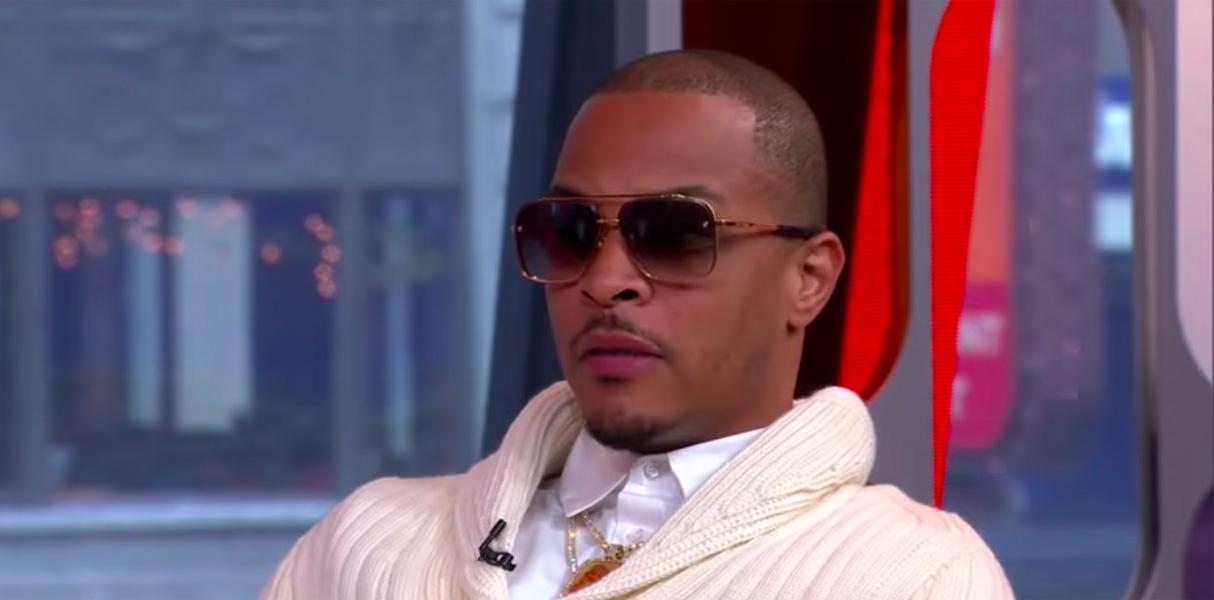 TI Forces His Daughter To Have Her Hymen Checked
By Elysia J

Nov. 7 2019, Updated 5:49 p.m. ET
Rapper TI recently revealed on the Ladies Like Us podcast that he forces his daughter into virginity checks annually.
He proudly made the sickening revelation when the hosts were discussing sex education for children. "Not only have we had the conversation, we have yearly trips to the gynecologist to check her hymen. Yes, I go with her … I will say, as of her 18th birthday, her hymen is still intact."
The account Music News Facts also tweeted a transcription of a segment in which he talks about a specific instance, (the entire portion of the podcast episode has since been edited out).
There is a lot to unpack in this interaction before we even get into the main issue. In his own account of the interaction, he coerces his daughter into signing away her medical privacy, which is objectively abusive. If this is how it actually happened in front of the doctor and he accepted an obviously coerced signature, I don't think he should be allowed to work with minors anymore.
At the very least, the doctor does at least try to explain to TI the most obvious issue with his attempt to check dis daughters virginity this way.
Article continues below advertisement
The Hymen Doesn't Prove Shit
The idea that the condition of the hymen can indicate if a woman has had sex or not is a total myth. It is a failure of the American Education system that anyone still believes it.
Idiots and misogynists tend to assume that the hymen is a protective layer covering the entrance to the vagina that can only be broken by penetrative sex. Based on this, they think checking the condition of the hymen can tell you if a woman has ever had sex.
In reality, the hymen is a thin piece of tissue at the opening of the vagina. It does not cover the entire opening. Most naturally have a big enough hole to allow for the flow of period blood and for comfortable tampon use. It can be stretched somewhat by penetrative sex but that doesn't prove anything. Firstly, because it can be stretched by a number of other activities like bike riding, sports, or even tampon use. Secondly because a lot of the time penetrative sex doesn't even alter it. Reportedly 50 percent of sexually active teens see no change to their hymen.
But the fact that it's useless isn't even the worst part.
Article continues below advertisement
Virginity Checks Are Traumatic
It's because of this fact that I feel justified in calling this child abuse.
Adult women find necessary gynecological exams uncomfortable. To the extent that cervical cancer screenings in the U.K are at a twenty year low.
But virginity tests are not like other gynecological exams. Virginity tests have been condemned by UN Human Rights, UN Women, and The World Health Organization. In a joint statement the organisations say that "In a global call to eliminate violence against women and girls everywhere, this medically unnecessary, and often times painful, humiliating and traumatic practice must end."
The exam is deeply invasive and because it has no medical basis can be unpredictable.
Consent is assumed to be required for all medical procedures. Especially any that require such an invasion of privacy. To force a child under duress to have her private parts poked and prodded by a stranger for no medical purpose is nothing short of sexual assault.
Article continues below advertisement
This Mindset Is Vile
The concept of virginity is more important to TI than the safety and well-being of his living breathing child. Imagine being so obsessed with a meaningless concept that you hold onto the fantasy that there is a magic check for virginity despite the doctor literally telling you the opposite. Try to wrap your head around the mentality that makes you willing to traumatize your child on a yearly basis just to prove that they haven't lost their meaningless concept.
The root of the hymen myth is the idea that a woman is fundamentally changed by having sex. There is of course, no equivalent myth for men. The fact that TI is so obsessed with checking it shows that he thinks his daughter would have less value as a person if she had sex. TI's confession is yet more proof that having wives and daughters often does nothing to eliminate misogyny. Misogynistic men simply end up parenting out of misogyny.
A fathers role is not to be the guardian of his daughters sexuality. A father who is obsessed with his daughters purity or virginity is one that does not see his child as a fully formed person. It is one that sees his child as a toy he needs to keep other men from playing with.
This is not good parenting. This is not old-school values. This is dehumanizing, degrading, and abusive.