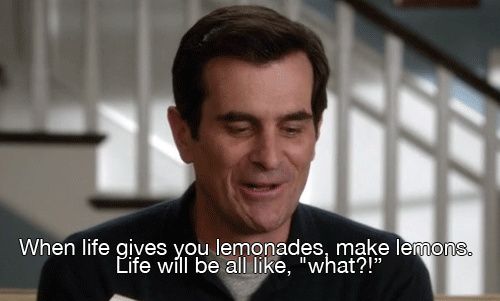 These TV Dads Are Dumb And Silly And We Love Them
By Johana L

Jun. 19 2019, Published 7:22 p.m. ET
As bad as representations go, dads on TV are getting dumber and dumber. Instead of the capable, strong father figures we used to see on TV, the foolish and ditsy but loveable dad types are becoming a staple as mums are smarter and stronger than ever. We have modern feminism to thank for this new "serious mum" stereotype. But these poor dads… they're so cute!
In Modern Family, the new classic "doofus dad" stereotype in the character of Phil Dunphy thrives in his adorable stupidity. In a new episode, he sees a drone flying near the family pool and as he immediately identifies the drone's model, he says, "As you can guess, I'm a droner myself." To this, his mother-in-law wittily remarked, "Yes, you're droning right now." Soon after, as Phil attempts to bat the drone out of the family's territory, through an unfortunate series of accidents, he is swiftly de-panted before falling into the pool. Rubbing salt into the wound, the footage of Phil's undoing is uploaded to YouTube, captioned "Drone 1, Idiot 0". The video gets thousands of views, which predictably infuriates the foolish little man. Phil yells, "That drone just messed with the wrong idiot!" Poor thing, no one in the family actually gives him any respect, not even his children. And rightfully so…
The silly dad stereotype is particularly obvious in Malcolm in the Middle. In episode 1.13, Hal Wilkerson tries to impress his son Malcolm while teaching him to roller-skate. Hal shows up to the skating rink in a head-to-toe blue sparkly outfit before rolling out a full-on professional figure-skating routine. This is one of the most memorable moments of the series' first season, an epitome of Hal's ridiculous yet loveable dad energy. Most of the time, he is seen as quite useless compared to his wife Lois, and this is one of the rare moments where he's actually good at something. But even on the rink, he's silly and ridiculous.
Article continues below advertisement
If you've watched Grace and Frankie, you probably love it as much as I do. And you'll know that in the Bergstein family, both parents, Frankie and Sol, are almost equally ditsy, so we need not go into that. But in the Hanson family, Grace is the capable and serious career woman, and Robert, as capable as he is in his line of work as a lawyer, is not so strong when it comes to parenting. In various instances he is seen as almost threatened of his own daughter Brianna, who takes on many traits of her tough and sometimes manipulative mother. In episode 1.08, as Robert and Sol clear out Brianna's old room, Robert is seen as terrified of making Brianna angry, whereas his daughter is only ever scared of her mum Grace.
These are of course just a few examples of the cute foolish dads on TV that we love. This new TV staple is a refreshing take on the typically stoic and stern father figures were used to seeing on screen. As dumb as they can be, their good nature makes it endearing and adorable. This new male stereotype gives space for men to sit back and relax, instead of always having to be the strong backbone of the family.