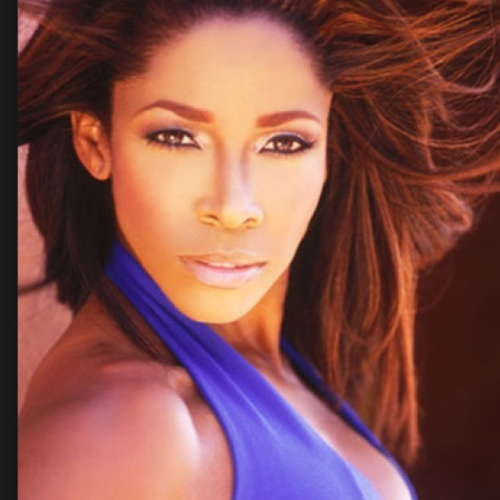 The SCOOP With The Hip-Hop Socialite…
By Mara

Jul. 16 2019, Updated 8:09 p.m. ET
The Hip–Hop Socialite recaps the hottest celebrity news and gossip of the last week, and drops a few exclusives…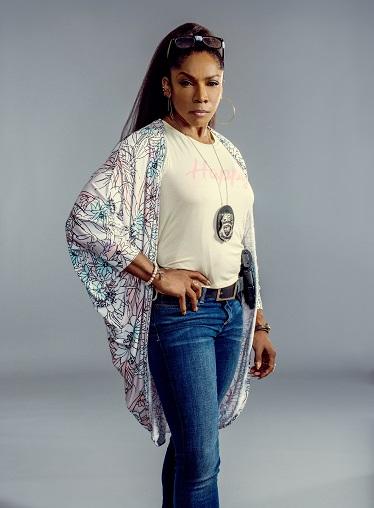 In her latest project, the New Jersey native plays Det. Phylicia Richardson in the TV One film, Sins of the Father. The role has helped AJ rediscover her passion for acting, something she admits to losing at some point along the way, which led her to build a fitness and lifestyle empire, aptly named The AJ Zone. "The collaborative spirit on a project, the level of creativity in creating. There's a lot of directors and producers that'll say, 'Yeah, great idea, but just say what's on the page.' Or there's a lot of actors who, they're not interested in creating the relationship on screen. They're just interested in making sure their closeup is fine," she told me.
Article continues below advertisement
"I got tired of that kind of work, and on top of that, my father, who passed right after Baby Boy, we had started having conversations anyway where he was saying to me, 'You don't look happy, you don't feel happy. I'm seeing you on the red carpet, and your smile is dull, your eyes aren't dancing like they use to. Maybe you need a break, and maybe you should shift into other passions. There are other things you love, there's other things you're great at, maybe you just need to shift some energy and refocus for a minute,'" AJ elaborated. "Then when my father passed, I felt like I owed it to him to at least try, whether it was a hobby, or a couple of months break from acting to just see what would happen if I put some more focus into the healthy living side of my life. What happened, I wasn't expecting. This brand that took off, TV, magazines, radio – I had no idea that me focusing on my healthy living would create the AJ Zone."
Prior to her über-successful foray into healthy living, AJ starred in two of the most iconic black films to ever grace the big screen – House Party and the aforementioned Baby Boy. During my recent chat with the Spelman grad, we discussed both movies and basketball star LeBron James' reported plans to remake House Party. We also discussed her experience working with the late, great John Singleton, colorism in Hollywood and the black community, and what's next for her. Keep scrolling to get the 'SCOOP' on the forever youthful AJ Johnson!!
ON HER ROLE IN SINS OF THE FATHER:
Article continues below advertisement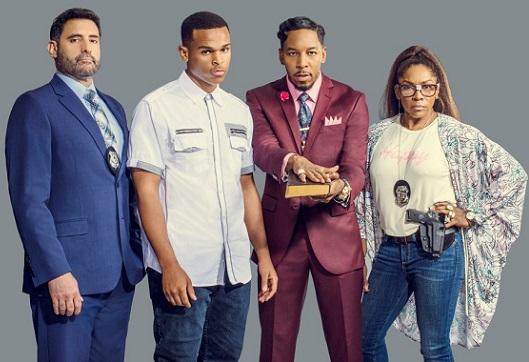 I play Det. Phylicia Richardson, who graduated number one in her class at Quantico, which is the obviously leading cop training facility for the FBI. She has stayed on as the youngest highly decorated psychotherapist for Quantico, but she's been called in to try to help crack this murder case, and so we get a chance to see if she can do it or not in this drama, and it's been amazing to create her and work with TV One execs and Jamal Hill, the director. I didn't have many scenes with Deitrick Haddon, he was amazing in this, and Terayle – everyone was amazing and the collaborative effort to not only help me create this character, but this amazing story.
ON WHAT WAS SPECIAL ABOUT THE ROLE:
Article continues below advertisement
After working with John Singleton, as the amazing producer/director he was in my career, and the friend he became even after 'House Party' and before we shot 'Baby Boy', and just the amazing collaborative way he worked, I got spoiled. That's a very rare type of director/producer, and I learned that in the few years after 'Baby Boy', which also helped me sidestep a little bit more focusing on my healthy living brand and career more than my acting just because I couldn't find the scripts, I couldn't find the crew, I couldn't the passion as an actress, and so when TV One called me and said, 'Listen, we know you're busy with the life coaching, but we got this role that we think is perfect for you. We know that your background is psychology, and we've got this character that's a psychotherapist – we think this would be amazing for you and fun for you.' And it started there. I read the script, and even the vision they had for her was completely different from my vision. We met and talked, and they said, 'Love you, trust you, please take creative control, and we can't wait to see what you guys come up with.' And so we all dug in.
ON LEBRON JAMES' PLANS TO REMAKE 'HOUSE PARTY' AND WHY SHE WASN'T IN ANY OF THE SEQUELS:
Article continues below advertisement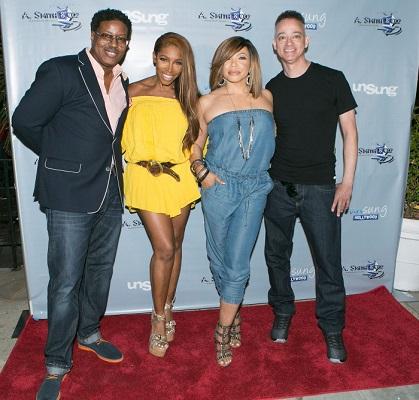 I haven't heard much more beyond what you're saying, which is LeBron is thinking about doing a reboot or a new thing. I would definitely like to be a part of it, but I hope more so than just me wanting to be a part of it, I would hope that he and everyone else would agree that there's only so much you can do without us being a part of it. One of the reasons why I wasn't in 'House Party 2' or 3 is because once we did the first one, I personally felt like the producers and directors were not acknowledging what really made number 1 'House Party' so iconic to begin with. To me, House Party was the chemistry with each of us, the camaraderie of us as friends that also translated on camera, and I just felt like you can't have the same kind of success if you ignore that and just try to create story number 2 and story number 3. I felt like the chemistry, even between Tisha and I, the chemistry is what everybody still remembers 30 years later. The chemistry with Play and I, the chemistry between Kid 'n Play. Chemistry was key in that movie, and to push away from that just to do a part 2, part 3, I didn't believe in, and that's why I didn't do either one. I think the same thing now, you know, as long as 'Bron and whoever does it understands that the reason why they're even thinking about doing it again is because there's a chemistry that we got locked into that no matter the scenario is – you can do all of us at a grocery store, and you're still going to get the same chemistry. You know what I mean? Whether it's a party, grocery store, bowling alley, it doesn't matter what the location is, it's the chemistry between the characters and the people. So, I just feel like as long as that's the focus, you can't lose.
Article continues below advertisement
I felt like a lot of the scripts that got turned in for part 2, I felt like it didn't go anywhere for our characters. When I heard they were trying to do a part 2, I started studying sequels, I started studying Brat Pack films, which I felt like we were on our way to possibly be, the new African American Brat Pack, but that's not what they were looking for. That's not what they were thinking of doing. They were just trying to capitalize on the fact that the first one was popular, and let's do it again. I thought that was unfair to the audience, I thought it was unfair to the fan base we were developing, and it was unfair to us as artists. And so, my spirit has always been a spirit of multiple passions and purposes, so it was easy for me to say, 'If that's the way you want to do it, I'm not really interested,' and that's what happened.
ON PLAYING THE POPULAR BROWN GIRL IN HOUSE PARTY AND COLORISM IN HOLLYWOOD AND THE BLACK COMMUNITY:
Article continues below advertisement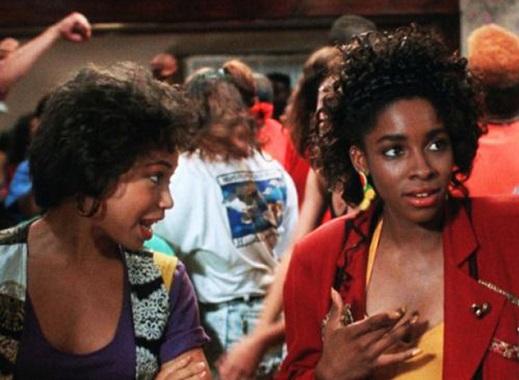 Let me tell you why I'm so touched by that because I was very aware of that [the impact of the brown girl in a movie being the center of attention]. By the time I came to Hollywood, and I was doing 'House Party', I had gone through a lot of that as a brown girl at Spelman, but in the sense of I was highly decorated as an academic and as a socialite at Spelman, so it wasn't so much that my complexion was a hinderance, it was more that my soul shined brighter than any of that. So, by the time I came to Hollywood, I came into the game when they were saying if we go brown skinned, you're the choice, they're looking for the brown skin chick. In the late 80s, early 90s, that was the character description at the time – we're looking for the brown skin chick with a lot of energy, or we need a pretty brown skin girl, that was the thing. And so, I was like, okay, well, if I'm good enough for Spelman and Morehouse, then maybe I'm good enough for Hollywood, and so I wasn't offended by it. I just said, I get it, and if that's what you're looking for, I'm your girl. I didn't realize until years later as I started meeting other brown skin actresses and brown skin big girls, and little girls, and older girls, I didn't realize that I was setting everyone up to have a different level of self esteem or to be their own self cheerleader, and it's okay and actually decorated to be the brown skin girl. And even men, guys, would say, 'I never really looked at the brown skin girl before to be honest until you,' and I feel like the position that a lot of the films put me in helped that persona shift. And I do not take that position in my life lightly. I understand exactly how God used me, and I'm forever grateful.
Article continues below advertisement
ON HER FAVORITE MOMENTS FILMING HOUSE PARTY AND BABY BOY: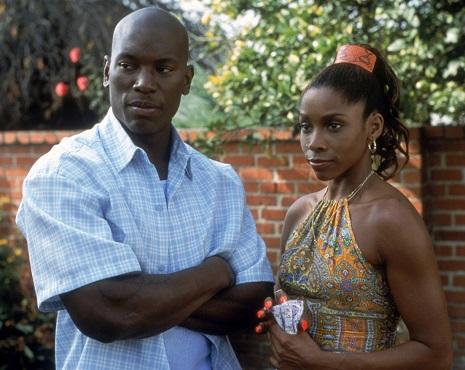 Article continues below advertisement
Let me answer it this way, I loved 'House Party' because now that it is what it is, I loved the fact that we were all focused on having fun and the creative process, and that's what started my career as an actress. I was a dancer in a lot of videos and doing some TV guest spots before I costarred with Tisha, and Kid 'n Play, and Martin in 'House Party', and the way that Reggie Hudlin let us play, and let us create as a group is what became, to me, one of the most iconic elements of House Party to make it this 30-year phenomenon. The same thing happened with John Singleton and Baby Boy. The fact that he allowed us to play, and create, and collaborate is what I think brings the magic, so that's what's become the foundation of my work. I have to be able to play, I have to be able to collaborate, I have to be able to be part of a team effort and create the magic that in my career has been created as a result of that kind of technique of film and TV making. So I like all of them for that reason. The same thing happened with this, 'Sins of the Father', same kind of thing. TV One, Jamal, Terayle and I, I didn't have many scenes with Deitrick or Clif [Clifton Powell] or Anglea [Love], but they were still on set being supportive, coming up with ideas, giggling at certain things I would say or do and say do that again, do that again, so it was a complete collaborative effort. To answer your question more fully, 'House Party' and 'Baby Boy', I loved the both for different reasons – they both stretched me as a person and as an actress. 'House Party', I'm from rural New Jersey, I didn't know nothing about the projects. I have never had Kool Aid before I did 'House Party' believe it or not. I never had it – didn't know what it was. I'll never forget Keenan Ivory Wayans was a friend at the time because I'd been doing 'In Living Color' as a Fly Girl, I went to him with the script and said, 'What does this mean? Kool Aid, grape or red?' He said, 'You don't know what that means?' I said, 'No.' So he had to explain it to me, believe it or not. In Baby Boy, here you've got the South Central teen mom who's just trying to figure it out, but I'm AJ Johnson, Chemistry/Psychology major who'd graduated with honors from Spelman, and it was like South Central was fish out of water for me. So that also helped me learn that my best work is when I allow myself to be stretched.
Article continues below advertisement
I'm going to answer that different from what I have been because again that's been a lot of the question. I'm going to answer that this way – I am working on focusing on the glory of what's happening for me right now. I prayed for more than ten years to be in this position. This position meaning with every aspect of my passion and purpose is popping. My life coaching and my fitness is popping. I'm headed to Essence to work for Walmart on their main stage as one of the main sponsors for Essence festival. My public speaking and motivational side, I'm headed to Ghana, Africa to be a speaker at their Panafest celebration at the end of this month, not just because it's Panafest, but because this is the year of the return, so I'm representing African Americans who have come back home after the 400th year mark of the transatlantic slave trade. Yeah, pretty major! I'm getting ready to work with one of my best friends, another prayer answered – working with people I love. One of my best friends is doing a project, a pilot called Stuck with You, and I'm getting ready to shoot that at the end of this month. And then even just my life coaching with my existing clients, corporations, I've been able to work with some people who are not celebrities in a website sale that was just suppose to be a Christmas sale, it's now going into its sixth month of existence – thirty minutes of me for thirty dollars. People swipe their cards, they get consultations set up through twenty-twenty, so I'm just grateful that everything is popping at the same time, and that I prayed for this time, and I want to make sure I don't miss it focusing on what's next beyond this. I feel like my job is to be an example of pray for it, do the work, get ready, stay ready, and watch what happens and hope you have the capacity to live it.
To stay in the know about all of AJ's endeavors, be sure to follow her on Twitter and Instagram @TheAJZone. For more information on The AJ Zone, be sure to visit the website www.theajzone.com.
To keep up with Mara the Hip-Hop Socialite, be sure to follow her on Twitter @hiphopsocialite and Instagram @thehiphopsocialite.