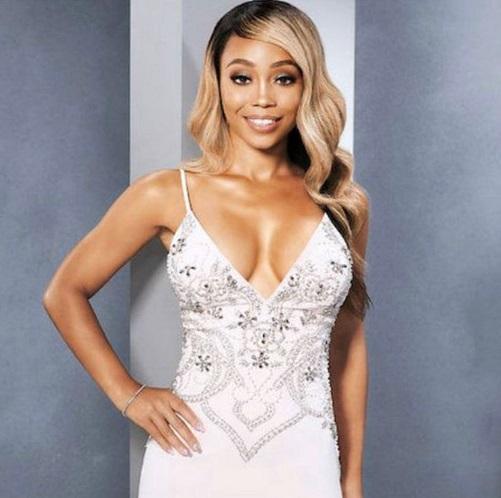 The SCOOP With The Hip-Hop Socialite…
By Mara

May 5 2019, Updated 5:40 p.m. ET
The Hip–Hop Socialite recaps the hottest celebrity news and gossip of the last week, and drops a few exclusives…
Shamari DeVoe Talks Real Housewives of Atlanta, 'Married For Life', And Releasing New Blaque Music!!
The most recent season of The Real Housewives of Atlanta was surprisingly dull with the exception of Shamari DeVoe. With her lively personality, and quick, hilariously witty clapbacks, the petite Georgia peach emerged as a fan favorite and a fun addition to the show's cast.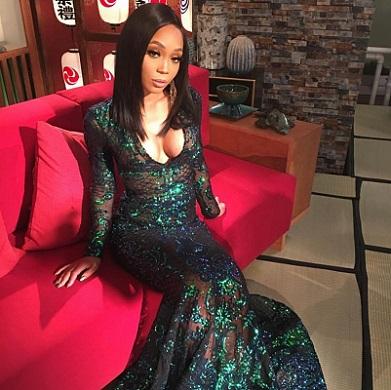 Despite going into her first experience as a "housewife" with an open mind and heart, Shamari could not avoid the drama that's synonymous with the show. The 39-year-old was often criticized for her taste in fashion by her cast mates, and she was often the target of insults and accusations from perennial friend to the show, Marlo Hampton.
During a recent chat with Shamari, the veteran singer and I discussed the good, bad and ugly of being a part of RHOA, the pro-marriage and family movement spearheaded by her and her husband, R&B icon Ronnie DeVoe, and the new music that her group Blaque will be putting our very soon featuring late group member, Natina Reed.
Keep scrolling to get the "SCOOP!!
ON HER EXPERIENCE ON RHOA:
Article continues below advertisement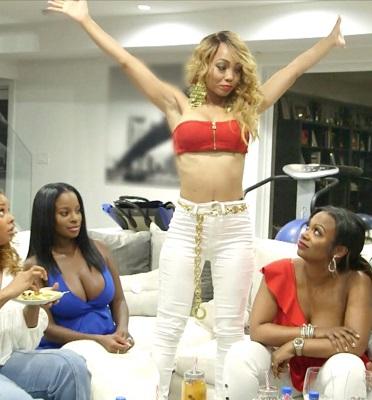 The experience has been really good. Of course, I opened myself up to praise and judgment, scrutiny, all types of stuff, and it is a great platform for me for people to be able to see who Shamari is as a devoted wife, mom, a superwoman. Somebody that may have a few drinks at times too many, but I'm not an alcoholic – let's just get that clear. I'm a superwoman, so I just balanced everything very well. I think it was a great opportunity for, especially me and my husband, to show true love and how we can go through challenges and still stay committed and value our sanctity, our marriage.
Article continues below advertisement
The producers, that's what they do, they edit it so that it can look like drama. They want to give people something to talk about, so they did it that way because when you go to these different events, everybody's drinking, but they wanted to highlight me drinking and having fun and letting my hair down over anybody else. It's almost like they were trying to give me some sort of storyline, which really wasn't…that's not what I'm about. So yeah, I do feel like that editing really was kind of playing with it a little too much. Like different events, they'd cut scenes, and they'd keep scenes. I did a positive event about couples and marriage and love, and they cut that whole event out of the entire season. So, it's all about the editing, but that's what you signed up for – you have no control over how they edit it unfortunately.
ON BEING THE TARGET OF MARLO HAMPTON'S WRATH:
I said it before, Marlo is known for starting arguments with people for attention, and I guess I was the one that she wanted to start with. I guess I have what she wants – a husband, I had a peach, and so many other things, so she just started to pick at me.
Article continues below advertisement
No, nothing happened [to justify Marlo taking shots at her]. She decided to pick at me. I'm new to the show; I came in my first season holding a peach – she's never had a peach, I'm sure she was jealous of that. I have a husband, I have children – these are things that she wants, so she just wanted to pick at me, so that's just what happened. The whole season, she just constantly talked about my fashion, she's called me an alcoholic, just all types of stuff. That's who Marlo is – instead of empowering black women, she wants to put them down, and I'm not about that. Another thing I'm not about is people thinking they can come for me, and me not do anything about it. I'm still going to make sure I defend myself.
ON THE RUMOR THAT SHE LOST HER PEACH: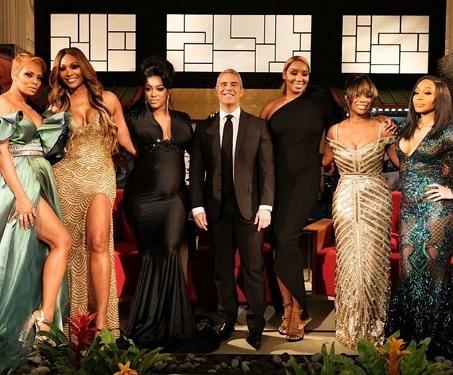 Article continues below advertisement
No [she doesn't yet know her fate on the show] because they haven't sent the letters yet. You don't know, you don't know yet. I wish people would stop listening to Marlo. I just got off the phone with the producers yesterday [Monday, April 29]; we're still waiting on our letters – a few of the other girls haven't even got theirs yet, so Marlo doesn't know what she's talking about. I've communicated with them [the producers] – I just got off the phone with them yesterday, so it's all good.
ON NENE SHUTTING DOWN AT THE REUNION AND THE MOOD ON SET:
It was really negative to me – everybody was coming at NeNe, and how would you feel if the entire cast almost was just constantly coming at you just arguing with you? That wouldn't make you feel good either, so it didn't make her feel good – so she was in a place where she just didn't want to listen anymore.
ON THE FALLOUT FROM KENYA'S APPEARANCE AT CYNTHIA'S EVENT:
Article continues below advertisement
I feel like Cynthia should've been honest with NeNe regardless if that's her friend just giving her the heads up that Kenya was coming. I would've done that. I think that it looked really shady the way that she was whispering in her boyfriend's ear she's supposed to act like she didn't know Kenya was coming, and it's all there. You can clearly see they were trying to cover something up, so of course, if I was NeNe, I'd be pissed.
ON WHICH OF HER CAST MATES SHE'LL STILL BE COOL WITH AFTER IT'S ALL SAID AND DONE: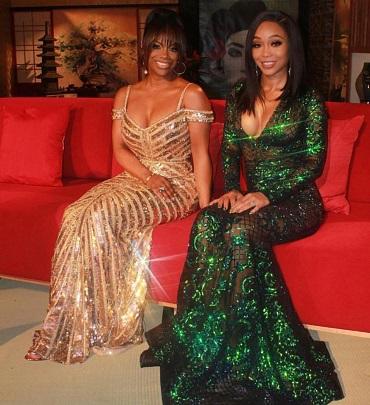 Article continues below advertisement
I would say Kandi. Me and Kandi go way back to the 90s – 1999 when she wrote the "808" remix to our first single, so we've been friends forever, and I'm going on 'The Dungeon' tour with her. We're in rehearsals now for our first show in Chicago May 2, so yeah, we're always going to connect musically, and yeah, for sure it'd be Kandi.
ON THE RECENT ANNIVERSARY OF THE PASSING OF HER MENTOR, LISA "LEFT EYE" LOPEZ:
That's very difficult because she was like a mentor to me, Brandi and Natina. She's the reason why we had our first single, our first record deal, everything. So just thinking about that day and how we were actually supposed to be with her in Honduras when that happened, but we couldn't because we were recording – just knowing that she's gone and she was such a light in this world. Just trying to…anything that I do, just to keep her legacy alive, and I'm constantly in communication with her family. We hang out all the time, and her sister Reign Drop reminds me of her so much. She looks like her, talks like her, so just seeing her just still here walking around, and a lot of things that Lisa taught us, even as far as eating healthy, like we still do that to this day. A lot of the principles that she laid down with Dr. Sebi she was out there in Honduras with – I just want to focus on the positive things and not really be sad because she has moved on to another life, and her energy is still here but she physical isn't here, so I feel like it is still to be celebrated. It's hard…it's hard losing her, it's hard losing Natina – it's just to me, I don't know.
Article continues below advertisement
ON WHAT SHE IS WORKING ON OUTSIDE OF RHOA: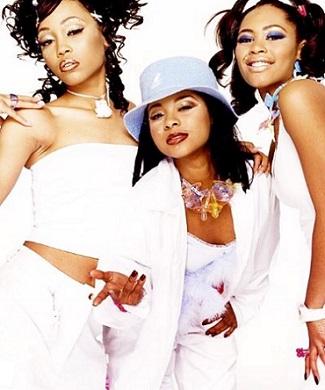 Article continues below advertisement
My husband and I, we just did our 3rd annual 'Married for Life' walk this past weekend, which was very successful. We had couples that come out, and they reaffirm their love for one another, they walk two miles, and we spoke, we had different speakers, and everybody just came from there feeling really empowered to never let go of the hand they're holding. After that, my husband and I performed our new single, which is called "Love Comes Through", and I'm sure you probably heard of it because there's a big thing we did with our shoulders bouncing that we did on 'Windy City Live', so we did the shoulder bounce. And we're just continuing to record more as Me and Mari, which the name of me and my husband's group.
Blaque is releasing an album on May 31, which is our 20th anniversary. It's an album called "Torch" that we recorded back in 2003. It was the last album that we recorded before Natina passed away. The fans signed a petition for us to release it after all these years, and we're finally releasing it May 31. We're preparing for a huge show to celebrate our 20th anniversary and the release of "Torch".
Shamari and the 'Welcome to the Dungeon Tour' will be in San Francisco, CA at The Warfield on May 9, followed by Los Angeles at The Novo the following night. While you're waiting for the tour to stop in your city, be sure to keep an eye out for more music from Mari and Me, and new music from Blaque. To keep up with Shamari and all her endeavors, be sure to follow her on Twitter and Instagram @ShamariDeVoe.
To keep up with Mara the Hip-Hop Socialite, be sure to follow her on Twitter @hiphopsocialite and Instagram @thehiphopsocialite.