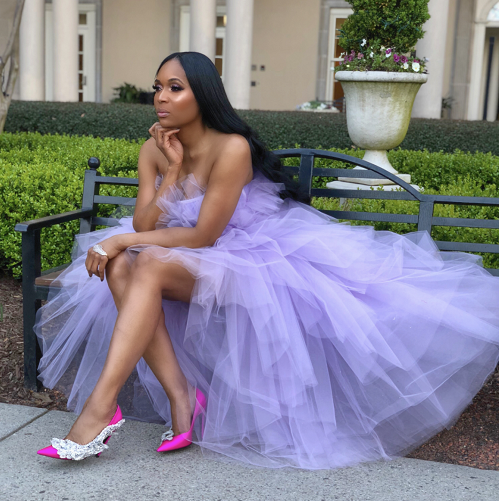 The SCOOP With The Hip-Hop Socialite…
By Mara

Apr. 18 2018, Updated 6:07 p.m. ET
The Hip–Hop Socialite recaps the hottest celebrity news and gossip of the last week, and drops a few exclusives…
Marlo Hampton Dishes On Staying 'Fit And Fab' In Your 40s, Arrie & Emma, How She Would Tweak The Cast Of RHOA, And Issues With Kenya Moore!!
Although she doesn't hold a peach during the opening credits of The Real Housewives of Atlanta, the fab Marlo Hampton is one of the main reasons why many of us tune into the show!! From her ability to throw shade like the best of them, to her bold fashion choices, Marlo is a scene stealer whenever she appears on our television screens.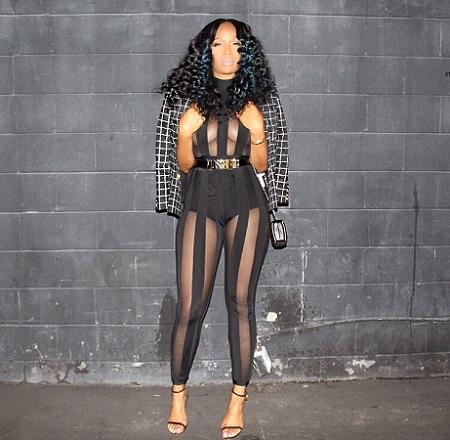 Article continues below advertisement
During part 1 of the RHOA reunion this past Sunday, Marlo took center stage as she exchanged verbal jabs with Kenya Moore, and called out Sheree Whitfield for never telling Kim Zolciak when she's wrong. While exchanging heated words with Kenya, the former Miss USA spilled some old tea about Marlo and Nene Leakes' former flame, an Italian business owner named John. During a call with Marlo earlier this week, the youthful 42-year-old fashionista shared the backstory behind that stale tea, and discussed the root of her issues with Kenya. We also chatted about Kandi and Porsha's issues, her future with the show, and her other projects.
Keep scrolling to get the full "SCOOP" on Ms. Marlo, and I hope you enjoy reading the interview just as much as I enjoyed chatting with her!!
MARLO'S TIPS ON STAYING FIT AND FAB IN YOUR 40s:
I would have to say good skin care and moisturizer. Another very important one is drinking a lot of water, and a cocktail a day keeps the stress away – it keeps the stress away, keeps you looking good and smiling. And also, another important item I would say is wearing proper undergarments – that's one of my pet peeves. I wear Spanx, I wear any kind of undergarment as long as it looks good, but I do love Spanx. If they can't afford it, they can go to Target, and get an almost like Spanx.
ON THE FUTURE OF HER SOCIAL MEDIA SERIES, 'MARLO'S CLOSET':
Article continues below advertisement
At the time I was taping 'Marlo's Closet', I wasn't under contract, and 'Marlo's Closet', that's a full production and very consuming. So I'm going to probably revisit it, but right now since I'm under contract with Bravo, and I'm taping with them, it's just too much to do both. I also have a segment, it's just short and sweet, and it's called 'Ask Marlo' where I answer fan mail. I'm going to start back doing that because it's short and sweet, and people can even check that out on my YouTube channel, Marlo Hampton Media, but I am going to start doing that at least so my fans can get another side of me and get a little closer and intimate with me.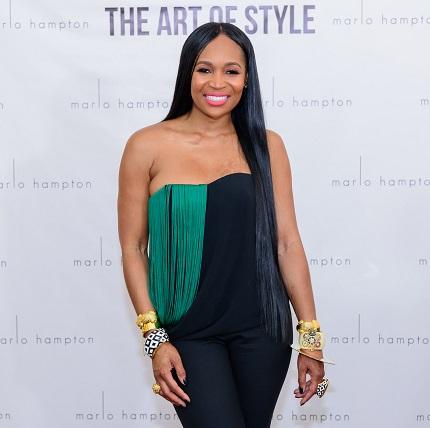 Article continues below advertisement
ON HOW SHE DECIDES WHAT TO WEAR EACH DAY:
It depends on my mood. Like when I woke up this morning, I knew I had to run some errands, I have a couple meetings, so I'm like, you know what, today, I'm just going to throw on…I have on some leopard leggings and a cute little Rockstar shirt. It just really depends on the mood, like if I'm down, I might dress up – it really just depends on my mood. Usually, if I'm having a bad, I going in that mirror, and I get G'd up to make myself feel good.
ON KENYA BRINGING UP THE JOHN/NENE 'BLACKMAIL' STORY DURING PART 1 OF THE REUNION:
You know what Mara, what her goal was, Kenya knows that her job is in the hot seat right now. Kenya knows that she didn't allow Bravo to tape that fake marriage, she knows at this point, let me just do whatever I gotta do. And you know what? Let me just get off subject – let me just get the situation clear about John too. I never got John drunk, I never took screenshots of his phone, let me talk slow so you can get all of this. I never had sex with him, I was never alone with him. He came to my home when my girlfriends were all over there, and we were kicking it because I didn't want to be with him by myself. If you think about it, if you go back, he's not even the reason Nene and I stopped talking. We stopped talking because Nene didn't like my friendship with Kenya 'Lying' Moore. And then after that, and if you remember back then too, you don't remember when Cynthia and Kenya fell out? Cynthia, Kenya, and Nene fell out – both of them had fell out with Nene. Do you recall that? Okay, and at that time, that's when Kenya, Cynthia, and I got really close because you know now they weren't friends with Nene. I was told by Kenya and Cynthia that Nene called New York to the [Bravo] corporate office and stopped me from taping – that's when you didn't see me for a season. I'm going to keep it real – I was mad, I was hurt. I'm like what the hell did I do that bad – I was just in her wedding – to where you'd try and call to stop me from taping? So that just pissed me off. Now did I use him [John] for info? I did. I told Nene – 'cause at the time, that's when Nene would be on Instagram and Twitter, and she'd be saying all different kinds of things on social media. Streetwalker, this and that. I literally called Nene, and was like hey, John just told me blah-zay blah-zay. If you keep lying and saying awful things about me on social media, I'm going to share it with the blogs. And then, what's crazy, Kenya sat right in the car with me when I'm talking to him, asking him questions, and she's putting the info in her notes, like to get dirt on Nene because she's taping with Nene at the time. So she's like, yeah, try and get some information on her – talk to John. You know how conniving Kenya can be. I just hate that on the reunion, it was all happening so fast because it's a long story! You know what I mean? I was hurt, I was angry.
Article continues below advertisement
You know what it is to me Mara? One thing, if you don't know, about Ms. Hampton – Marlo is going to keep it real. If I get caught doing something, I'm going to keep it…I didn't go and cover up my charges and get them expunged. The world knows. If I mess with you, I'm going to say, girl, I did. It was messed up, blah-zay, blah-zay. But Kenya is just a liar, and she's so desperate to try and destroy the bond Nene and I have, but she can't. Nene is happily married, she has a boutique flag, I help support her, and she needs to just try something else. That's been years ago, I apologized to Nene for it, and we've moved on. Kenya needs to just try and save her job, and pray that this fake pregnancy, that she's really pregnant. She needs to pray on that.
ON IF SHE BELIEVES KENYA IS REALLY PREGNANT:
Article continues below advertisement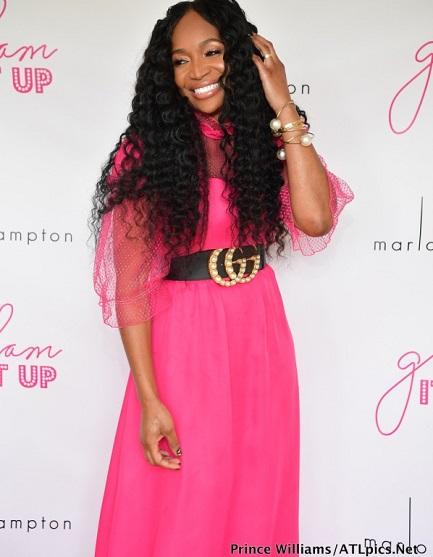 Now you know, don't ask me that because I don't want them getting on me, but you know I don't believe she's pregnant. If I was Andy, let me tell you – you know when you go to get a job, and they make you take a drug test, and you have to go in there with nothing? If I was Bravo, I'd be like look, you need to fly up to New York naked with a two-piece bikini on and go pee on a stick, EPT. Girl, I ain't lying, I am not lying. I would have her ass take an EPT test before she come up in my joint getting a new contract. Because she's like Marlo blackmailed John, Marlo this, I'm pregnant – she's trying to do anything for them to make sure they renew her contract.
Article continues below advertisement
[Here, I mentioned the ladies delayed response to Kenya's pregnancy announcement during the reunion.] But listen, didn't you think that she was stuck too? First of all, you wanted to get married so bad on this show. You get married and you don't even share it with your fans. You are a housewife. Second of all, you been saying you want a baby, so I understand after your first trimester, maybe, you want to wait and announce it, but how are you like stuck on you don't know how many months you are, you want to discuss it later – girl, come one with all the lies! I'm just mad Mara I got on that couch and let her get the best of me. I was like, you know what, I'm going to interview, I'm going to go live, but that was a whole story to tell, and she kept over-talking me and talking so fast. I'm like that thing there was a mess!
ON RUMORS ABOUT HER PAST PERSONAL LIFE:
Article continues below advertisement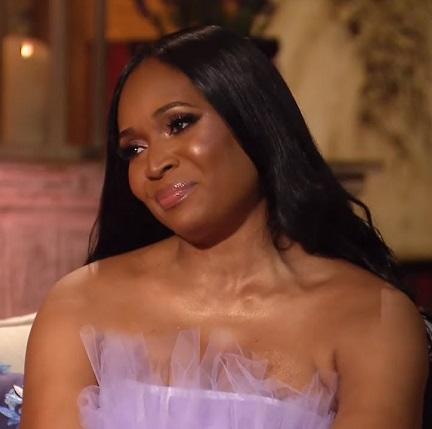 Well you know what, it's not my past, it's my future, and like I said, and you'll see that on the show, all those girls know my past relationship – that I dated a billionaire for five years. I was in a real relationship. I invested, I have real estate – they know that, so I just feel when you're single…first of all, let's get this clear. I'm not a 'real housewife of Atlanta' – I do not hold a peach. Why do I have to give all my business? When I get a peach, what am I going to have to give you? I'm a friend of the show, so you don't need to know all my business. I'm just a friend that pops up, stirs up some drama – if you need to know all my details, what I got going on every day, I need to have a peach right? I'm not a 'housewife', I'm a friend. What friend…if you come on our show, we need to know all your business? You're just a friend.
Article continues below advertisement
I really don't care. I was numb to it, but I will say Mara, it's hurtful sometimes. Now it's at a point of okay, you've been saying I'm a prostitute, call girl for six years now. You've been saying I date married men. One thing I can assure you, I never in my life dated a married man, nor prostituted. And like I told Kenya, where are the receipts? Stop all this – show me these different men. We're in a world of social media galore…why hasn't anybody sent in any pictures of me going in hotels or out of the country with these men. Somebody's is going to see me somewhere right? An airport, a car, if it's just walking into a hotel room, in the lobby, ain't nobody going to catch that on Snap? I mean, we've got celebrities who can't hide doing drugs! How can I for six years hide being a prostitute or dating married men? I mean I'm on a platform where they can email Bravo, tweet Bravo anonymously, so it's like, what are you talking about? Like, come on! Come up and tell the real story – just be mad that you didn't invest. You've just now finally got a home – I've owned my home for ten years. I haven't been Miss USA or Ms. America or whatever, I haven't been in movies and acting and all that. You came to Atlanta, girl, you didn't even have a car! You didn't even have a place decent enough to film in! Bravo had to give you somewhere to film in! It's like, you keep saying this about Marlo, please show me all these different men and these different wives.
ON HER ALTERCATION WITH PORSHA IN BARCELONA:
Article continues below advertisement
You know with Porsha, it wasn't even what she said – it was you violated my personal space. Don't put no dog on fan in nobody's face. First of all, you are a violent girl – you're known to fight and drag somebody off a couch, you feel me? So that's just like a person may be afraid of me if I point something in their face, you feel me? But it's like, don't violate my personal space. I'm worried like if this girl pokes my eyes out, I'm not going to be able to see my fashion. [laughs] On a serious note though, I'm just glad I did not get out of my seat 'cause that argument would've escalated and would've gotten bigger. So I'm just glad I maintained my composure, and I just sat in that seat. Can you just imagine if I would've stood up and how big would've been over there in Barcelona? That's why I said you know what, let me just let her be hyper and get out her seat, but she better not touch me. I just thank God I didn't get out my seat.
ON IF SHE THINKS KANDI SHOULD JUST GET OVER WHAT HAPPENED BETWEEN HER AND PORSHA DURING THE LAST SEASON OF THE SHOW:
Article continues below advertisement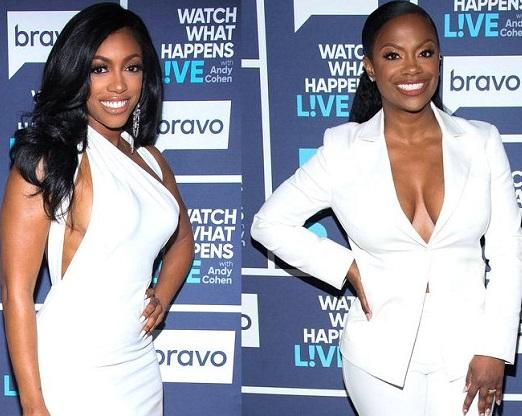 I feel a situation like that, it could take Kandi 5 years if she wants to. Like Kandi said on that reunion, that was serious. Accusing you of sex charges…that's not me just getting mad at you, pushing on you, that was serious. So I feel Porsha did apologize – she don't have to keep on apologizing – but she needs to allow Kandi her time and space where she feels she can trust her again. If I come around you Mara, and we're hanging together, and I lie and say you tried to drug rape me. That's going to take you a minute right? That ain't just no little normal lie right? That's not no little normal lie like you stole something from my house. You tried to drug rape…do you know how that can mess your reputation up as a blogger? That lie was just whoa! That was just like Kenya sitting up there lying about John, talking about I got somebody drunk. First of all, I have cameras – I can pull up cameras from when John was at my house.
Article continues below advertisement
ON MARLON WAYANS' WHITE CHICKS JOKE ABOUT KIM:
I saw a piece of that, I did catch a piece of that. He is a comedian; I can't see Kim being that sensitive because Kim says whatever is on her mind, and she goes below the belt, so I just wouldn't even think she'd be that sensitive.
ON HOW SHE WOULD TWEAK THE CAST IF IT WAS UP TO HER:
I would definitely get rid of Kenya – she would be gone before she even came. I don't like that she feels she can connive people. You're just not delivering. You're on 'Real Housewives of Atlanta'; you just don't go and get married…something that you've been talking about all your life since you've been on there. How you want to be married, you're crying fake tears about being married. And then I salute you – you done went and paid men to be on there to be your boyfriend. So you really wanted that life, and then for you to go and do that and not let the fans see that? So I would definitely get rid of Kenya, and definitely I'd add some new stuff. I'd at least add on two new people, and of course I'd make Marlo a housewife and give her a peach or a full time friend. [laughs]
Article continues below advertisement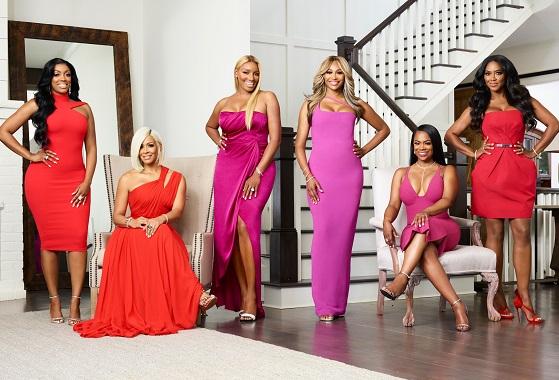 IF SHE'S ONBOARD FOR THE NEXT SEASON OF THE SHOW:
Oh yeah, I'm definitely onboard for next season – you'll definitely see me back next season. We all got…everyone knows who's coming back and who's not, but I'm definitely, welcome back, welcome back, welcome back!
ON HER PROJECTS OUTSIDE OF RHOA:
Article continues below advertisement
You know what I'm working on that I'm so excited about – I'm working on a fashion/lifestyle brand that I have. It's called Arrie & Emma; it's named after my foster grandmother Arrie Holmes and my biological mom, Emma. And with the fashion/lifestyle brand, you're going to see home stuff, accessories 'cause I love accessories, so the first two things, or the first two products are going to be sunglasses and jewelry. So I'm excited about that, and it's so much more to come with that. I mean it's some amazing costume jewelry that's affordable, fabulous sunglasses that are over the top, and I'm just really excited about the sunglasses and jewelry definitely from Arrie & Emma.
To keep up with Marlo and all of her fashionable endeavors, be sure to follow her on Instagram @MarloHampton and Twitter @iheartMarlo. Part 2 of The Real Housewives of Atlanta reunion special airs this Sunday at 8 pm on Bravo!
'The SCOOP' On Strand Society Hair: A Product Review
Article continues below advertisement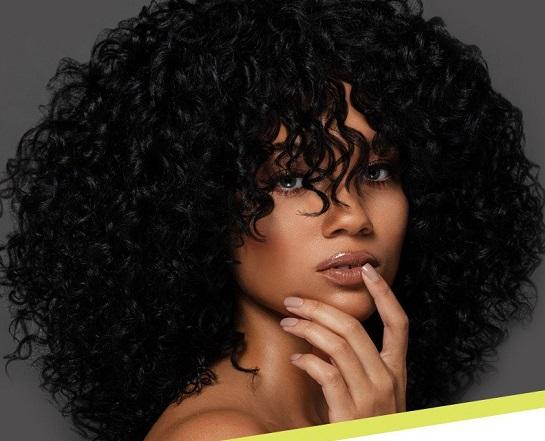 Founded by Courtney Dartest, the Strand Society aims to provide all of their customers with a luxurious extension experience, from the time they initially visit the company's website, to when they receive and install their hair extensions. "What makes Strand Society Hair different is our integrity – we make sure that our hair is sourced from reliable suppliers," Courtney said when asked about what makes Strand Society hair different from all the other hair brands on the market. "We don't just sell hair extensions; we sell raw hair and 100% Virgin hair. We make sure we offer hair extensions that are worth it and our quality is unmatched. With the hair industry being very competitive, and with all the different other companies out there, our creativity and the quality of our hair is what makes us stand out from other companies."
Article continues below advertisement
For this review, I requested four bundles of Strand Society's 28 inch wavy hair and a closure. Once I received my hair, I did the tried-and-true brush test. To replicate the test on your own bundle hair, simply brush the hair when you take it out its packaging. If more than a few strands come out on the brush, that is an immediate red flag. My Strand Society hair passed the test with flying colors!
My hairstylist did an amazing job making the wig, and he was very pleased with how easy it was to work with the wefts of the hair. So far, I've worn my Strand Society wig a few times (I like to switch wigs a lot), and I love it, but keep checking this column for an update on how the hair is doing after some time has passed. Meanwhile, you can order your own Strand Society hair by visiting their website at StrandSocietyHair.com!!
To keep up with Mara the Hip-Hop Socialite, be sure to follow her on Twitter @hiphopsocialite and Instagram @thehiphopsocialite.