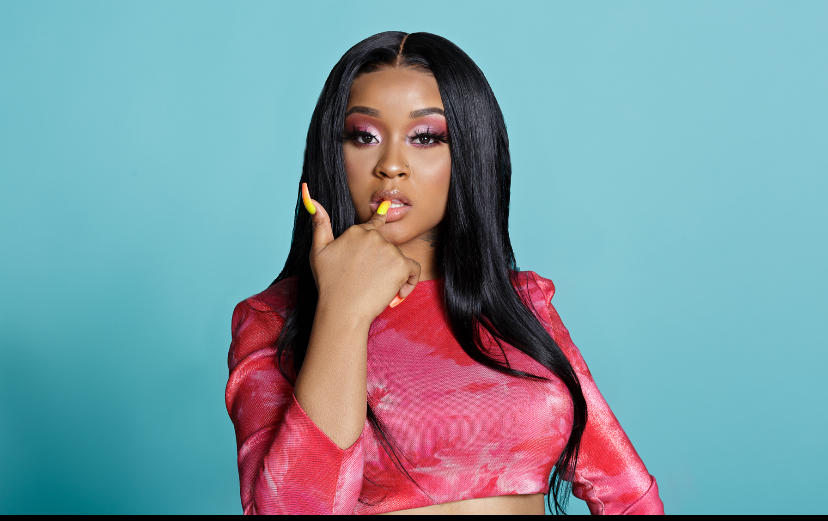 The Rise of Stunna Girl
By Ebony Allison

Jul. 1 2020, Updated 12:55 p.m. ET
"I know where I'm going and I know once I get there, there will be no room for any type of negativity."
Stunna Girl, the Sacramento born and bred music artist is in the middle of answering a question about how things have changed since her new success in the entertainment industry. After going viral on all social media platforms and amassing an army of fans on TikTok with her single Runway, the female mc has solidified her position in the music industry.

Her story is one of triumph. After overcoming a past of robbery and doing three years in juvenile jail she was determined to change her life's trajectory. Stunna Girl used her past experiences to create the music that has captivated many today while garnering countless number of fans who relate to her message. Her sound sets her apart from every female rapper in the game. With high pitched vocals and witty lyrics, Stunna Girl has created a lane and a vibe that is solely her own.

We had the chance to catch up with the budding musician to discuss her life before the success, her musical inspirations, and how far she plans to take her music.

Article continues below advertisement
Bombshell: At what age did you realize that music was it?

Stunna Girl: Honestly, I would say around 5. I was always singing for everyone in my house. And around 8 I recorded my first song in my dad's studio in his bedroom. I knew that music was what I wanted to do at a very early age.

Article continues below advertisement
Do you think that the adversities you faced in your childhood prepared you for what was to come in the music industry?
I definitely believe that it prepared me. When I was younger I would think to myself, "God must not like me." But now that I'm older I realize that he was just preparing me for what was to come.

Who has been that person to navigate you through this industry thus far?
Honestly, I've been navigating myself. No one sat down with me and gave me the game. I've been guiding myself through it.

Article continues below advertisement
Your single "Runway" received millions of downloads and streams. And blew up on TikTok with the #runwaychallenge. Did you ever imagine it would have that type of success?
I actually did! When I was in the studio I felt the song was going to be big. I didn't know which platform it would take off on. I definitely didn't expect it to be TikTok. But I knew it was going to be big.

How have you adjusted to your new success?
I'm still doing artist development for myself because I know what my potential is. I appreciate everything that is happening because now I can finally just be an artist and focus solely on that.

Article continues below advertisement
The old saying goes: Success doesn't change you but it changes everyone around you. Do you think this is true for you?
Yes, definitely. I don't have some of the same friends that I had prior. Some people can't handle success. I just cut ties fast because I know where I'm going and I know once I get there, there will be no room for any type of negativity.

Article continues below advertisement
And how did you land the deal with epic?
I was being pursued by multiple labels. But I backed out of a deal with the label I was going to sign with. During that time Epic reached out to me to be on a song with one of their artists. They later heard that I backed out of my original deal and asked to take a meeting. I took the meeting.I fell in love with Sylvia Rhone. She understood my lifestyle and culture. The A&R's understood my sound & style. It was like a perfect match.

Did you have any initial reservations about signing with a major label?
No, I'm book smart and street smart so I wasn't worried about someone getting over on me.

Article continues below advertisement
Where do you draw inspiration from for the music you create?
I think about what I go through, things I had to overcome and I break it down so people who come from the same situations as me, can understand. I can be lyrical too. Songs of me singing show my range. But I just want people to understand the story I'm telling.

Coming from California, were there any artists that you looked up to?
E-40 and Too Short were artists whose music I loved when I was growing up. I actually met Too Short and E-40 left a comment on one of my videos on Instagram telling me I was dope. So to be recognized by the California legends that I look up to was a dope feeling.

Article continues below advertisement
What do you hope people take away from listening to your music?
I pretty much make music for girls like me. I make a high-energy level type of music. I want you to get up! When I made Fresh Off The Runway, I just wanted to give people that energy. I never want to make too much depressing music. I want people to get up, get money, get cute, and know that they can do whatever it is they want to do!

My mixtape was supposed to drop this month. But some big opportunities and placements came about that I was blessed with, so the tape had to be pushed back. So now that my fans have been waiting, I produced another tape for them which is dropping soon, with some videos as well. So I know that will keep them hype!