When Beyoncé and her husband, Jay-Z, stopped by the City of Brotherly Love this past Monday for their On the Run II tour, I knew that there would be nothing that could stop me from attending that show. Being the President of the Beyhive: East Coast Division, and having already seen her on two of her previous tours, I was expecting nothing less than pure excellence. But this show, I got something even more even more fulfilling: I got hope.
At the beginning of the year, I decided to purposefully be more positive because as the streets say "Positive thoughts brings a positive outcome." But over the last couple of weeks, it seemed as though the universe was determined to just kick me down from every angle. From friends, family to my work environment, nothing seemed to be balanced or fair. Maybe it was due to Mercury and Mars being in retrograde, or maybe it was just life forcing me to be stronger. Regardless of the why, On the Run II gave me the power to push on.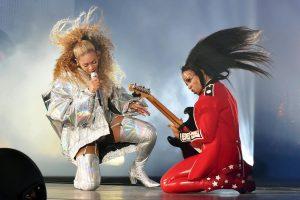 Article continues below advertisement
The most pivotal point in the show for me came during the performance of "Freedom." The song is obviously inspirational. But to see with my own eyes, a black woman, who is at the top of her game saying "I'ma keep running cause a winner don't quit on themselves," truly reignited a spark within me. Just a few days earlier, I was ready to give in to being mediocre because the pressure of life was becoming overwhelming. Now I realize that is not an option. For so many, Beyoncé is more than just an artist. She represents what walking in your divine purpose can lead to. While I am still trying to figure out what my life's purpose is, what I pray is that as soon as I figure it out, I dive fearlessly into that realm.
On the Run II gave me everything I did not know I needed at this moment in my life. For that, I am forever grateful to Queen Bey… and her husband.