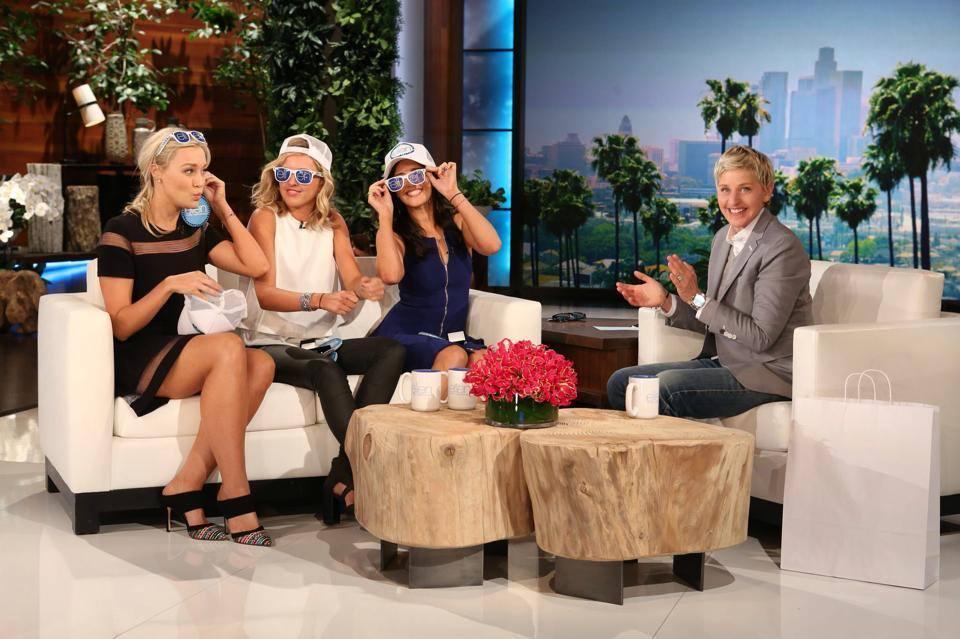 'The Ellen DeGeneres Show' has a Toxic Environment
By Jamie Rollo

Jul. 24 2020, Updated 7:06 p.m. ET
Over the past month, rumors of toxic work culture at The Ellen DeGeneres Show have been circulating the web. A handful of former and current employees of the show spoke out in a recent, in-depth report by BuzzFeed News. The report sheds light on the show's history of racism and overall toxicity that was shielded by Ellen's "do good" attitude."
After speaking with one current and 10 former employees, writer Krystie Lee Yandoli was able to uncover numerous accounts of harmful conduct. All of the employees asked to remain anonymous for fear of retaliation from The Ellen DeGeneres Show or the entertainment industry as a whole. The employees faced workplace discrimination and unjust firings at the hands of the production staff. While most of these complaints stem from the executive producers and senior managers, one former employee noted that if this show has her name on it, Ellen should've been paying more attention.
"If she wants to have her own show and have her name on the show title, she needs to be more involved to see what's going on," the former employee told BuzzFeed. "I think the executive producers surround her and tell her, 'things are going great, everybody's happy,' and she just believes that, but it's her responsibility to go beyond that."
Being a daytime television staple for nearly two decades, it's no wonder why working at The Ellen DeGeneres Show would be considered a "dream job" for most. While these positions are probably highly coveted, it does not give producers and management and excuse to berate their current hires. In almost every instance, the toxic actions taken by the higher staff at the show seemingly come from a place of arrogance.
Article continues below advertisement
A former Black employee told Buzzfeed about her experiences of racism at the show during her year and a half stay. When she was first hired, a senior-level producer went up to her and another Black employee and said they hope they don't get the two confused because both employees had box braids at the time. At a work party, one of the lead writers straight up told her, "I'm sorry, I only know the names of the white people who work here." No one came to her defense, instead they "awkwardly laughed it off."
Shockingly, this former employee's experience only worsened over time. Being an employee of color, she would always voice her opinions of race and inclusivity. One time she had asked the writers not to use the term "spirit animal," as it's deemed offensive to many cultures. Her coworkers went on to call her the "PC police."
Article continues below advertisement
After a year of working at The Ellen DeGeneres Show, she had asked for a raise since she has years of industry experience and she found out a recent hire in the same position was making double. They told her they'd get back to her, but never did. Afterward, she was called into a meeting with executive producer Ed Glavin, where she was reprimanded for suggesting that employees receive diversity and inclusion training and for asking for a raise. "He said that I was walking around looking resentful and angry," she added.
After that meeting, she never returned to work. Who could blame her? For a while, she was fearful of speaking out, but now she's inspired to share her story in order to help others. "I feel like I'm not alone in this," she told BuzzFeed. "We all feel this. We've been feeling this way, but I've been too afraid to say anything because everyone knows what happens when you say something as a Black person. You're blacklisted."
Article continues below advertisement
Aside from blatant racism and microaggressions, the staff at The Ellen DeGeneres Show have proven they do not care about the welfare of their employees. According to former employee accounts, the producers made it highly difficult for them to take medical leave or vacation days. One former employee told BuzzFeed that they were let go after taking a month off for medical leave. The employee had checked into a mental health facility for a suicide attempt, but when they returned to work the staff said their position was being eliminated.
"You'd think that if someone just tried to kill themselves, you don't want to add any more stress to their lives," said the former employee. "Some of the producers talk openly in public about addiction and mental health awareness, but they're the reason there's a stigma… They definitely don't practice what they preach with the 'be kind' mantra."
Another former employee was fired after an "unexpectedly difficult year." They had to take off three separate times, including a three-week medical leave after a bad car accident. The other two times they took off were for funerals and they didn't even fully take off. The first time, they requested two work-from-home days and the second time, they asked for three work-from-home days because they had to travel.
Article continues below advertisement
"That's the definition of a toxic work environment, where they make you feel like you're going insane and then you're like, no, everything I was feeling was right. It was all leading up to this," they said.
Executive producers Ed Glavin, Mary Connelly, and Andy Lassner gave a joint statement to BuzzFeed stating they take these allegations very seriously. "Over the course of nearly two decades, 3,000 episodes, and employing over 1,000 staff members, we have strived to create an open, safe, and inclusive work environment," they said. "We are truly heartbroken and sorry to learn that even one person in our production family has had a negative experience. It's not who we are and not who we strive to be, and not the mission Ellen has set for us."
"For the record, the day to day responsibility of the Ellen show is completely on us. We take all of this very seriously and we realize, as many in the world are learning, that we need to do better, are committed to do better, and we will do better."