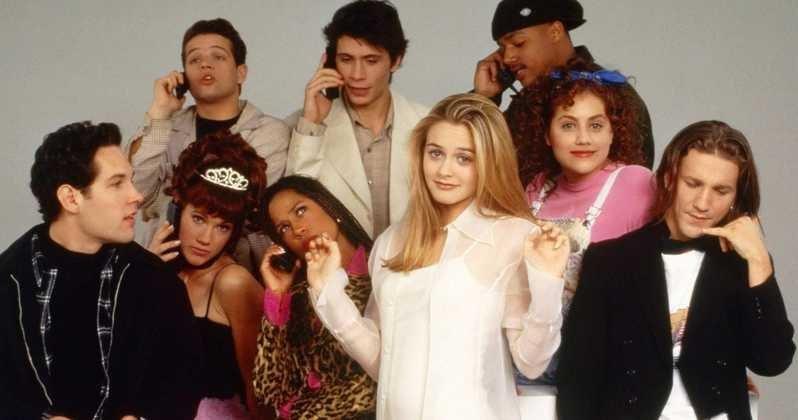 The Clueless Cast Reunited!
By Elysia J

Mar. 26 2019, Published 4:12 p.m. ET
A few of the stars from everybody's favourite 90's movie Clueless got together over the weekend.
Four of the cast got together at the Chicago Comic and Entertainment Expo on Saturday March 23rd.
Alicia Silverstone who played Cher (yellow plaid, iconic, you knew this already)
Breckin Meyer who played Travis (loveable stoner love interest to Tai)
Donald Faison who played Murray (Dionne's boyfriend)
Paul Rudd who played Josh (Cher's love interest/kind of former step brother which I feel like we haven't talked about enough.)
The Clueless co-starts seemed to be getting along just fine despite the over twenty years that have passed since the movies release.
Article continues below advertisement
Meyer joked about Paul Rudd's agelessness (the man is turning 50 soon wtf) saying "They had to knock on Paul's trailer an hour early because he had to finish sucking the lifeblood out of babies." Before joking that Rudd gets the little seat, seeing as he's ant man and all.
Article continues below advertisement
There were also jibes about Silverstone's apparent amnesia surrounding the making of Clueless after she couldn't recall where the cast went for Faison's 21st birthday. Said Rudd in response "Do you remember anything about making this movie?!"
Silverstone recounted being blown away by her audition and making sure that Amy Heckerling, who wrote and directed Clueless knew that she had to play the part. She also said "I love when she says 'You're a virgin who can't drive' It's just one of my favourite moments of the whole movie."
Rudd recounted that she was "just always so smiley and sweet" and both Meyer and Faison remarked on her impressive talent and range.