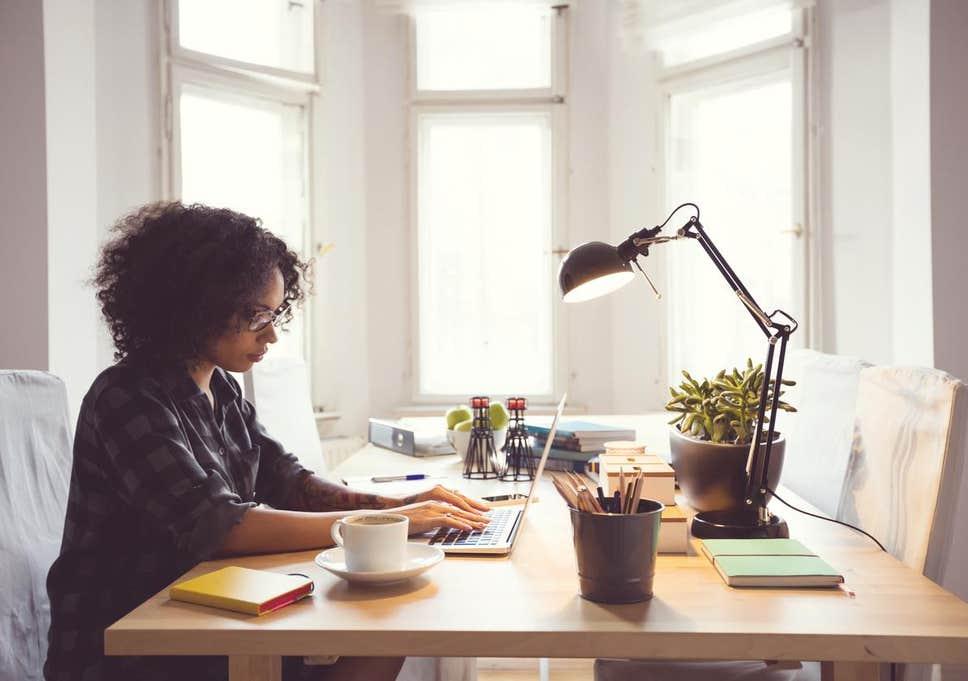 The Best Parts About Remote Working
By Elysia J

Mar. 18 2020, Updated 9:31 p.m. ET
In the wake of COVID-19 many employees are trying their hand at remote working for the very first time. Some people are excited by this. But for those of you who associate working from home with distractions, loneliness, and difficulty getting things done, below are five perks that might make the prospect less daunting.
Bye Bye Commute
Not having to commute is perhaps the most obvious benefit of remote working. There's no getting stuck in traffic. No fighting to the death over the last parking spot. No waiting at a stop for an hour only to be told your bus or train was two hours ago.
But even more than that, there's the added bonus of extra time in bed now that you don't have to factor in the journey.
The one downside is that if you oversleep you have to get very creative with your excuse for being late.
Lunch Like You're A Real Person
If you spend your morning counting down to your lunch break, get ready to do that even harder when you're remote working.
Being at home means that you can actually eat like a grown up. No sad little packed lunch that you thought you would like when you made it but can't stand once the time comes around. You get to use a whole real kitchen. You can actually have a lunch that's hot…from the stove. You're able decide what you want in the moment and no one will get mad at you if what you want is fish. This is true freedom.
Article continues below advertisement
The only downside comes if you're dieting. You will snack. You will snack so much. God I can't even describe to you how much you're going to snack. Have you considered locks with timers for your cupboards? Because that or ruining anything edible is the only way you could possibly control the snacking.
Background Noise That Doesn't Make You Sad
If you had to choose a backing track to your working day, which one would you go for? Printers and scanners making weird noises. People commenting on the weird noises the printers and scanners are making. Angry typing. Angry clicking. Overly friendly officer chatter. Passive aggressive office chatter. "We have this room booked for 11, are you guys going to be finished soon?"
There are no cons for this one.
Article continues below advertisement
Saying What You Really Mean…When No One Can Hear You
This one is something that really should be in-cooperated into office working some how. Maybe there should be sound proof rooms specially assigned for this.
Working from home means that you don't have to pretend to be a pleasant happy person. You can let out the rage monster. When you get an email that makes you wan't to scream you can just do it. You can say what you think out loud all the time. Tell Karen from accounts to shove her report up her ass with your voice whilst telling her you'll get right on it with your keyboard. You may feel like a crazy person talking to yourself, but it will actually stop you going crazy.
Just be careful to make sure you're not on Skype when you do it.
PETS
YOU GET TO SPEND MORE TIME WITH YOUR PETS. THERE ARE NO CONS. YOUR PETS WILL BE SO HAPPY. THIS IS THE BEST PART.