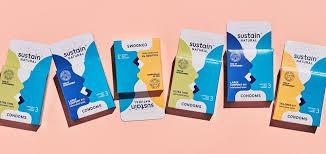 Sustain Your P****
By Kaylin Young

Jul. 16 2019, Updated 8:28 p.m. ET
Have you thought about what you're putting inside your vagina? Sustain has.
Sustain Natural is a vegan and vagina-friendly line of condoms and tampons that is working to change the way women shop for and experience sex.
Founded in 2013, Sustain was conceptualized to bring an all-natural presence to the women's sexual health world and they've done just that. Their products are 100% organic and free of harmful chemicals that are found in most vagina-related products, such as rayon and fragrances.
The female-friendly brand was founded by the father-daughter duo, Jeffrey and Meika Hollender. Although an unconventional combination, the two are dedicated to creating natural products and improving the female sexual and vaginal care experience and shrinking their carbon footprint. For some women strolling down the aisles in Target, the most impressive impact is Sustain's packaging.
Sustain uses gender-neutral packaging, which features soft colors and gentle shapes resembling female anatomy. This is unlike other sex-related brands, such as Trojan and LifeStyles, who create packaging to appeal to their male consumers. Whether it be male-focused slogan or logo, most sex products ignore female buyers – who make up 40% of the people who purchase condoms BTW!
Article continues below advertisement
The key to Sustain's sustainability (no pun intended) is a line of condoms made from latex sourced from a sustainable rubber plantation, specifically from the sap of a rubber tree, an endlessly renewable resource.
Sustain is not only proud to serve its female customers, they are excited to give back to women. Today, there are over 20 million women in the U.S. who lack access to reproductive healthcare and for that reason, 10% of proceeds from Sustain go toward organizations like Planned Parenthood and The National Campaign to Prevent Teen and Unplanned Pregnancy.
Today, Sustain has opened itself up to many more products to cater to the vag. You can purchase anything from water-based lubricant and massage oil to post-play body wipes and lip balm to organic pads and tampons.
The vagina is the most absorbent part of the female body, so let your body "soak up" the good stuff.