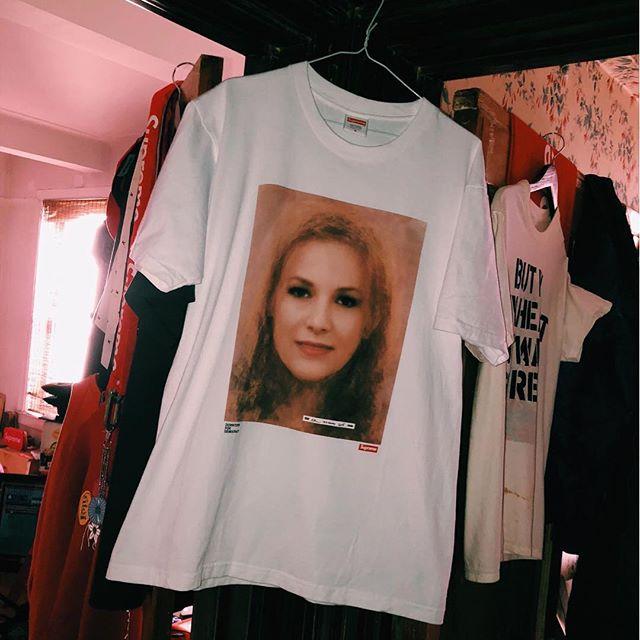 Supreme and Richard Prince Collaborate In Favor of The Abused
By Johana L

Nov. 1 2018, Updated 5:57 p.m. ET
Supreme takes the reign on democracy and introduces a collaboration with painter and photographer Richard Prince to bring about the "18 and Stormy" t-shirt. The t-shirt is a composite image of Stormy Daniels and according to Supreme 's Instagram, "the 18 women who have accused President Donald Trump of sexual misconduct."
100% of the proceeds go toward Downtown for Democracy which describes itself "as a political action committee founded by creative people to transform cultural influence into political power." The collaboration between all 3 entities (Supreme, Richard Prince, Downtown for Democracy) is meant to push for people to vote this coming November 6th election.
Article continues below advertisement
While the move is considered by some people to be left leaning and/or an attack on Trump, the push is for people to go out and vote so, in essence, that also includes conservatives.
Instagram user rymnd.w commented "[…] just because they've voiced where the proceeds go this time, does not mean they have not always in the past. Not everybody has to voice their philanthropic ways. And yes you may argue that they don't have to display which party they support, but they've done both here. Kudos to them."
But the real issue most people are missing are the lives of the women who experienced the trauma of violation while watching their abuser take on all of America. The shirt is political but if anyone believes that it is immediately an attack on Trump, then there is the undeniable factor that the victims' words are believed by the masses but simply not cared about if a simple image of the abusers riles up so much hate from Trump supporters.
While the shirt is meant to push people to vote, people need to ask themselves what their own values and beliefs are aside from shirts, branding and labeling. In the grand scheme of humanity, what is important to you?
As Stormy Daniels and the 18 women who came forward have endured the brunt of the trauma, the shirt is a way to give them back their power and show others that although it may hurt to come forward, it isn't in vain.
The shirt was available starting today on their website.