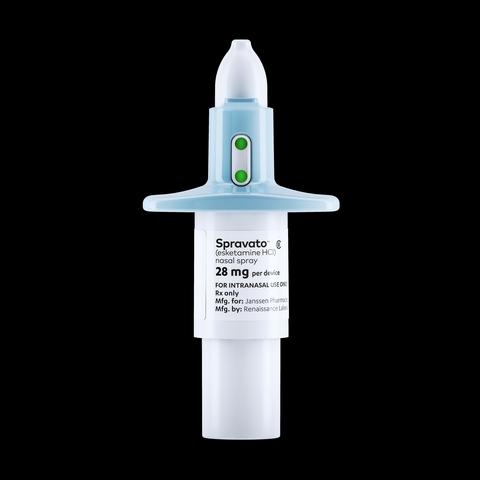 Spravato, a Nasal-Spray Medication for Depression, is Now Available
By Ash C

Aug. 14 2019, Published 5:54 p.m. ET
In March of 2019, the U.S. Food and Drug Administration approved esketamine nasal spray (brand name: Spravato) as a prescription for adult depression that has not responded to at least two other treatments–this variety is labeled "treatment-resistant depression."
Words by Xander Schrade
Ketamine, under the pharmaceutical name Ketalar, was approved by the FDA as a "rapid-acting general anesthetic" intravenous and intramuscular solution "producing an anesthetic state" in 1970. Because of ketamine's antagonism of NMDA receptors, it causes frequent side effects in peripheral organ systems. This is the reason why an estimated 20% of patients who administered anesthetic dosages experienced gastrointestinal distress such as nausea and vomiting. Another anesthetic side effect is bronchodilation, which decreases airway resistance and increases airflow into the respiratory system.
Esketamine, the active ingredient in Spravato, is the S-enantiomer of ketamine. It is the more active enantiomer in the ketamine compound (the other is arketamine, or R–ketamine.)
For decades, esketamine was a popular potent pediatric anesthetic (in combination with midazolam) under the clinical name "Ketanest S." Ketanest was administered in small dosages among "very anxious children and in those who are not able to accept the necessity of treatment." To reduce complications, it was recommended for children to be "constantly" supervised and for co-administration with centrally depressive drugs other than midazolam to be avoided.
Recent research explains that ketamine's rapid-onset antidepressant effects could result from inhibition of the lateral habenula (the "anti-reward center.")
A Phase 3 clinical trial patient reported, "When I began treatment with esketamine and my symptoms started to lift, I could see very clearly just how depressed I had been. I'm now able to appreciate a wider range of emotions than when I was depressed. My long-term goals have taken shape and actually seem attainable."
As of now, Janssen Pharmaceutical, Inc. is the licensed manufacturer of Spravato.