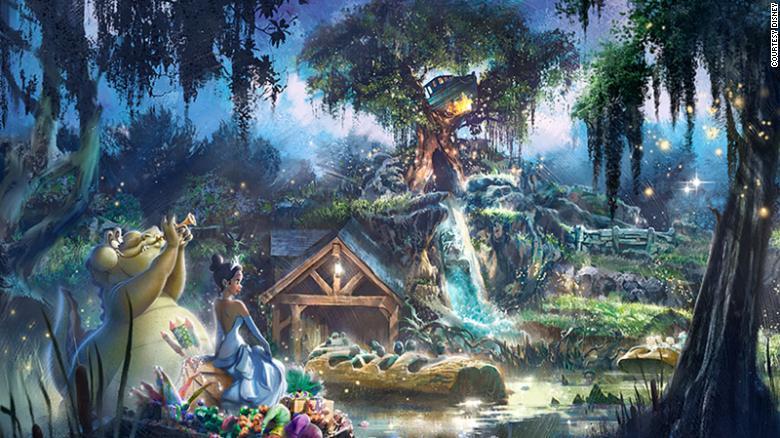 Splash Mountain is Finally Getting a Makeover
By Jamie Rollo

Jun. 26 2020, Updated 4:29 p.m. ET
Disney has announced that it will be finally re-theming Splash Mountain. The ride, which became iconoclastic of Disney amusement parks, was originally themed after the highly problematic 1946 Disney film Song of the South. The refresh will be re-themed to fit the 2010 film The Princess and the Frog and fans everywhere are stoked to see what Disney has in store.
The ride will be adjusted at both Disney World in Florida and Disneyland in California. While the Song of the South theme has been beloved by park goers for decades, Disney recognized that a re-theme was warranted and long overdue. The original film, which has been "locked away" for decades, has been criticized for glorifying the antebellum south. It is so problematic that it was not included in the vast Disney+ index and it's not widely available for viewing.
The move to re-theme the ride came after a Change.org petition was signed by 20,000 people who wanted to see the ride to be themed after Tiana, the first African American Disney Princess. "While the ride is considered a beloved classic, its history and storyline are steeped in extremely problematic and stereotypical racist tropes," the petition said. "There is a huge need for diversity in the parks and this could help fill that need."
Disney wholeheartedly agreed as the company is trying to make amends with its racist past. On Thursday, the company said that choosing The Princess and the Frog as the dedicated theme "speaks to the diversity of the millions of people who visit our parks each year."
Article continues below advertisement
While Disney has not yet given an exact opening date for the remodeled attraction, they announced that the conceptual design phase is underway. They are planning to pick up the story after "the final kiss" and the log flume will follow Princess Tiana and Louis, a trumpet-playing alligator. They will feature songs from the movie as Tiana and Louis prepare for their "first-ever Mardi Gras performance."
"Tiana is a modern, courageous, and empowered woman, who pursues her dreams and never loses sight of what's really important," Disney added. "It's a great story with a strong lead character, set against the backdrop of New Orleans and the Louisiana bayou."
Back in 2010, The Princess and the Frog actually won the Academy Award for Best Animated Feature. The colorful backdrops and amazing soundtrack will fit perfectly into the reimagined log flume ride. My only request is that they blast "Are You Ready?" before the big drop.