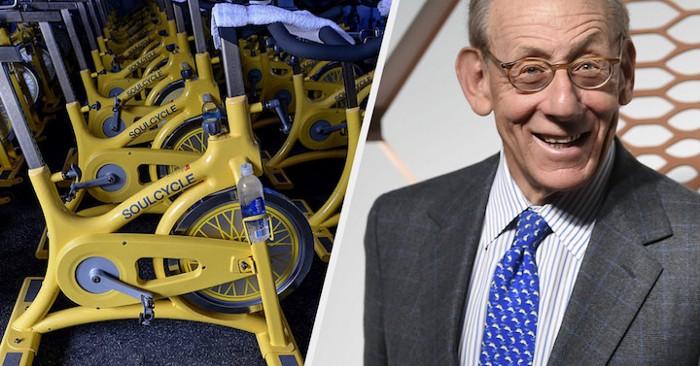 SoulCycle & Equinox Boycotted over Trump Support
By Ash C

Aug. 8 2019, Published 3:48 p.m. ET
Stephen Ross, chair of the company that owns SoulCycle and Equinox, has been revealed to be a supporter of President Donald Trump, and gym-goers are boycotting the lavish fitness brands because of it. Celebrities such as Chrissy Teigen, Sophia Bush, Amber Tamblyn, Billy Eichner, and George Takei have took it to Twitter to announce their departure from the luxury gyms. Chrissy, as usual, unites fans with a humorous remark writing, "everyone who cancels their Equinox and Soul Cycle memberships, meet me at the library. Bring weights."
Sophia Bush is relatively casual about it Tweeting, "Whelp. Buh-bye @soulcycle. Won't miss ya!" adding a peace sign at the end.
As for Amber Tamblyn, she is choosing to exercise her rights instead of exercising on a SoulCycle bike by giving the gym an ultimatum, despite their long-term relationship:
Article continues below advertisement
Comedian and actor Billy Eichner is a curious one. He wrote, "Hey @Equinox – what's your policy for canceling memberships once a member finds out your owner is enabling racism and mass murder?" On a more serious note, Eichner speaks out on behalf of Equinox's gay clientele.
Article continues below advertisement
This broke out after The Washington Post revealed on Wednesday that Ross, who is also owner of the Miami Dolphins, has been planning a re-election fundraiser for the current U.S. president:
Article continues below advertisement
"The Friday luncheon in Southampton is scheduled to take place at the home of New York real estate developer Stephen Ross and his wife, jewelry designer Kara Ross. Tickets are priced at $100,000 for a photo opportunity and lunch, and $250,000 for the package that includes the roundtable discussion, the invite shows." – via The Washington Post
-
"The Friday luncheon in Southampton is scheduled to take place at the home of New York real estate developer Stephen Ross and his wife, jewelry designer Kara Ross. Tickets are priced at $100,000 for a photo opportunity and lunch, and $250,000 for the package that includes the roundtable discussion, the invite shows." – via The Washington Post
A Change.org petition was started soon after that demands Equinox end its support for Trump and cancel the fundraiser. Both SoulCycle and Equinox released statements on social media in an attempt to distance themselves from their majority owner, going as far as to call Ross a "passive investor."