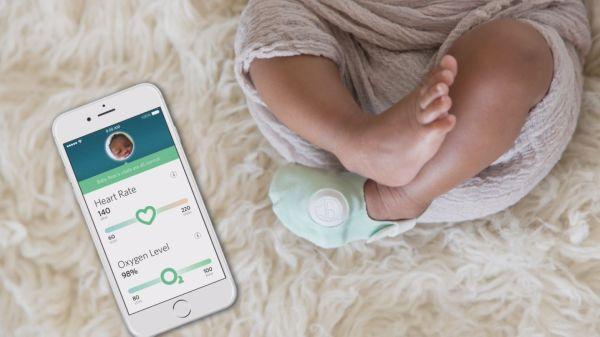 Smart Sock Tracks Baby's Heart Rate
By Johana L

Jan. 10 2019, Updated 7:44 p.m. ET
Babies are such delicate little beings and this Smart Sock is helping to put parents/guardians at ease. Created by aspiring parent Kurt Workman, Smart Sock was created from the concern of his baby inheriting his wife, Shea,'s heart condition.
The Smart Sock tracks a baby's oxygen levels and heart rate using a noninvasive method called Oximetry. It all started with Workman's idea but since he didn't have the necessary technical or medical skills to pull it through on his own, he teamed up with 3 of his Brigham Young University classmates, Zack Bomsta, Jordan Monroe, and Jake Colvin, and together they birthed their startup, Owlet.
Owlet's innovative idea, that truly came from the heart (pun intended, guys.), "started selling Smart Socks in September 2015, and by the end of the year it had booked $2 million in revenue. The 115-employee business, based in Lehi, Utah, closed 2017 with $25 million in revenue and is projecting nearly double that this year."
Workman stated that, "Parents spend a lot of money on their children, and will spend more if you can solve problems for them." He mentions that the three most important things for parents are "keeping baby safe, healthy, and happy. We've created something that can help them do that better."
The device works with a wirelessly connected base station that glows green to let them know that their baby is healthy. It uses lights and sounds to notify them if that changes. People can also download the company's app for real-time readings. They can also purchase the Owlet camera to remotely check-in on baby.
Now with 3 kids, Kurt and Shea say they can't imagine their lives without the Smart Sock. It also helps to put a person's mind at ease knowing that the device was actively used by the creator for his own family.
The Smart Sock retails for $300.00 on Owlet.com which is super pricey but if splurging on baby is going to happen, this product might be one to keep on top of the list.