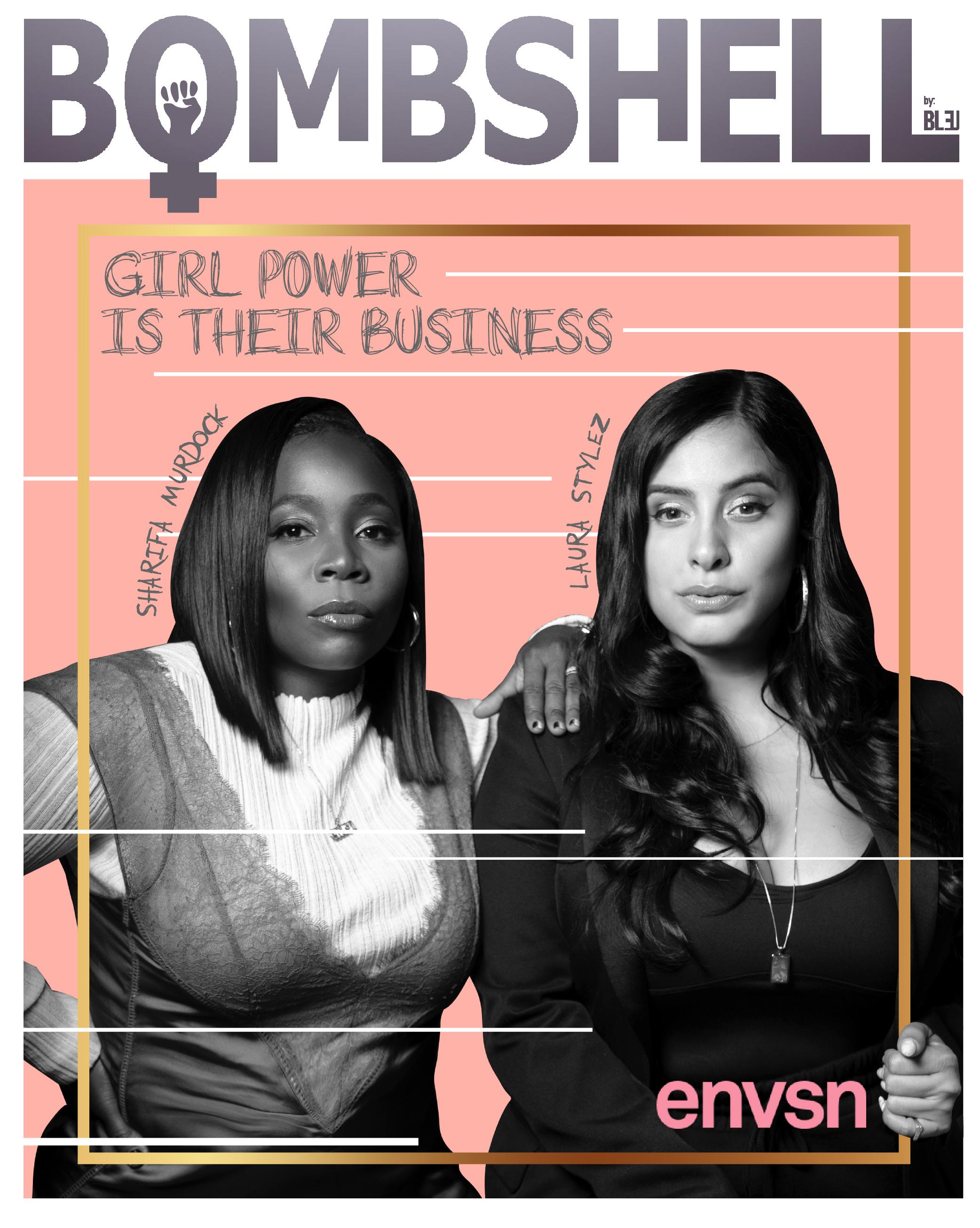 The Brilliance Behind ENVSN: Sharifa Murdock and Laura Stylez
By Ebony Allison

Oct. 9 2019, Published 5:11 p.m. ET
As the pre-fall breeze blew from the East River this past September, hundreds of eager, passion-driven pupils filed into Brooklyn's Industry City for this one-of-a-kind career inspiring event: ENVSN Fest. Here, hopeful youths walk in with a dream and leave with a vision. As much as people discredit them, this generation of young people hold so much potential and the festival creators, Sharifa Murdock and Laura Stylez, believe helping them create paths in their lives is crucial.
As longtime friends, Murdock and Stylez watched each other grow into the extraordinary women they are today. They would often visit schools together to talk with students and on panels to guide and inspire kids in their future careers. "We had these conversations about how at a lot of the panels and events that we would attend, there wasn't enough substance for young girls," said Stylez. Murdock added, "not discrediting any of these events because I think that they're all amazing, I just feel like my dream is to do something bigger."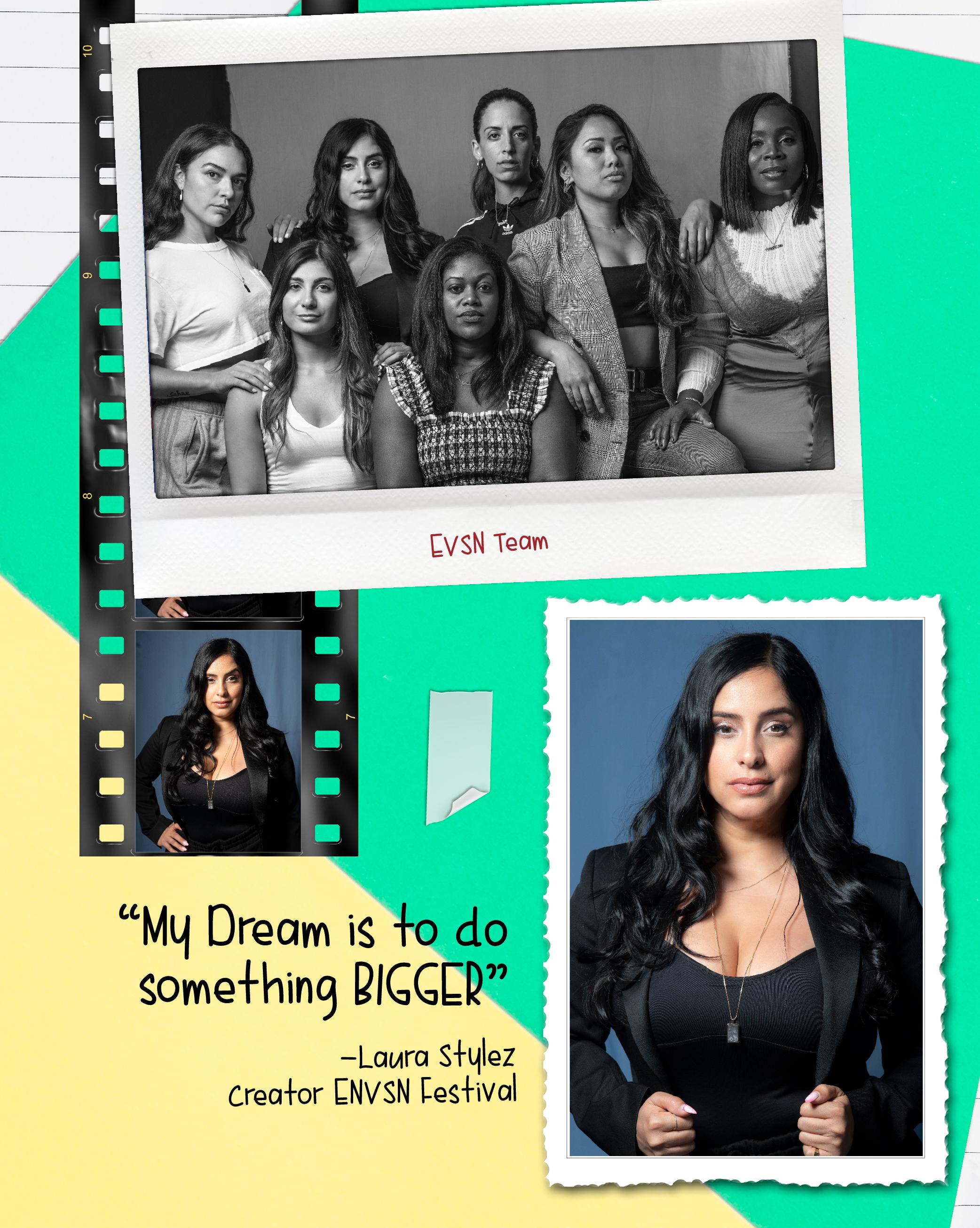 Article continues below advertisement
And that "something bigger" became ENVSN Fest. Here, panelists, vendors, and professional women gather to inspire the minds of those attending. It goes beyond a normal convention and becomes an expansive and immersive networking opportunity where attendees can talk one-on-one with industry professionals. Stylez explained, "it's all of these incredible women that all these young girls admire, but we're putting it in a setting where these kids can ask whatever questions they want."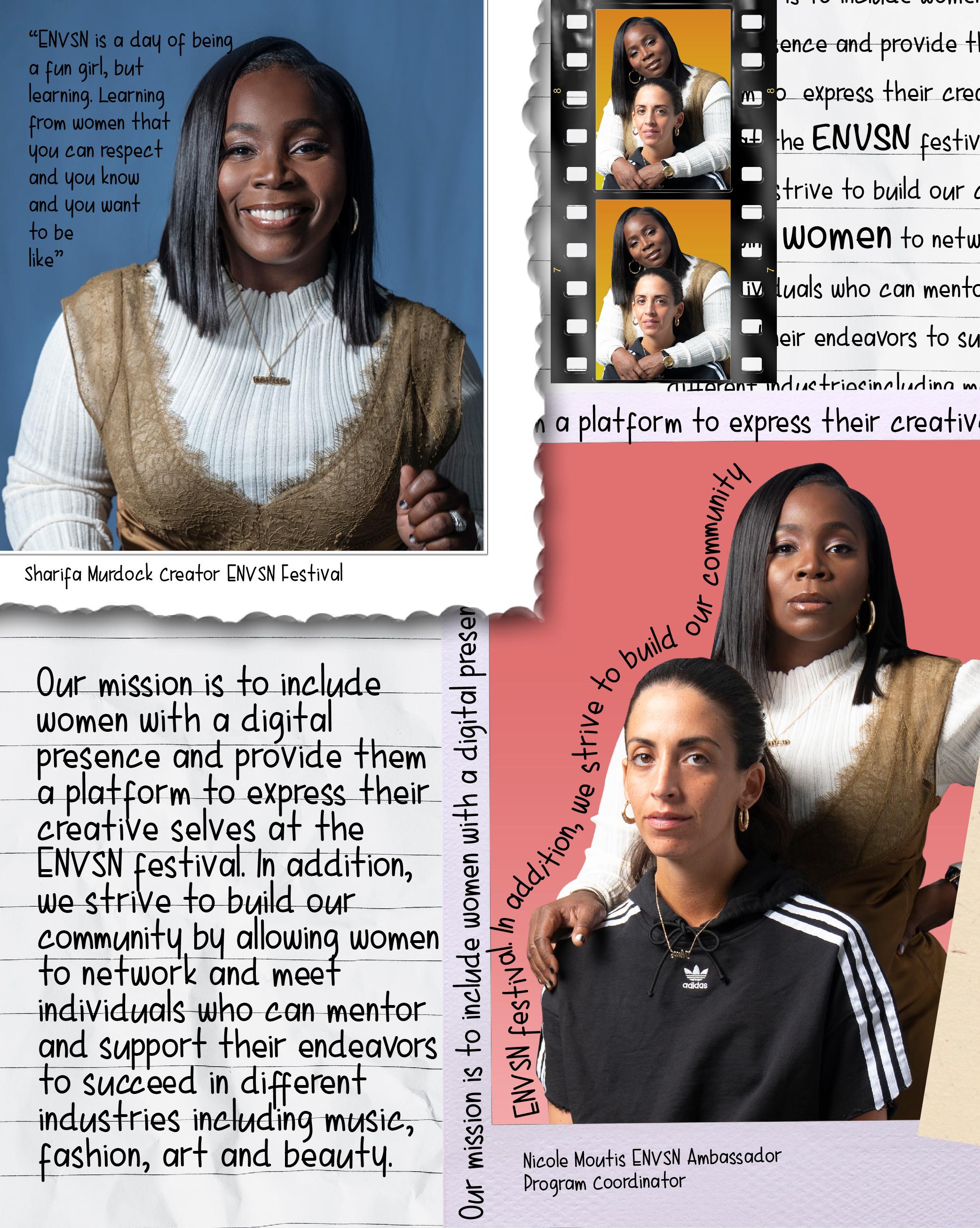 Article continues below advertisement
ENVSN currates top-of-the-line panelists and ambassadors in several different fields. Nicole Moutis, the festival's ambassador program coordinator, said, "Our mission is to include women with a digital presence and provide them a platform to express their creative selves at ENVSN festival. In addition, we strive to build our community by allowing women to network and meet individuals who can mentor and support their endeavors to succeed in different industries including music, fashion, art, and beauty."
Being able to see the full scope of someone's career path is crucial. In this social media-driven society, young people see success and success only. "I wanna see everyone's grind. Because I think what happens nowadays is that people get on Instagram, and they see – you know – they see the glam. They see what Fendi bags girls are wearing. They see all the different labels, but they don't know how they got it," said Sharifa. Seldom we see the grind behind massive success and ENVSN wants to send the message that while it is attainable, it won't happen with complacency. She added, "I was working at McDonalds when I was in high school and I have no shame in that because I want kids to know I did work at McDonalds."
Article continues below advertisement
ENVSN is all about bringing those ambitions into fruition. "Whether you come with a vision, leave with a vision or have the vision 5 years later, ENVSN provides an experience that educates attendees on the valuable ways to bring their visions to life," said Jamila Galloway, head of talent and programming.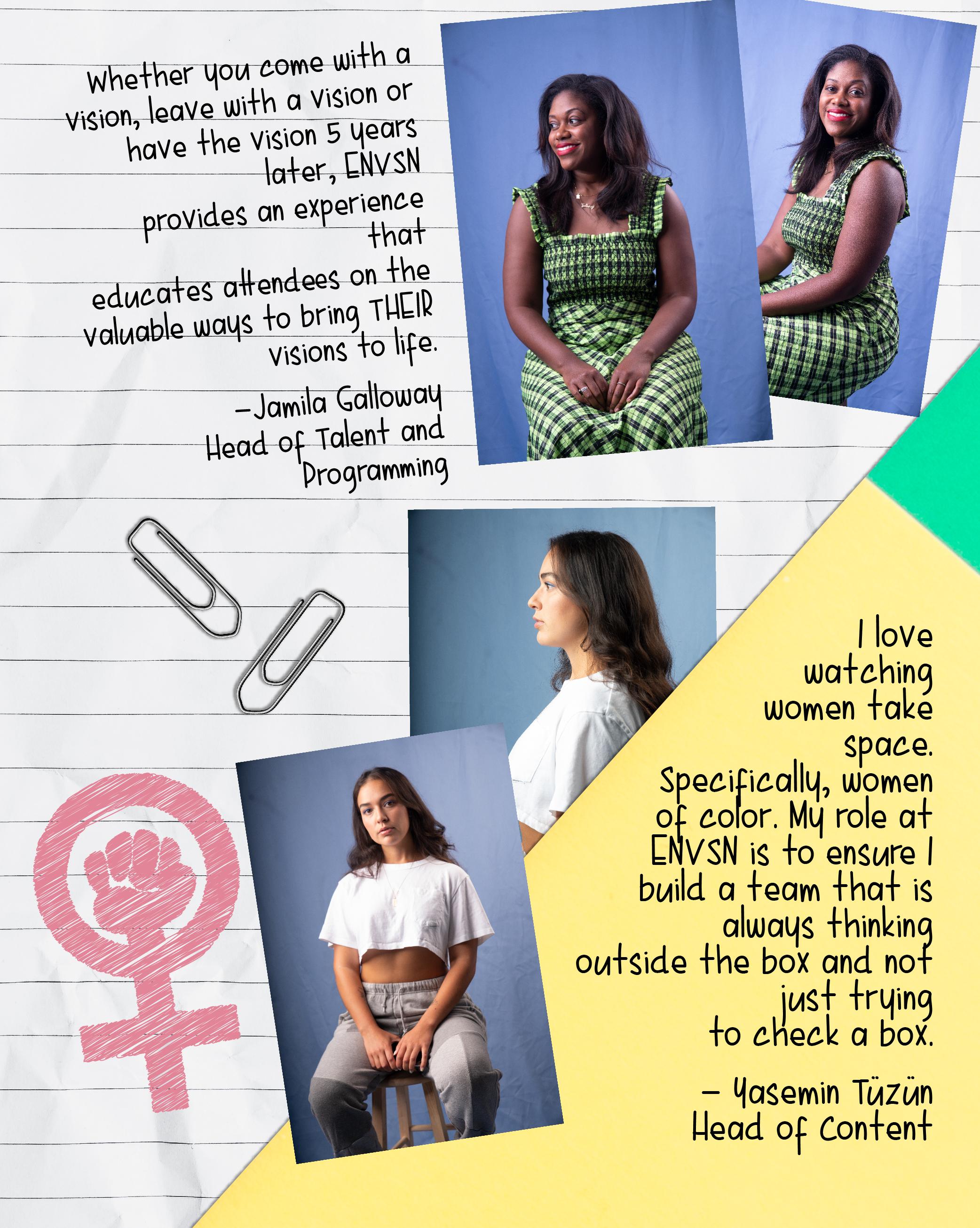 Article continues below advertisement
Walking through the vibrantly colored booths at ENVSN, attendees can see women like them working hard for their dream and owning it. It's inspiring and brings ideations of success to a vision of an attainable reality. "There's so many women that are around me that I see that can help and impact these young girls," said Murdock. "It needs to be a state of mind, but still have a fun feel to it."
Aside from being a career-driving experience, ENVSN also gives attendees the tools to live their all-around best life. The event holds an importance to wellness and wellbeing giving pointers on being aware of your health. They have fitness classes, meditation classes, and more. "We have A.D.D all the time because we're doing so much. I want kids to know, you have to be still sometimes," explained Murdock.
Article continues below advertisement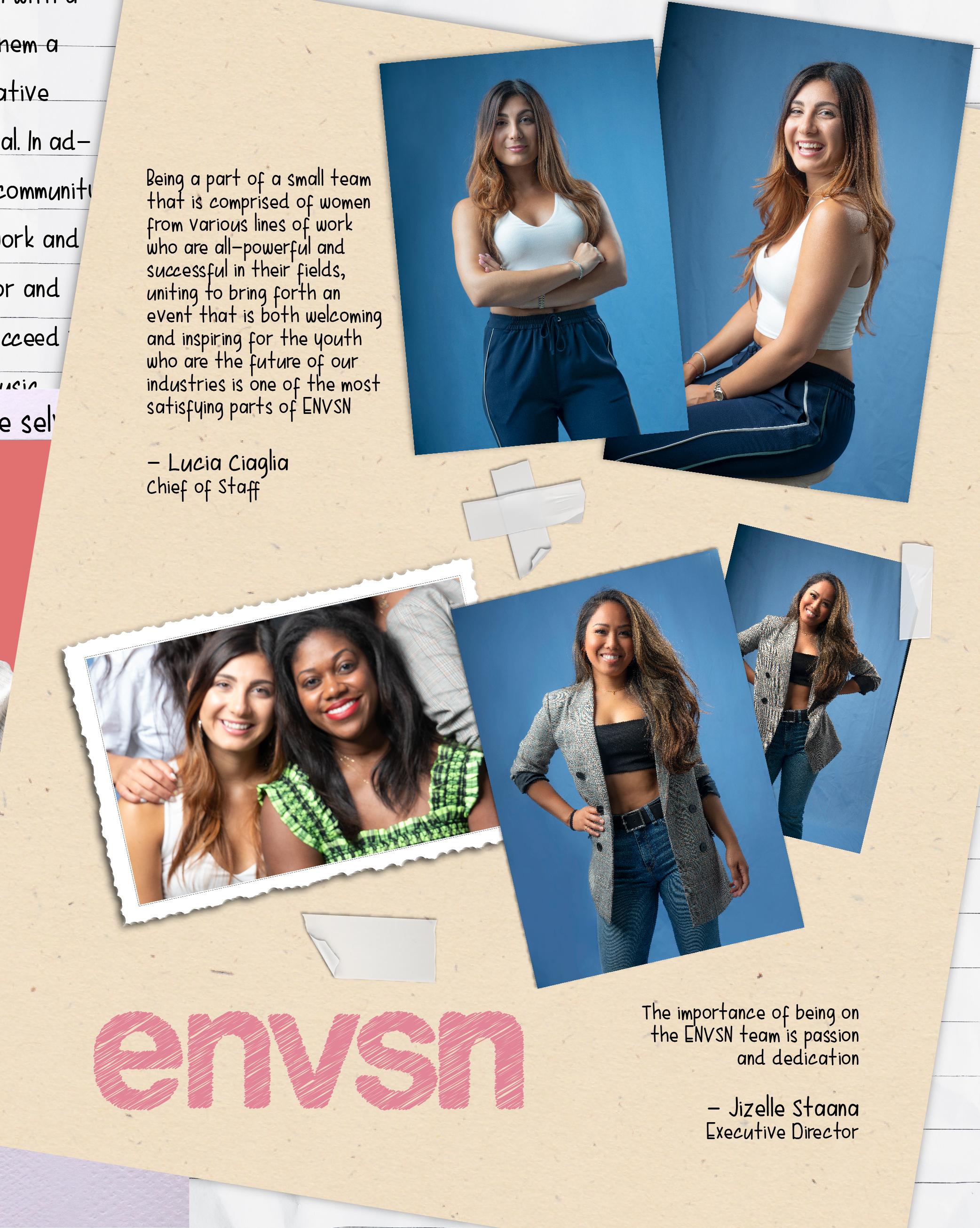 Once the booths close at the festival, the after-party begins with live performances from up-and-coming artists. Last year, the lineup included the "My Type" singer Saweetie and Tinashe. This year's live performances included Doja Cat, Wolftyla, Queen Naija, and Angelica Vila.
And all of this fabulousness couldn't happen without a strong-willed team who care deeply about the motive behind making ENVSN happen. Chief of Staff Lucia Ciaglia explains it best: "Being a part of a small team that is comprised of women from various lines of work who are all-powerful and successful in their fields, uniting to bring forth an event that is both welcoming and inspiring for the youth who are the future of our industries is one of the most satisfying parks of ENVSN."
All of this is made to cater towards the next generation of professionals. "ENVSN is a day of being a fun girl, but learning," said Murdock. She believes this next generation of movers and shakers are very promising – they just need the guidance. "It's about learning from women that you can respect and you know and you want to be like."