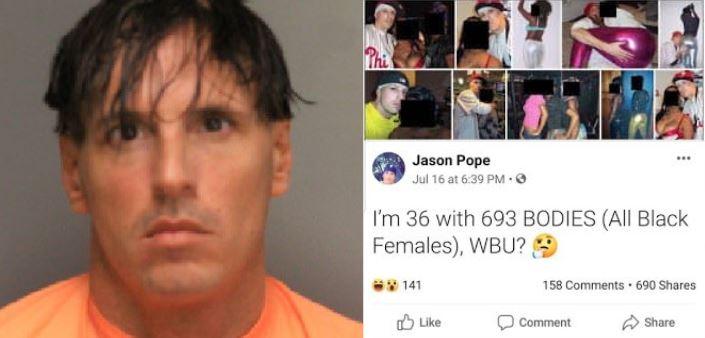 SC Man Charged with Trafficking is Somehow Under the Radar?
By Jamie Rollo

Oct. 21 2019, Published 5:25 p.m. ET
Somehow carelessly slipping under the radar of mainstream media, South Carolina resident Jason Roger Pope, age 42, has been charged with the trafficking of nearly 700 girls of African American heritage. It has also been reported that he is HIV positive and his victims are at risk. This wasn't the first time Pope has been arrested for sex crimes and in the past, his charges were vacated. Investigators are unclear why that is the case.
Pope, who is a locally known DJ by the name of "DJ KID," was arrested back in August for three counts of trafficking in persons, three counts of first-degree criminal sexual conduct, second-degree criminal sexual conduct with a minor, promoting prostitution of a minor, and kidnapping. Screenshots of Pope's text messages shared to Twitter that display horrifically disrespectful language when discussing Black women and girls. Though he has previous charges, somehow Pope had been able to avoid serious legal trouble.
Article continues below advertisement
Pope's extensive record dates back to 1995 with a conviction of impersonating a police officer. In 1996, he was convicted for promoting the prostitution of a minor and his jail time was suspended. From 1997 to 2011, he was convicted for numerous charges ranging from unlawful conduct and unlawful use of a telephone.
ABC 15 News reported that the warrants state Pope would recruit underage girls and women for sex on numerous occasions between September of 2017 and July of 2019. He would provide money or gifts in exchange for sex, but also would hold some women against their wills in both Darlington and Florence, South Carolina. Additionally, the warrants report that Pope knew some of his victims were underaged though there were no reports that they were held against their will.
Of the 14 reports made public, Pope was the suspect in nine of them, a complaint or victim in four, and one in which he was a third party. Of the nine reports in which Pope was the suspect, five were sex-related and only one of those reports involved an adult woman whom he shared pornographic texts with.
Article continues below advertisement
One of the four reports made available included one involving two girls, a 13-year-old and a 16-year-old, who walked into a hospital fearing they had contracted something from Pope, who at the time was 34. The victims reported to the police that he had given them marijuana and money in exchange for sex. This report, filed in December of 2011, was currently listed as resolved according to ABC 15. The Florence Country Deputy Sheriff Glenn Kirby affirmed that both deputies on the case no longer worked there, so the department is unsure how or why it was vacated.
Six years later, another report was filed by a 16-year-old who reportedly called the police department and threatened to commit suicide. According to the report, Pope had been paying the minor for sex, but was also blackmailing her for additional acts. Once the victim cut ties with Pope, he began sharing her information on social media. The same victim also reported that Pope had not only bribed 15 and 16-year-olds for sex, but would also film them.
The last available report was filed by a female relative of Pope. She had claimed that he had shared social media posts bragging about having sex with minors. The family member shared screen grabs of the pornographic posts with deputies who considered them, "explicit."
Article continues below advertisement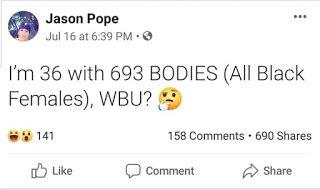 While all of this was going on, Pope was somehow able to walk free with little legal trouble. Prosecutors believe there may be more victims associated with the crime and encourage victims to come forward. Currently, Pope is being held in the Florence County Detention Center and his bond was denied.
It was previously reported by the FBI that an estimated 40 percent of trafficking victims are African American females. That percentage spikes depending upon the city; in Los Angeles county they make up a terrifying 92 percent of all sex trafficking victims. Sadly, African American victims are less likely to be helped for various reasons.
Article continues below advertisement
The reason why girls of color, statistically, face a higher risk of being unjustly absorbed into this world is all due to circumstance. They could be persuaded into trusting someone with the promise of protection or an all-around better life. Frederick Reese, of the Atlanta Black Star, explained it best stating, "If one was to create a Venn diagram of the forces that influences sexual trafficking, one would see that four different phenomenon are intersecting: white privilege/white access, racism, gender identity/gender objectification, and poverty." All of these factors must be resolved in order for this epidemic to stop.
Marian Hatcher, the senior project manager and human trafficking coordinator for the Cook County Sheriff's Office of Public Policy, told the Atlanta Black Star, "The problems lie in the fact that most Americans see the typical sex traffic victim as a white, blonde hair, blue eyed girl and the typical juvenile prostitution arrestee as a Black woman." She continues, "Most people don't realize that the two are the same person."
If you or a loved one is a victim of sex trafficking and in need of help, call 1 (888) 373-7888 or text "HELP" or "INFO" to 233733.