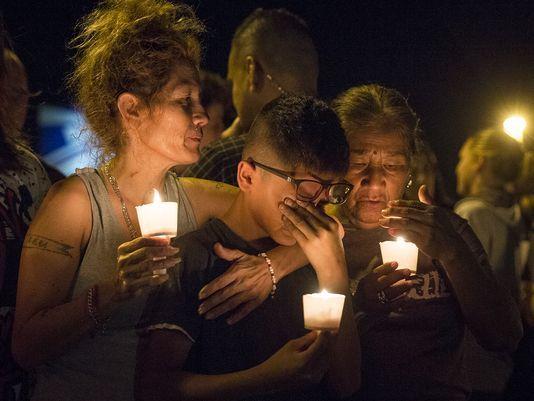 Say His Name: How Mainstream Media Protects White Terrorists
By Kaylin Young

Nov. 9 2017, Updated 9:01 a.m. ET
Devin Kelley killed 26 people, and injured 20 more, in First Baptist Church of Sutherland Springs yesterday. Devin Kelley enlisted in the Air Force and was sentenced to military prison in 2012 after abusing his wife and infant stepson. Devin Kelley was released from the military on a bad conduct discharge in 2014. Devin Kelley was fired from his first post-military job after just six weeks.
Since news broke of Monday's tragedy in south Texas, most stories about the shooting do not feature Kelley's name in the headline. Many anchors referred to Kelley as "the suspect", "the gunman" or "the shooter" on the news. Kelley's name even went unspoken at a news conference on the killings at a church in Sutherland Springs, Texas on Monday. During a briefing, Texas authorities said they intend to keep it that way.
"We do not want to glorify him and what he has done," Texas Department of Public Safety Regional Director Freeman Martin said. This habit of mentioning the shooter's name when it is first released, then hiding the identity under descriptions like "shooter", was popularized by No Notoriety, a group that wants to "stop making rampage mass murderers famous."
However, this courtesy is avoided all together in situations when a shooter is a person of color – the same can be said for people of color who are victims of gun violence.
The same censorship was used for Stephen Paddock, the terrorist who killed 58 people dead and injured 546 on the Las Vegas Strip. Less than 24 hours after the release of Paddocks identity, major news outlets humanized the shooter by labeling him a lover of country music" and a "quiet retiree."
These humanizing labels are a stark contrast against the publicity of nonwhite killers or victims.
Article continues below advertisement
Past mass shooters who have been Muslim are automatically linked to domestic or international terrorist groups. Often times, the entire Muslim faith is called into question when a member of the religion is a suspect in any murder – specifically mass murders. Similarly, when African-Americans are linked to murders, the reputation of the entire race is called into question.
Unfortunately, the same unjust treatment is given to nonwhite victims as well. Less than 24 hours after the murder of unarmed teenager, Michael Brown, the media detailed negative information about his school record and any questionable history they could dig up. This cycle of the media treating black victims worse than white killers also occurred after the death of Trayvon Martin and Sandra Bland.
Even if major news outlets will not acknowledge these facts, we must not fall victim to this perpetuated discrimination. Say his name. Remember his name. Devin Kelley.