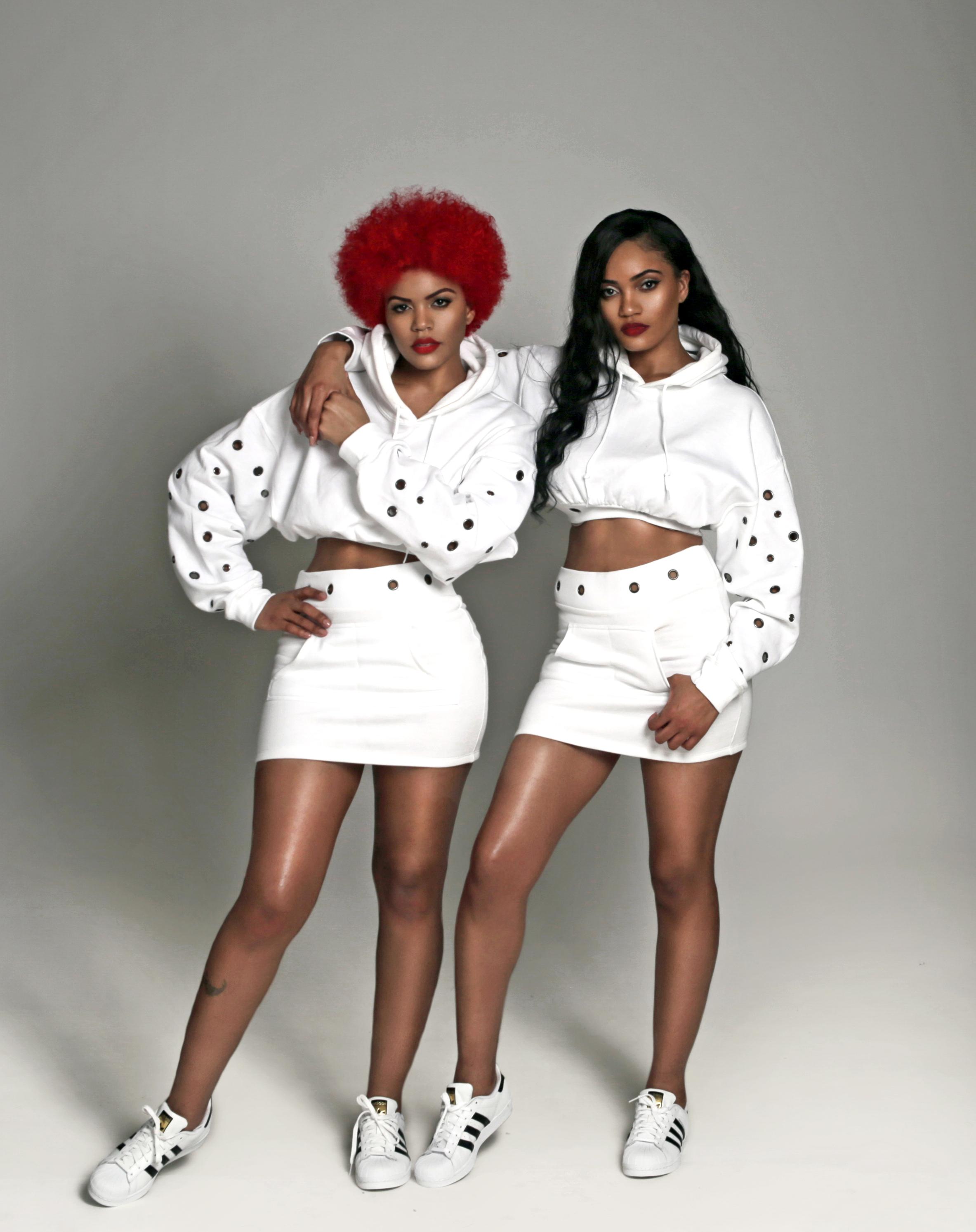 Sadia Hayden Taking Over Fashion 1 Grommet Hole at a Time
By Rhamer Bernardez

Jul. 23 2017, Updated 4:08 a.m. ET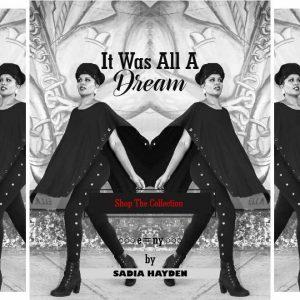 People move to New York City to follow their dreams, aspirations, or answer their calling. Sadia Hayden, true Michigan girl, knew that after her cousin was gunned down due to gun violence, she had to get away and start following her dream. Her big move to the city left her baffled at first, not knowing what to do with her sketches…but after a bit of soul searching and channeling her emotions, she created her collection "e=ny".
Bombshell had the opportunity to chat with the designer, whose clothing has been worn by strong woman like Keke Palmer. The continuing growth of Hayden's company and unique fashion is the reason why women with major ambitions should not give up on their dreams.
Here's what she had to say about integrating grommet holes in her clothing, inspiring women, and the story of her cousin that caused her big move.
How did you get started in fashion?
Hayden:I have been sketching since I was a little girl. My mother played a major part in my life. She used to be a seamstress, so you know, seeing her love for fashion inspired me. I was my mother little helper when it was time to get busy with fashion and home decor.
Mothers seem to be a great influence in a lot of people lives. Has your mother helped you with this line at all?
Article continues below advertisement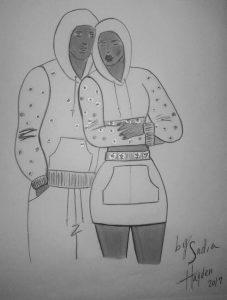 I remember having a conversation with my mother, and I was a bit frustrated at the time because I didn't know what I wanted to do. I felt like, I just needed to unplug myself from everything.
My mother shared the best advice to me at the perfect time, she told me "You know, you just need to be you. What would you wear Sadia? You need to stop thinking about other people. You just need to think about what you would wear and what type of collection you want?" My mother advice, help me get everything rolling again! It took me to another place, "I promise myself that I'm going to be me 100 percent. All of the up's and down's were poured into my e=ny collection.
Article continues below advertisement
And your collection is absolutely beautiful. The meaning behind it, as you say in your biography online, you've lost people due to gun violence. You've put a new meaning to using grommet holes in clothing. What was it like, getting that phone call or that news that you've lost someone due to gun violence?
Hayden: I remember that time like it was yesterday. I was planning to go out with my cousin Ramone, he was like a brother to me. He was my hero. I can hear his voice telling me- "Meet me at the party tonight!" and I am like, "Okay! I'm coming,and let me make sure I can get my sister car." At the time I didn't even have license *laughs*, but I wanted to go and I wanted to hang out with him, I remember telling him, "I'll be there, but that same night, I was so tired, I didn't make it to the party.
I was the type of girl that didn't miss a amything! *laughs* I wanted to show off my latest outfit too but I fell a sleep and was waking up by Ramone sister Sherea, she came running into my room, screaming and crying, telling me that her brother just got killed. It was a nightmare.
Article continues below advertisement
I was just in shock, I couldn't believe it.
Just waking up like, "What??? What're you talking about?? He's dead??? Somebody shot him? For what reason???" is simply crazy!
His sister shared that he had an altercation and he was arguing over a T-shirt. Ramone was asking for his t-shirt back from his friend, and his friend wouldn't give him his clothes back. It became this whole thing, they both start fighting. And when Ramone walked away he was shot and killed."
I was devastated, I was really sad for a long time. I was thinking so much at the time "Wishing I was there at the party and that things could have happened different. My cousin Kerwin Ramone Louris is with God now and my collection keeps me smiling because this is my gift to him!
What you went through, is something you never expected and would never want anyone to go through. How did that affect your designs now, using the grommet holes in your clothing, which is something people would usually not be seen wearing?
Article continues below advertisement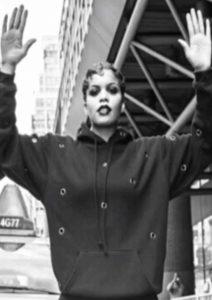 Hayden: At the time, when I was sketching my e=ny signature hoodie two-piece with random grommets. I was listening to music—and thinking of those who have lost their life from gun violence. I truly believe that God hands are in this collection. The funny thing is I never really wanted to come out with a collection.
As long as I can remember, I always wanted to design custom made pieces for my favorite Artist. I was the girl who couldn't wait to see the next video, with the new styles and custom pieces. I was that young girl saying I want to design like that, design unique pieces like her. I never saw myself with a full collection for the public. But my Hoodie two-piece design gave me all the wow factors and pushed me out of my comfort zone.
Article continues below advertisement
"Wow, this is something I need to hold onto," and keep fighting for. When I didn't get a call back from any artist to wear my piece. I decided to add a few more styles for my soon to be e=ny collection. Wear your grommets holes proudly in honor of all lives lost due to senseless acts of gun violence. My passion for custom made designing pushed me to my purpose and that is to help bring awareness to stop senseless acts of gun violence through my fashion collection! #enybysadia
What you went through, is something you never expected and would never want anyone to go through. How did that affect your designs now, using the grommet holes in your clothing, which is something people would usually not be seen wearing?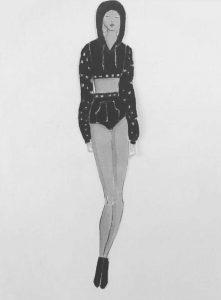 Article continues below advertisement
I am glad you decided to put out your collection. You have people like Keke Palmer, wearing your dresses, your collection repeatedly!
Hayden: Yes! I know! I'm really blessed to have Keke Palmer, a strong woman. She's the type of woman who is very strong and very positive who can wear the piece because the message that I have is positive. But, there are a lot of designers there who are adding grommets, but when I design my collection (with the grommets) I know exactly what it means. For Keke to take a look at it and say, "I wanna wear this!" It really meant alot to me. I'm really happy because she is a positive and strong woman. She is the type of women that I really love.
What would you say to young women who are in rough situations and aspire to be a designer but doesn't know what to do? What would you tell her, that would help make her dreams and aspirations come true?
Hayden: Well, the first thing that I would tell her is to allow God to lead. It is very important to pray. I'm that type of woman who prays. So my advice would be is to pray and be open for some changes because you have that idea in your heart, and it may not work in the direction you want. "But Don't stop," Follow your heart and be ready for the good and ugly. The most important thing is to push for what you believe in and what you love. Listen to your inner self because your inner self holds the truth.
I am a true Michigan girl, I do exactly what I love. My aim is just to learn and grow.
Article continues below advertisement
What are 5 words you would use to inspire other women?
Hayden: STUDY, PATIENCE, OPEN, PRAY, and my fifth word would be to STAND. Stand up and "DO YOUR THANG!" It's simple, Do you!