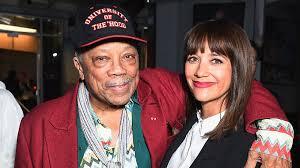 'Quincy' Documentary To Be Directed By Rashida Jones
By Alyssa Serrano

Aug. 7 2018, Published 10:13 p.m. ET
On Aug. 1, Netflix announced an original documentary, entitled "Quincy," about the life of the icon Quincy Jones. The film will release globally on Sept. 21 of this year. The powerful film is directed by his daughter Rashida Jones, with the help of Alan Hicks.
Rashida Jones, best known for her role as Ann Perkins on the show Parks and Recreation, is also a writer, producer, and now director. However, the public also knows her as the daughter of a living legend. Quincy Jones is a musician and producer of both film and music, who's been in this business for 70 years. The documentary will take a very personal look at Jones' career and home life.
Therefore, having his daughter co-direct the film will help with the authenticity of it. Rashida said in a statement, "He is such a man of action and accomplishments, but we were so lucky to spend real time with him, to let him reflect on life and the larger picture." She also said that she feels honored to be able to share her dad's story with the world. The film will cover his journey and accomplishments not only as a musician, but as someone in the film industry. Quincy is 1 out of just 18 people who has won an award in the four biggest award shows in America (Oscars, Tony, Emmy, Grammy). He also has 79 Grammy nominations, the most ever for an artist.
This documentary on Quincy Jones will be must-see this fall. Watch this film for all of the inside info on a well-known jazz genius.