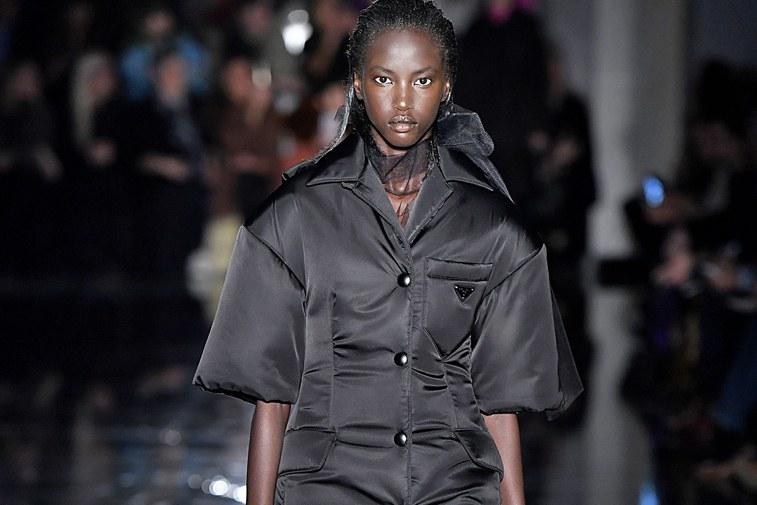 PRADA's Black History Month Moment
By Kaylin Young

Feb. 27 2018, Updated 4:50 p.m. ET
Anok Yai recently became Prada's biggest contribution to Black History Month during their Fall 2018 runway show. The Sudanese model became the second Black model (ever) to open Prada's runway during Milan Fashion Week. Yai followed in the 1997 footsteps of fashion icon, Naomi Campbell.
The 19-year-old model was discovered at Howard University's homecoming after her pictures at the HBCU went viral on social media. Her infamous homecoming image, taken by photographer Steven Hall, pulled in over 67,000 likes and the attention of NEXT Models, who would go on to sign Yai a few weeks later.
Following the show, Yai posted her accomplishment and gratitude on Instagram and said, "PRADA WORLDWIDE EXCLUSIVE. This is something that I'd only dream of. Thank you Ms Prada, Olivier Rizzo @willyvanderperre @ashleybrokaw @kylehagler and the Next team for giving the little girl from Manch a chance. Can't believe I'm the first black woman to open for Prada since queen @iamnaomicampbell, forever grateful."
Previously, Prada was notorious for their lack of diversity. In fact, it took the Italian fashion house nine years to even feature a single black model in one of their shows. Jordan Dunn broke the black model hiatus in Fall 2008. This season, Yai was accompanied by rising Nigerian model, Eniola Obioro. Obioro also put on for her country becoming the first Nigerian model to walk for the label.
After finding out she would be opening the show only an hour before the show, Yai walked the Prada runway wearing a black half-sleeve puffer coat with a structured bag and ankle boots.