Kiesha Nix: The Historic Laker Girl
By Taylor Edwards

Nov. 14 2022, Published 11:16 a.m. ET
Kiesha Nix has a knack for giving that does not go unnoticed. Most known as the Vice President of Charitable Affairs for the Los Angeles Lakers, Nix was once just a girl born and raised in South Central.
Now, Kiesha devotes every working minute directing resources and much needed attention to the children living in the same areas she used to call home. "Hello Miss VP" is the three words from legendary Ervin "Magic" Johnson that changed the trajectory of her career and inadvertently the lives of many. She shares, "It took me 45 years to become a Laker Girl but I finally did it! I just wear a different uniform." Her uniform is a suit - and sometimes sneakers - as the VP of Charitable Affairs and leader of the Lakers Youth Foundation. Kiesha Nix is described as one of the most powerful women in the philanthropic sports sector.
With over 20 years at Bank of America-Merrill Lynch as a financial advisor, she balanced private banking and investments with marketing and corporate affairs. Her popularity quietly increased with her skill to convert the bank's most high profile clientele into their highest donors – one being Lon Rosen, Executive Vice President & Chief Marketing Officer of the LA Dodgers. Kiesha spent countless hours volunteering for the bank's nonprofit organization, collecting aid, resources, and volunteer labor for the financial institution's giving imprint.
When the Lakers' owner Jeanie Buss revealed she was searching for an executive director to run the team's foundation, Lon ended the hunt before it began, suggesting Nix.
With no disappointment, Kiesha Nix is a leader, a living legend, and a record-breaking Laker Girl.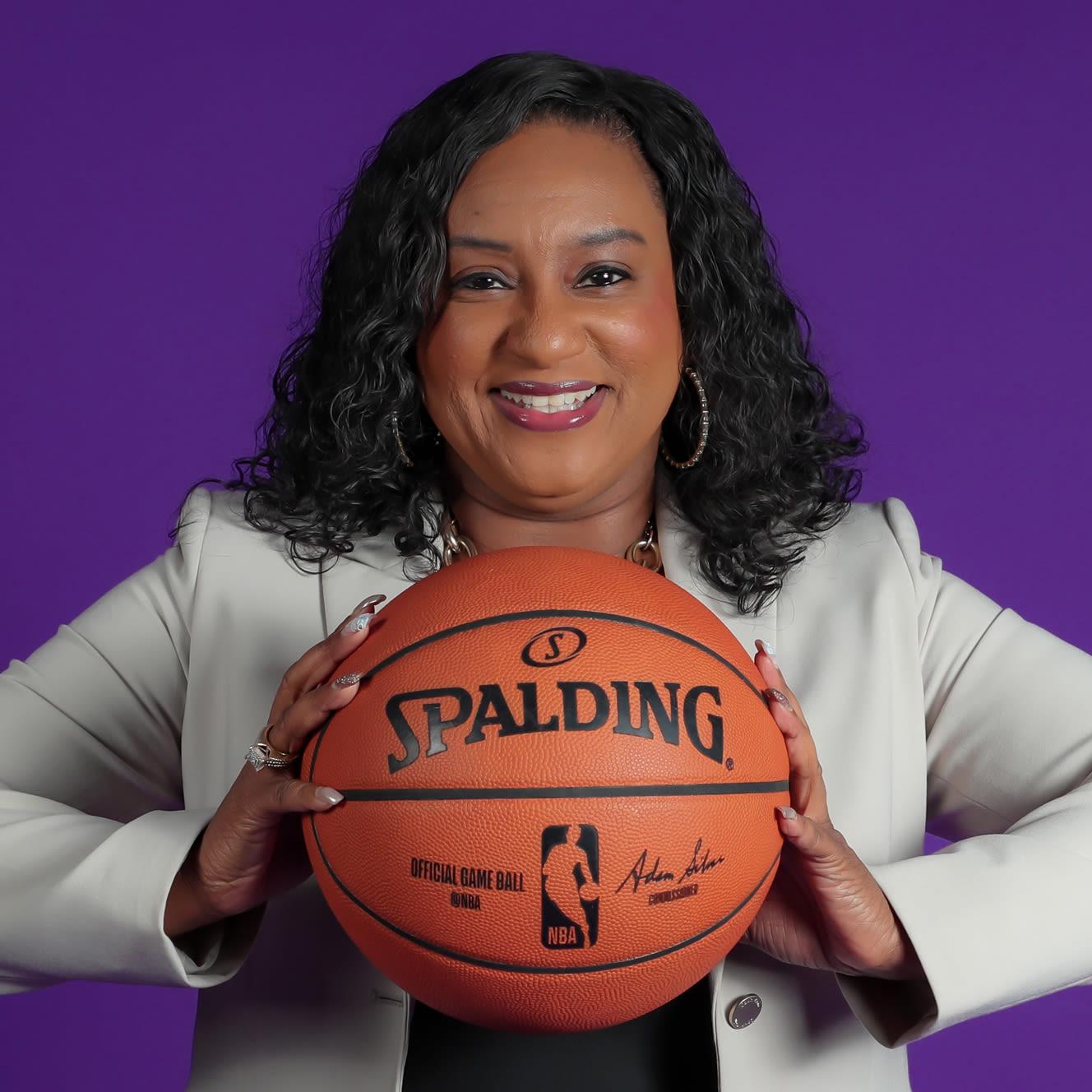 You are a champion for youth, women, and people of color - how does it feel to be the example and the change you want to see?
It feels very empowering especially because I get to make a difference in my own community; where I grew up. People can't be it if they don't see it. It is important for me to show up for the people I want to encourage. They need to see me, hear me and talk to me in order to realize if I did they can do it too!
Laker Girls have always had a high-esteemed reputation. As a VP, what does being a "Laker Girl" mean to you and your legacy?
That's a great question. Growing up I always wanted to be a Laker Girl or a Dallas Cowboy cheerleader. I often end my speeches by saying, "It took me 45 years to become a Laker Girl but I finally did it! I just wear a different uniform." Whether it is the Laker Girls who perform on the court or the Laker Girls who perform in the boardroom like myself and other female executives representing the purple and gold means everything! The Lakers organization is an iconic global brand! I am more than proud to be a Vice President here and be able to add this accomplishment to my legacy!
In a perfect world with no boundaries, what would you envision as your greatest give?
My greatest "give" is mentoring, inspiring, motivating and ultimately being able to open doors, pathways and opportunities for those who have followed me. I have been able to accomplish that for some of my mentees. But my ultimate goal is to be able to do that on a larger scale and really create a change in sports across the board and be able to provide more access to top positions for women and men of color and women period!
Last year you made history becoming the first Black woman named VP in the history of the Lakers' organization. Jeanie Buss once said "it's ok to be the first, but you can't be the only." What do you hope to see from your position in the future?
(Wow too funny; I did not read ahead on the questions lol. So I basically answered this in the last question.)
My goal is to be able to provide more opportunities for those that look like me that are coming up behind me. I don't fear anyone taking my place. I want them to! Who I am and what I have created is my legacy and no one can take that away from me. I want to be able to groom and cultivate the next me from our community.
Article continues below advertisement
One of your top priorities was to bring young people of color – especially women - to see themselves in leadership positions through exposure and opportunities. What has been your biggest or most memorable move so far?
I think my biggest move is obvious; being the first Black female Vice President in the history of the Lakers organization and being named on Sports Illustrated's Top 100 Influential Black Women in Sports list. Also I feel very proud when I look at some of the young people I have mentored, coached, inspired and now they are game changers curating, creating and hosting me at events like ENVSN! This makes me feel like a proud auntie! What is your favorite mantra or quote at work and why is it important to you? I look at myself in the mirror each morning and I say, "You got this!" If I am not my own biggest cheerleader then how do I expect anyone else to be?