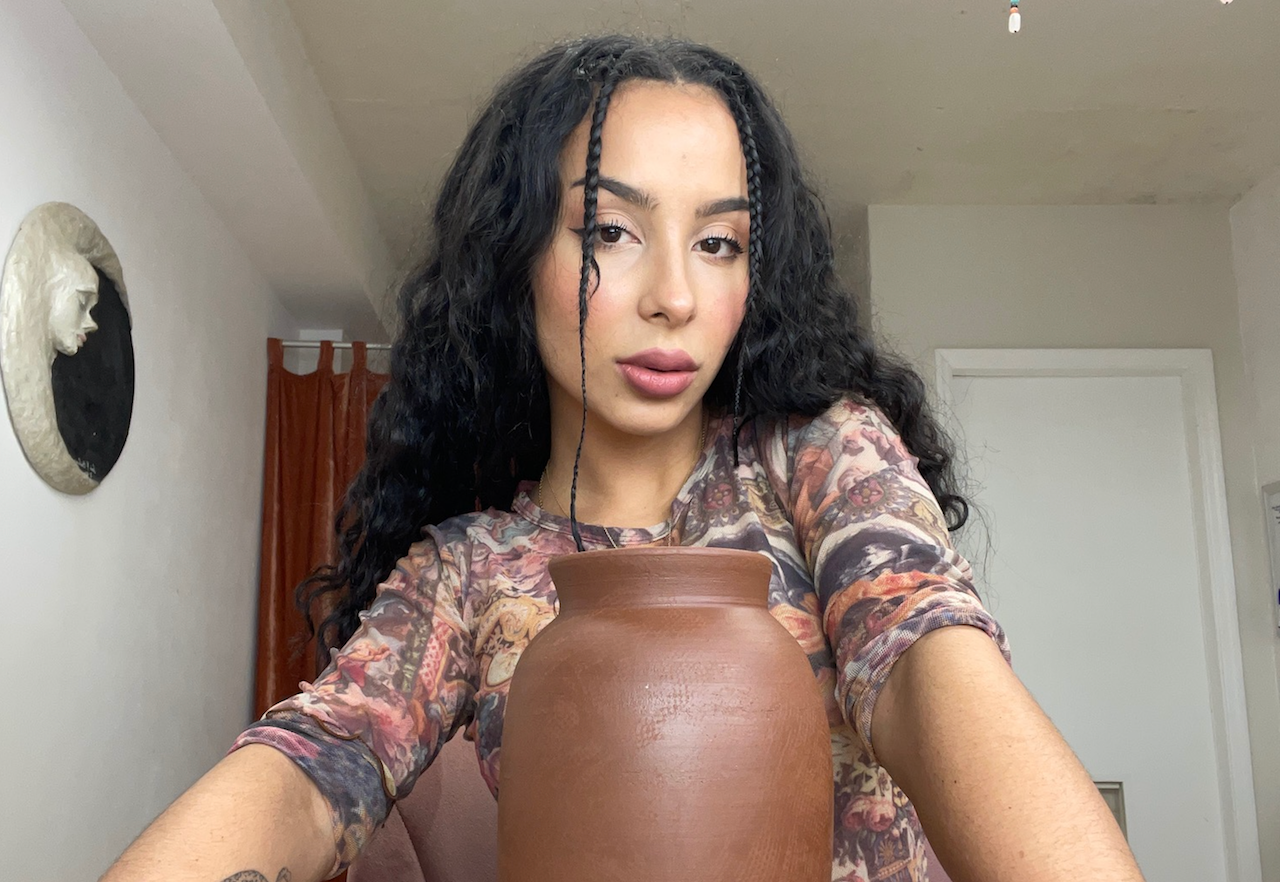 Function, Form & Feminism: How Female Alchemy Makes Magic from Clay
By Talia Leacock

Feb. 28 2022, Updated 10:53 p.m. ET
Tatiana Cardona, founder of Female Alchemy, has seen huge success with her iconic ceramic designs. Her classic pouted lip pieces have more than resonated with her ever-growing customer base.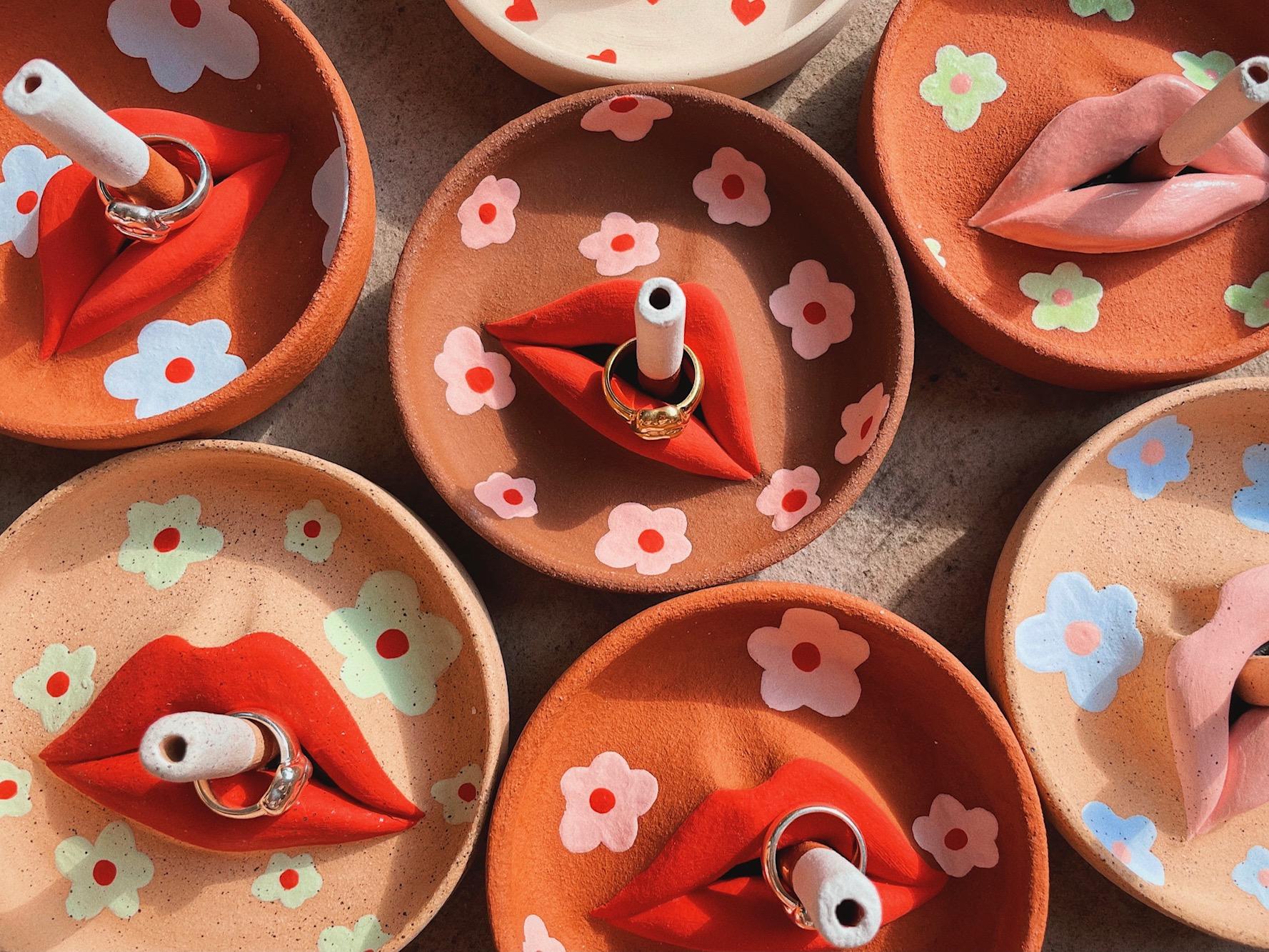 When Tatiana Cardona first made two tiny clay sculptures with lips on them, she had no idea she had struck gold. She was just an art student playing with a fun idea. But those little clay pieces with their sculpted pouts were the catalyst for Cardona's fast-growing art business, Female Alchemy.
Female Alchemy offers functional art pieces, from mugs and ashtrays to vases and planters, all lovingly handmade by Cardona. Each piece features a pair of strikingly realistic lips, a feature that has become Female Alchemy's trademark. Cardona has explored a plethora of variations, including gappy smiles, vampire-like fangs, and split-tongues.
Article continues below advertisement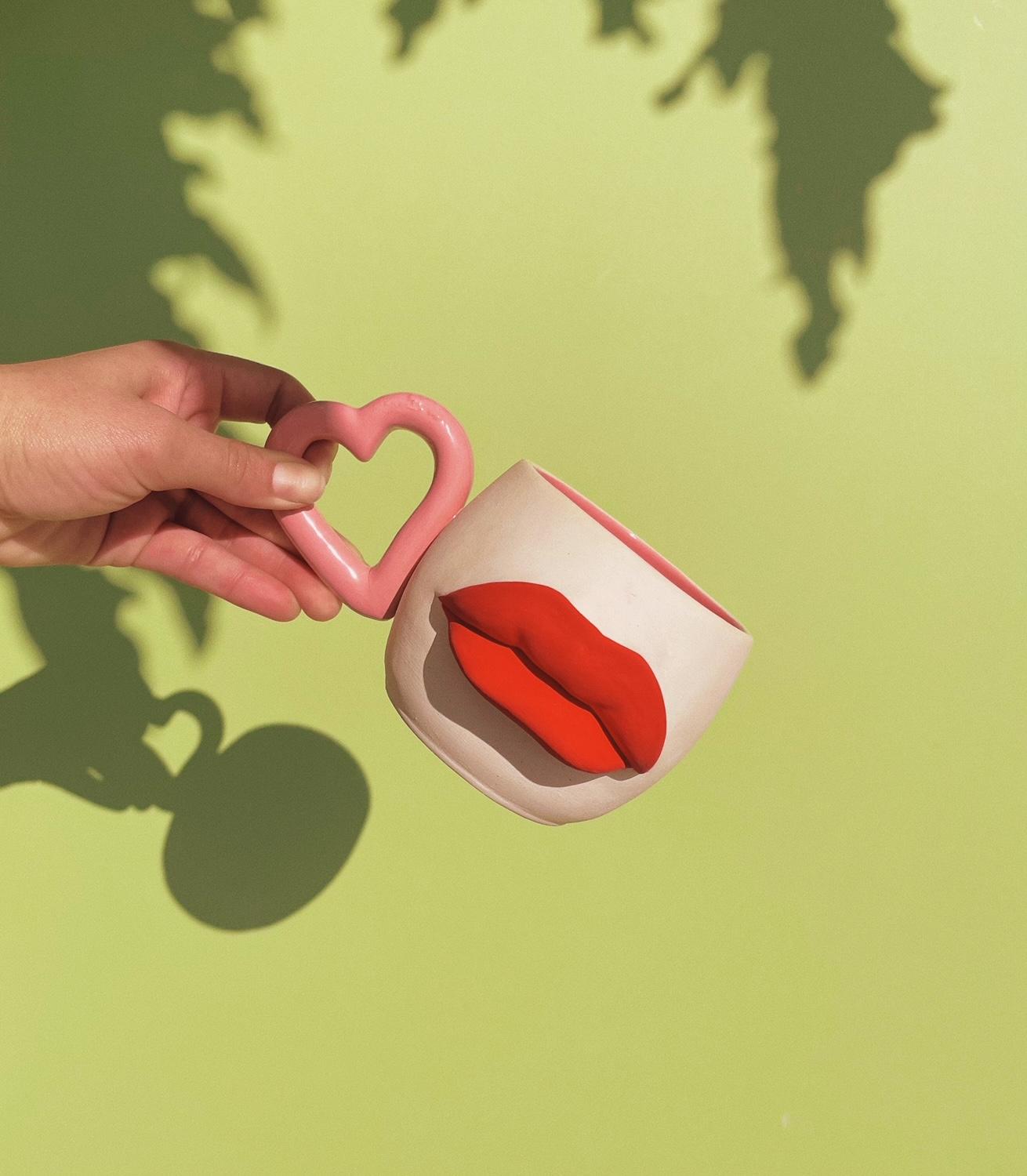 "Mouths are such a powerful tool humans have," Cardona said about her brand's signature. "It's such an expressive thing that can range and be expressed in so many different ways. So, from the moment I made [the first two], I already had ideas for other ones."
The choice of lips was almost as natural for Cardona as the decision to use ceramics as her primary art form. With a father who raised her to love art and formal education in art studies, Cardona has played with many mediums, but she has found an almost divine connection to clay.
Article continues below advertisement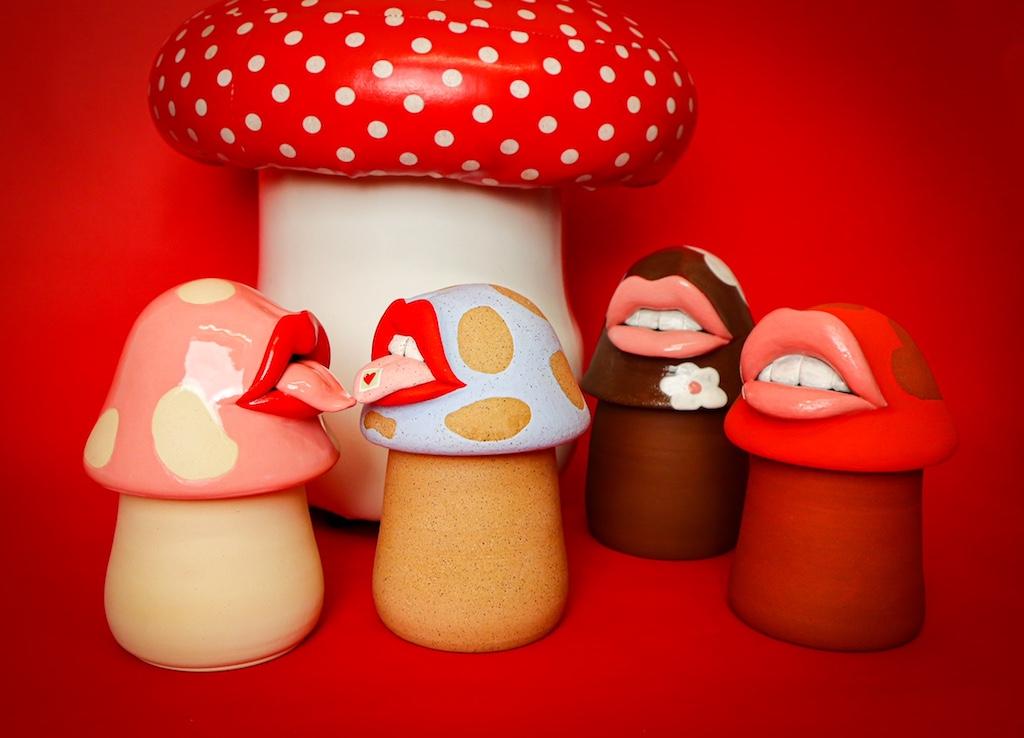 "Ceramics just felt more intimate because you don't have any other tools. It's your hands touching and creating and molding this piece out of dirt. Ceramics is also one of the most ancient forms of art. So, it really resonates with me in terms of its history," Cardona said.
While Cardona mostly sculpts lips, she sometimes shapes other parts of the female form, but her focus is almost always on the feminine. She's committed to continuing the work of artists like Marjorie Strider, Judy Chicago, and the Guerilla Girls who married feminism and art to remind the world that women push culture too.
Article continues below advertisement
"There is a crazy number of female artists, but if you ask anyone walking down the street to name three female artists, they're going to say Frida Kahlo, and that's it. There were all these movements that were started by female artists, but they didn't get credit because, at the time, women were seen as nothing but decoration. So, that was what inspired me to create a more female-centric brand," Cardona explained.
Cardona has explored a broad range of themes through her collections since first launching Female Alchemy in 2018. The themes often coincide with holidays, seasons, and current events such as a spooky Halloween series in October of 2018 and feminine florals in spring of 2019.
Female Alchemy's latest collection, Love Language, was inspired by the song from Ariana Grande's most recent album and was released just in time for Valentine's Day. The collection is not only perfect for the season of love but it's also close to Cardona's heart since she's kept the matte finish she prefers.
Article continues below advertisement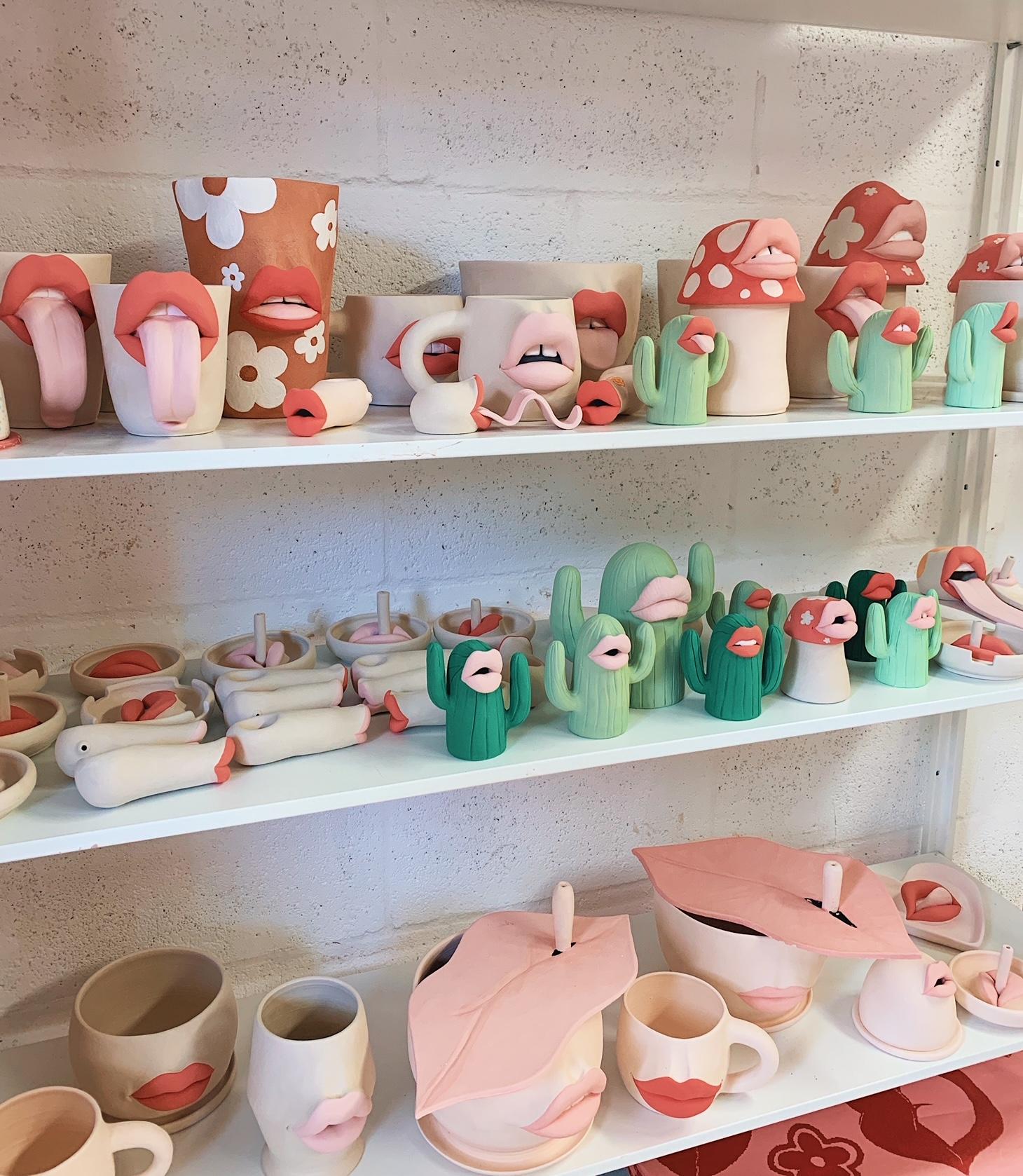 "I'm excited because it's a little different than what I usually have. My favorite stage of clay is before it's shiny. When it's glazed, it's more appealing to others, but I personally love the matte feel. It's definitely more my taste and what I would like to see," Cardona said.
In addition to her new ceramics collection, Female Alchemy has also collaborated with KIL N.Y.C., a New York-based jeweler, to offer jewelry pieces. The earrings, pendants, and rings all feature the signature Female Alchemy lips in 18K gold and sterling silver. Cardona is thrilled about the collaboration because she has always wanted to create jewelry, and her partnership with KIL N.Y.C. felt almost perfect.
Article continues below advertisement
"[The founder] is such an amazing person. Everything he makes comes from recycled gold and silver. He pays all of his people fairly. All of that was really important. All of our values aligned, so it just worked out well," Cardona said.
Cardona hopes to continue to expand Female Alchemy into other mediums. She's also in the market for a larger studio in Miami and two experienced ceramicists to join her team. Though she has no plans to mass-produce her pieces, she does hope to increase production enough to make her art available to more of her customers.
Cardona continues to pull off that delicate balancing act between creativity and business, never selling out the integrity of her art for profit. She encourages other women trying to turn their love for art into a livelihood to do the same.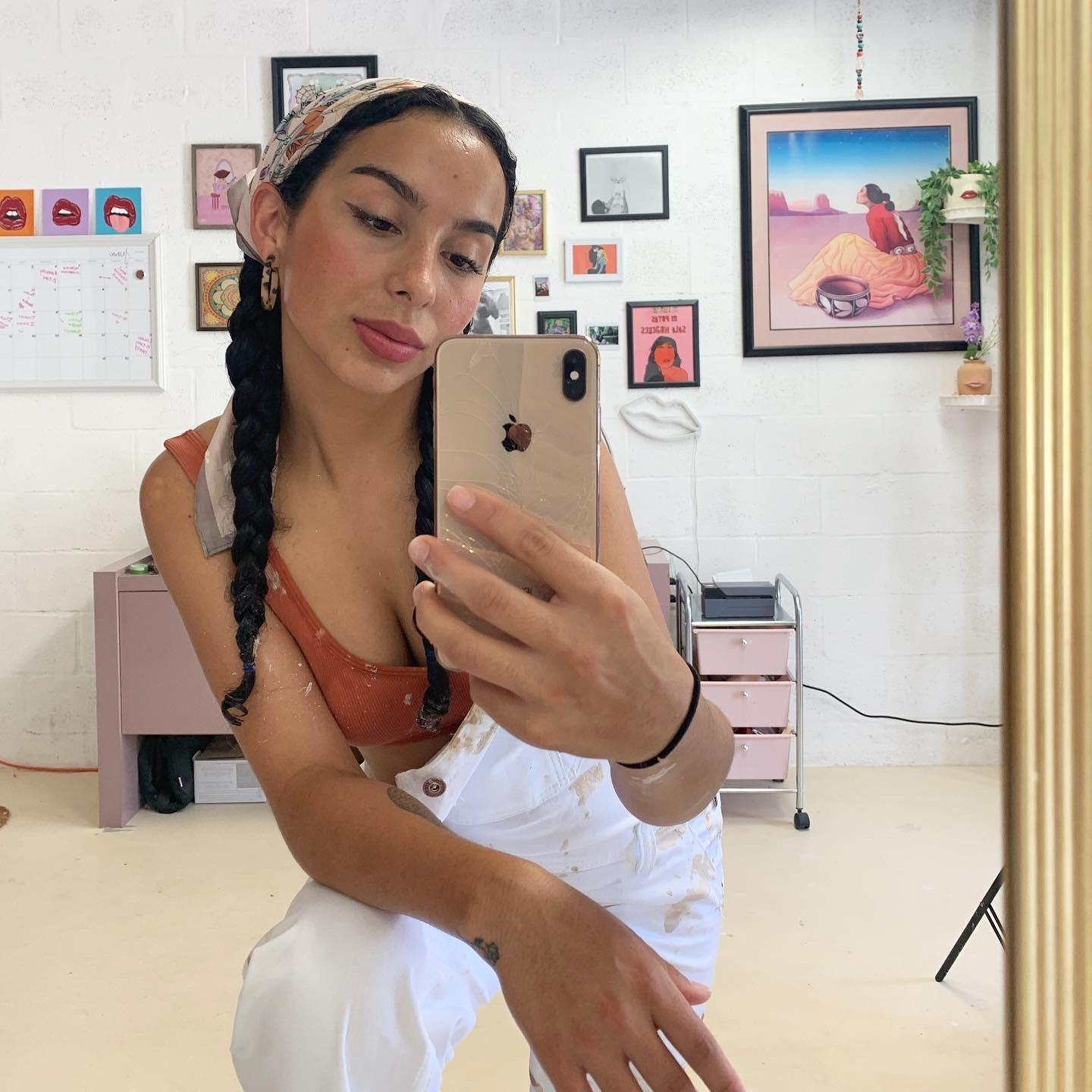 "If you absolutely love it, the success will come because you're just putting your all into it, and the universe will reward that."