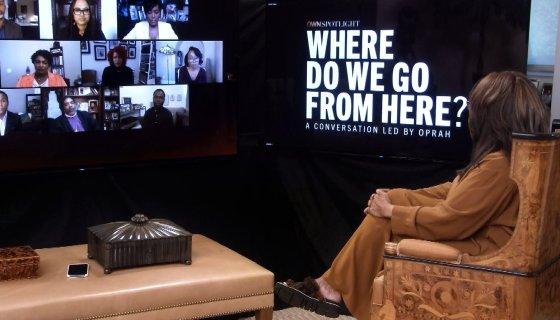 Oprah Winfrey Hosts 'OWN Spotlight Where Do We Go From Here?'
By Elysia J

Jun. 11 2020, Updated 7:01 p.m. ET
Media legend Oprah Winfrey will host a two part special on her network and other platforms addressing racial injustice in the United States.
OWN Spotlight: Where do we go from here? Will air on Tuesday June 9 and Wednesday June 10 at 9pm ET/PT. Oprah appears to be very keen to get the message out, as she has made the special available across a wide range of platforms:
On the Oprah Winfrey Network (OWN) and across Discovery's US networks. Both networks will play limited commercials throughout.
Available to stream on the Watch OWN and Discovery Family TVE apps. Both free of charge.
Available on Discovery's global platforms in more than 200 counties and territories. This is he first time in history a program has simulcast across Discovery Inc's entire portfolio.
The special is comprised of in-depth conversations with Black thought leaders, activists, and artists. Oprah speaks to them about systemic racism and offers insight into pressing questions: "What matters now?" "What matters next?" "Where do we go from here?"
Article continues below advertisement
The guests include…
Stacey Abrams: Journalist
Charles M. Blow: Atlanta Mayor
Keisha Lance Bottom: Academy award-nominated filmmaker and founder of ARRAY
Ava DuVernay: ("When They See Us," "13th", "Queen Sugar")
Jennifer Eberhardt: Professor and author (author of "Biased")
Nikole Hannah-Jones: Journalist and Pulitzer prize-winning founder of the "1619 Project
Ibram Kendi: Historian and author ("How to be an Anti-Racist")
David Oyelowo: Award-winning actor ("Selma")
Rashad Robinson: Color of Change president
Bishop William J. Barber II: Co-Chair of The Poor People's Campaign and President of Repairers of the Breach
Below are clips from the conversations.
Charles Blow: "This Is About Power"
Article continues below advertisement
Nikole Hannah-Jones on the Collective Grief of Black Americans
Article continues below advertisement
Rashad Robinson Discusses the Intention Behind Activism