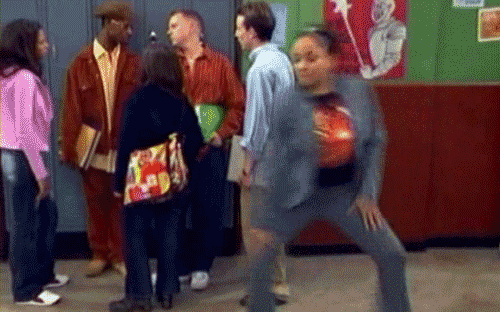 Old School Disney Theme Songs Are Underrated Jams
By Elysia J

Jul. 24 2018, Updated 8:55 a.m. ET
Because I'm a stable adult and everything is going fine, I recently spent a night listening to theme songs from the golden era of Disney Channel. I should point out I wasn't alone. This took place with friends who are also stable adults and are doing fine thank you very much. As we spent our evening reminiscing about the times when we watched these shows (and only slightly wishing desperately above all else to go back), we realized something huge: these songs are actually bops. What started as a trip down nostalgia lane turned into an all-out singing night. This lead me to think long and hard about which of these Disney themes are the ultimate underrated jam, and I think I've narrowed it down to the top four.
4) Hannah Montana
Some songs are all about the intro. When you hear those first few seconds, you know it's go time. Those first few piano notes of Black Parade. Those first ten seconds of Seven Nation Army before the drums kick in. The epic slam and clap intro of "We Will Rock You." And of course, the slamming beat of "The Best of Both Worlds" that leads into the killer guitar riff. Those first few seconds of the beat hit you hard, and get you pumped for the rocking tune that follows. This theme song is a bang your head and belt it out slam that has been disgracefully slept on as a rock and roll classic.
Article continues below advertisement
 3) Wizards Of Waverly Place
Now while the Hannah Montana theme is all about the backing, The Wizards of Waverly Place theme is all about the vocals. This jazzy little number is short but sweet. It's one for the singers to have fun with. It's simple but with enough rhythm for the show to add their flair to. The song is catchy as hell and one listen will have you singing it to yourself on the subway for weeks.
Article continues below advertisement
2) Kim Possible
There was a lot to live up to with this theme song. Kim Possible is the baddest bitch on the planet, and her show is the stuff of legend. Luckily, the Kim Possible theme song holds up. Call Me, Beep Me is fire from start to finish. From the opening beeps of the jamming chorus, to the final "so what's the sitch?," this tune keeps you pumped. The vocals are on point and the backing is everything. This song is a total banger and I will fight anyone who dares to disagree.
Article continues below advertisement
1) That's So Raven
So here we are at the top spot and there could only ever be one winner. That's So Raven is the defining show of Disney Channel's golden age. So of course it's only fitting that the theme song be equally as ground breaking. I dare you to try and listen to this theme song and keep still. If you can listen to the whole tune and not at least bob your head, tap, your foot, or absent mindedly sing along to a line, then frankly you can't be a human being. I don't know if that makes you a cyborg, demonically possessed, or the creature from The Thing, but homosapien is out of the question. So clear your mind and enjoy this master of a theme song.