NYC Summer Streets Guide – 2018 Edition
By Jinjin

Aug. 8 2018, Published 6:34 p.m. ET
Cancel your plans this Saturday. Take this chance to live out the NYC dream, with almost 7 miles of road closed off to vehicles, the sound of honking horns replaced by the chirping sound of bike bells and light footsteps of pedestrians. NYC Summer Street made a come back for the 11th year. This year the festival offers from ziplining to music performances to compliment the theme of "finding joy in unexpected moments".
What is NYC Summer Street?
Summer Street's main goal is to celebrate the precious public space while encouraging New Yorkers to use a more sustainable form of transportation. One can rent out a bike for free, therefore take this chance to gaze at the modernist skyscrapers without worrying about being run over by cars. The Department of Transportation opened up seven miles of concrete jungles for the public to bike, stroll, and dance. Not to mention, the event also includes rest stops that hold family activities and a refreshment bar. All of these activities are at no cost to you plus it's designed for people of all ages. It's a great setting for family and friends to connect without spending a dime.
Where is NYC Summer Street?
The route runs from Brooklyn Bridge to Central Park on Park Avenue and connecting streets, which also includes 5 rest stops. The streets are free of automobiles, making it truly a pedestrian paradise. Here are the five rest stops and their top attractions:
Article continues below advertisement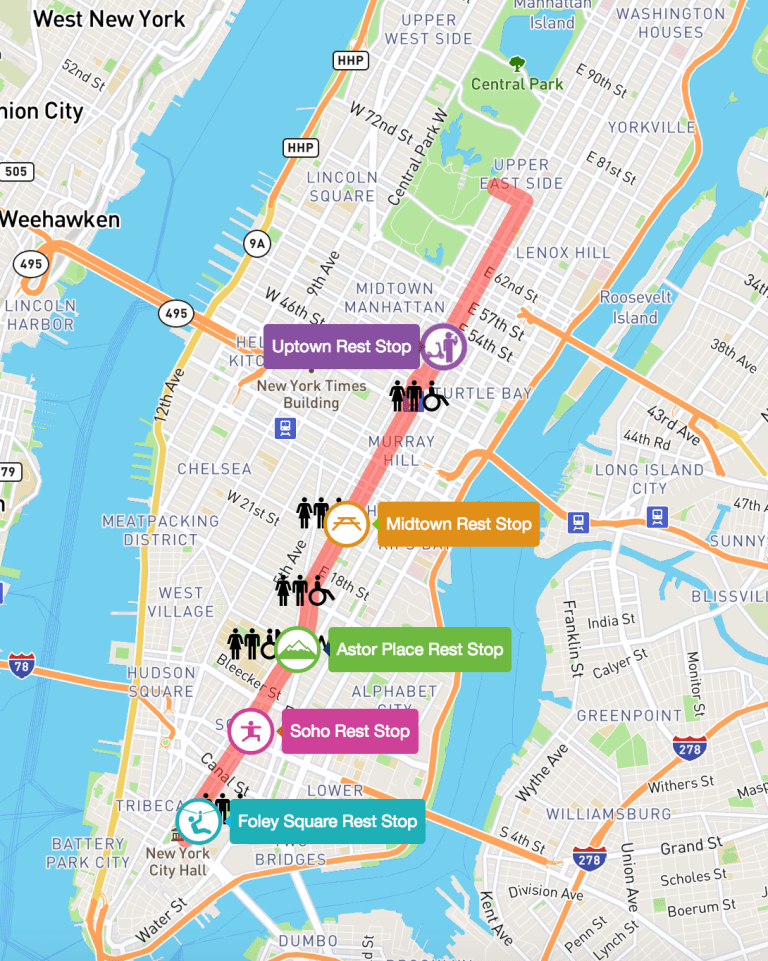 Uptown Rest Stop: Children's Corner (between 51st and 52nd)
Arts & Cultural workshops
Performance Stage
Kid Fitness Zone
Article continues below advertisement
Midtown Rest Stop: City Picnic (between 24th-25th Park Ave)
Food & beverage sampling zone
Multiple bike programs
Astor Place Rest Stop: Outdoor Adventure (Astor Place / Lafayette St.)
Wall & Obstacle Course
Pump tracks for kids
Gazillion Bubble Show's Bubble Garden
Article continues below advertisement
Soho Rest Stop: Fitness Zone (on Spring St. and Kenmare St.)
Fitness Stage (free yoga classes)
Dog Park & Agility Course
Foley Square Rest Stop: Extreme Sports (on Lafayette St. and Centre St.)
Ziplining (very popular come early)
Pop-Up Performances
DOT Hand-Cycle Activation
Adaptive Basketball Games
Street Games
NYC Summer Street takes place on the first three Saturdays in August from 7 am to 1 pm. For more information click here.