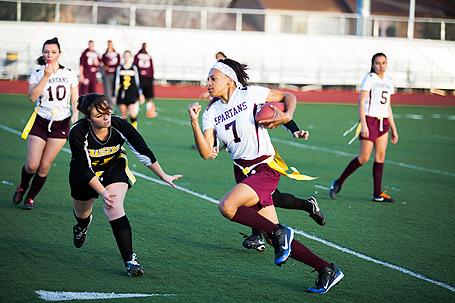 Now Is The Perfect Time To Get Into Sports
By Victoria Mickens

Oct. 30 2018, Updated 11:21 p.m. ET
This past weekend the Boston Red Sox wrapped up the Major League Baseball (MLB) post season with a World Series victory over the Los Angeles Dodgers. We are in the middle of football season and just a few weeks into the hockey and basketball regular seasons. If you're not well versed in sports, maybe you always thought it was a 'guy thing' (nonsense), or boring (again nonsense), or confusing (uh well alright I'll give you that), now is the perfect time to change that.
As mentioned before, we are transitioning between sports' seasons so there won't be any catching up necessary. You can jump right into NHL (October 3, 2018 – April 6, 2019), NBA (October 16, 2018 – April 13, 2019), or the college equivalents, and follow the teams and story lines that appeal to you.
Pro tip: Don't feel as though you have to pledge allegiance to a team. The excitement in sports is watching stories unfold and eventually you'll likely find yourself favoring one team or another for the right reasons.
I cannot overstate the number of sports that exist. From curling to football, there is something for absolutely everyone. You simply must figure out what captures your attention.
Pro tip: In a world of pro leagues try not to forget about Olympic sports. Maybe hockey, football, baseball, and basketball just aren't your thing; that doesn't mean you should right-off ice skating, swimming, snowboarding, track etc.
We are up to our ears in life's obligations and loads of bad news from around the world. Sports are a great form of entertainment that can help lift your spirits and distract you when the world seems to be weighing you down. Not to mention, the weather and lack of daylight might be keeping you inside with limited forms of entertainment.
Pro tip: Check scores and updates even if you don't get to sit and watch a game. This will keep you in the loop and motivate you to maybe catch the next match up. Also, tune into sports radio when you're driving or doing chores.
Article continues below advertisement
We all know that a conversation about the weather can't go on for very long. Talking sports, however, could go on for hours. If you spend the next few weeks or months getting to know the sports world you may be able to strike up quite a few conversations at work, school, dinner with the family, or maybe with that special someone you've had your eye on.
Pro tip: Pay attention to the sports gear someone is wearing. It could be a great opportunity to engage in light conversation as well as a great signal to avoid back mouthing a particular team.
If you take my word for it, in 2019 you'll find yourself fully immersed in the sports world and loving it. This means you will be a member of a community, a great one, that values the incredible stories that emerge from the seemingly mundane. When the weather starts to warm up again, you just might feel confident enough in your newfound expertise, to attend a sporting event in person.
Pro tip: Make friends! Try talking to the folks you meet at games, you could potentially form life-long relationships.