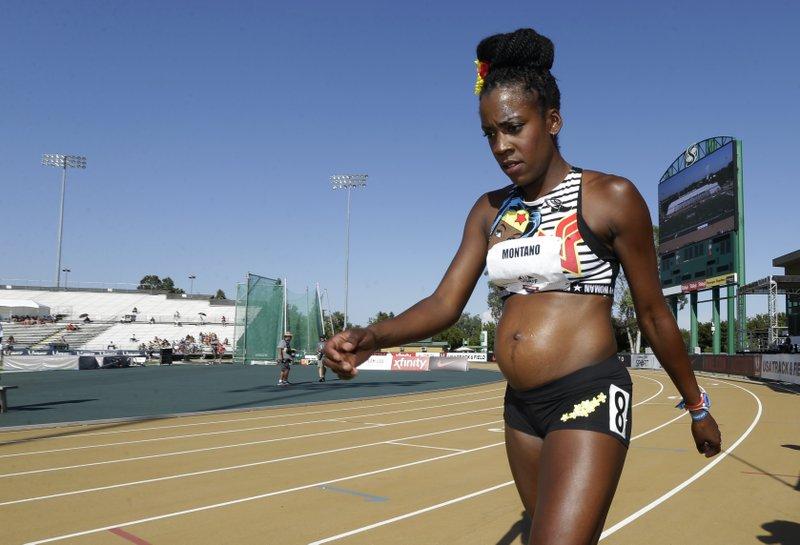 Nike Says "Just Do It", Unless You're Pregnant
By Jamie Rollo

May 14 2019, Published 12:21 a.m. ET
Olympic runner and Nike sponsor, Alysia Montaño, wrote an opinion piece for the New York Times outlining Nike and other sponsor's opposition to giving their paid athletes time off for maternity leave. It went along with a video, where Montaño uses Nike advertising language to show the disparity and hypocrisy of their attitudes towards women athletes.
When she was pregnant with her first daughter, Montaño still continued to compete leading the public to deem her "the pregnant runner." Her aim was to show everyone that women can fulfill their careers while pregnant, and breakdown stereotypes that surround motherhood, especially with athletes.
Montaño had been a Nike sponsor, and despite her being able to compete while eight months pregnant, Nike had an adverse response when she told them she wanted to have a kid. Montaño retold Nike's response, "Simple, we'll just pause your contract and stop paying you."
The issue here is that runners are not paid by a league, and while there is prize money, most runners make their living off of sponsorships and brand deals. Sponsors will give time off for injuries, but rarely give enough time off for maternity leave, taking away much needed pay from soon to be mothers. While Nike prances around advertising their "Just Do It' mentality, they are the ones holding athletes back.
"Getting pregnant is the kiss of death for a female athlete," said ex-Nike sponsor and runner Phoebe Wright. "There's no way I'd tell Nike if I were pregnant."
The Times noted that all four executives handling sponsorships for runners are male. While they may not pull their pay completely, they can halt it until they begin to compete again. Olympian Kara Goucher was also put in a touch predicament when she had to choose between getting paid and being at her ill son's side. She said, "I felt like I had to leave him in the hospital, just to get out there and run, instead of being with him like a normal mom would. I'll never forgive myself for that."
Nike recognized that some of their athletes lost pay due to pregnancy, but claimed to have changed its rules so athletes aren't penalized anymore. But, in 2019, the Nike track and field contract states that they can still reduce pay if athletes don't meet performance requirements with no exceptions for childbirth, pregnancy, or motherhood.
Additionally, top athletes are given insurance by The United States Olympic Committee and U.S.A Track & Field, however, if their performance lacks, they lose it. Basically, if a woman can't perform at her very best ability while pregnant, she will lose that insurance.
Wright told The Times, "Some people think women are racing pregnant for themselves. It sometimes is, but it's also because there's a baby to feed."